After apologies to former Punjab minister Bikram Singh Majithia, Union Minister Nitin Gadkari and Amit Sibal, the son of Congress leader Kapil Sibal, Delhi Chief Minister Arvind Kejriwal Monday apologised to Union Finance Minister Arun Jaitley.
Jaitley and Kejriwal with four other AAP leaders Monday moved a joint plea before Additional Chief Metropolitan Magistrate Samar Vishal seeking to settle a criminal defamation case connected to alleged irregularities in the Delhi and District Cricket Association. The matter has been listed for disposal on Tuesday.
The application filed by the complainant Arun Jaitley through his counsel Manik Dogra said: "Each of the accused (Kejriwal and AAP leaders Sanjay Singh, Raghav Chadha, Ashutosh and Deepak Bajpai) have unequivocally withdrawn all the allegations made by them in print, electronic or social media against the complainant and his family members."
Also read | As Kejriwal, Jaitley end stalemate, Kumar Vishwas adamant: Won't apologise
"Further they have offered their sincere apology to the complainant and his family members for any harm caused to the complainant's reputation as a consequence of the allegation made by the said accused… The complainant has accepted the apology tendered by the accused and… does not wish to proceed with the aforementioned complaint," stated the application.
In separate letters, dated April 1, the AAP leaders offered their "sincere apology" to Jaitley and to his family members "for any harm caused to your reputation" as a consequence of the allegations. The leaders said they made the allegations based on papers given to them by individuals who claimed to have first-hand knowledge into the affairs of the DDCA. "However, I have recently discovered that the information and the imputations contained therein are unfounded and unwarranted and I was clearly misinformed into making these allegations," stated the letters. AAP founder-member turned rebel Kumar Vishwas has not tendered his apology yet.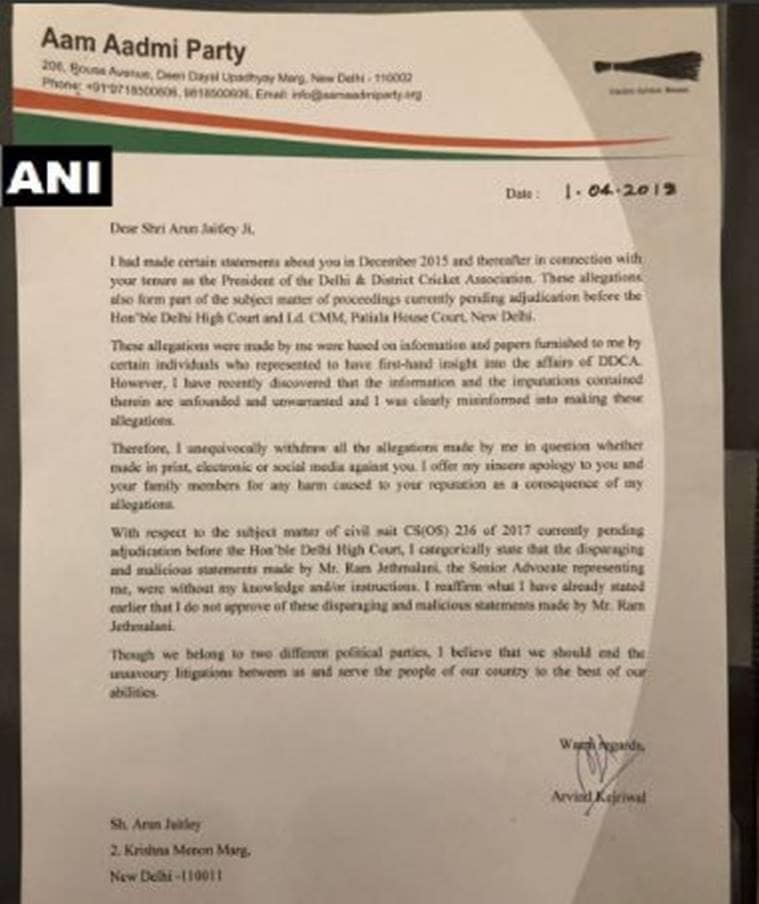 Jaitley had in December 2015, filed a criminal defamation case against Kejriwal and five other AAP leaders, who had alleged financial irregularities in the DDCA when Jaitley was its president. Jaitley had denied all the allegations.
Jaitley had also filed a civil defamation suit of Rs 10 crore in the High Court and a separate Rs 10 crore defamation case against Kejriwal after his then lawyer, Ram Jethmalani, had used objectionable words against Jaitley during his cross-examination in the first suit.
In his April 1 apology letter, Kejriwal also underlined that senior lawyer Ram Jethmalani's remarks against Jaitley in the court were made without his consent. Jaitley had filed a separate defamation case against Jethmalani's comments. Later, Jethmalani had stepped down as Kejriwal's lawyer in the case.
Applications for settlement were also filed Monday in both cases pending in the High Court and the matter has been listed for hearing on Tuesday.