Two siblings died and an elderly man sustained injuries after a four-storey building collapsed in North Delhi's Sabzi Mandi Monday. Police said renovation at a shop on the ground floor might have led to the collapse. North MCD officials at the spot said the construction was illegal.
"A case has been registered against the shop owner, Mohak Arora, under IPC sections 304 (punishment for culpable homicide not amounting to murder), 288 and 34," said a senior officer.
JCP (Central) N S Bundela said the children were rescued and taken to a hospital, where they were declared dead on arrival. "The brothers were passing by with their mother when the building collapsed. They were trapped under the debris."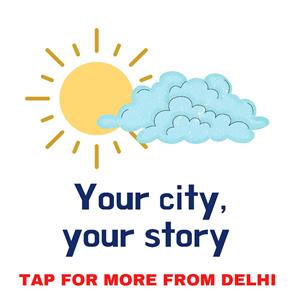 The victims were identified as Somya Gupta (12) and his younger brother Prashant Gupta (8). Police said their father, Nitin Gupta (38), works at a shop in Sadar Bazar while their mother is a homemaker.
The incident took place around 11.45 am and locals called the Delhi Fire Services and police. Initially, five fire tenders were sent and a 75-year-old man, Ramji Das, was pulled out. He was sitting inside his pan shop on the ground floor when the building came down.
DFS Chief Atul Garg said over 50 personnel were deployed: "Rescue work started at 11.50 am and went on till 9-10 pm. Narrow lanes made it difficult for fire tenders and cranes to reach the spot."
Teams from the MCD and NDRF were also at the spot to undertake rescue operations. A canine squad was also called in to search through the rubble.
CM Arvind Kejriwal said he was closely monitoring the situation. "The administration is engaged in relief and rescue work. Through the district administration, I am monitoring the situation," he tweeted.
L-G Anil Baijal asked officials to take necessary steps, including planning and engineering solutions, to avoid such incidents in future.
The building used to be owned by a businessman, Laxman Prasad, who later sold it to his relatives. It housed two small shops on the ground floor while three siblings lived with their families on the floors above.
Residents claimed renovation work began seven-eight days ago and the drilling and digging led to cracks on the wall but no complaint was filed.
Hemantika Aneja, who runs a nursery school and lived with her family on the first floor, said: "I was at office when I heard about the collapse. The owner of one of the shops was undertaking renovations… we told him to take permission from authorities, but he said he'll manage. We have lost the house we had been living in for 35 years."
Thirteen people lived in the building. Aneja said all of them, except her nephew Aryan (18), were not at home at the time. Aryan was on the second floor and managed to escape.
Kiran Kumar, who lives nearby, said, "Many people here are making more floors or a basement… but these structures are weak and can collapse anytime."
The Indian Express website has been rated GREEN for its credibility and trustworthiness by Newsguard, a global service that rates news sources for their journalistic standards.