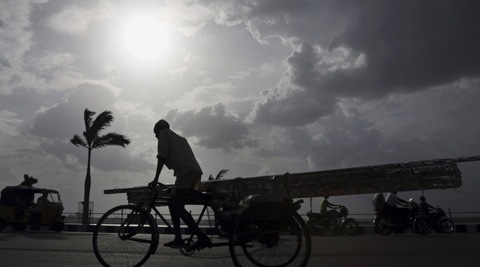 For Delhi residents reeling under the stifling humidity over the past few days, India Meteorological Department (IMD) has some good news. The weatherman has predicted that the Southwest monsoon will hit the capital in the next 48 hours.
While the entire country has witnessed a weak monsoon, with the month of June recording 43 per cent less rainfall than normal, July is expected to be less parched, the MeT department has said.
According to the latest update released by the IMD, fairly widespread rainfall associated with the Southwest monsoon is likely to hit Delhi and its adjoining cities on Wednesday and Thursday.
"Southwest monsoon has advanced over some more parts of Uttar Pradesh, entire Uttarakhand, Himachal Pradesh, Jammu and Kashmir, some parts of Haryana and Punjab. Conditions are favourable for further advance of the Southwest monsoon into some more parts of Madhya Pradesh, remaining parts of Uttar Pradesh, Haryana, Chandigarh and Delhi, Punjab and some parts of north Rajasthan during the next 48 hours," an update issued by the IMD on Tuesday said.
Meanwhile, hot and humid weather conditions prevailed in Delhi on Tuesday, with the maximum temperature settling at 35.2 degree Celsius, a notch below normal.
Humidity levels, however, oscillated between 63 and 80 per cent.
The minimum temperature on Tuesday was recorded at 28.5 degrees, one notch above normal.