The Delhi government's General Administration Department (GAD) cancelled the appointment of nine advisors of the government, following a 'clarification' from the Ministry of Home Affairs (MHA).
The Home Ministry argued that these appointments were made without the approval of the Centre and that these roles had no sanction within the ambit of the Delhi government.
The order issued by General Administration Department of the Delhi government, the MHA had written in its letter that these posts on which the appointees are officiating are not in the list of posts approved for the ministers and Chief Minister. However, none of the CM's advisors or aides are mentioned in the GAD directive.
It said, "No prior approval of the central government has been taken for creation of said posts on which these persons have been appointed on co-terminus basis.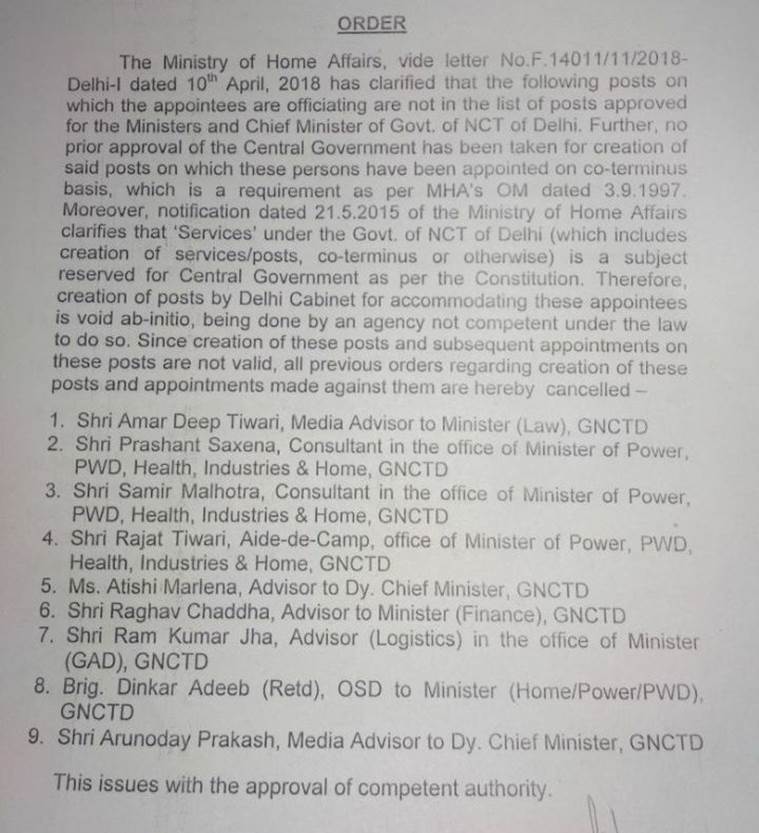 "Among nine advisors whose appointment have been cancelled are Amardeep Tiwari (Media advisor to law minister), Arunoday Prakash (Media advisor to Deputy CM), Raghav Chadha (Advisor to finance minister), Atishi Marlena (Media advisor to Deputy CM), Dinkar Adib (OSD to minister Satyender Jain), Ram Kumar Jha (advisor to logistics, Manish Sisodia), Samir Malhotra (consultant, Satyender Jain), Raghav Chadha, Prashant Saxena and Samir Malhotra ceased acting as advisors, said a CMO official.
The official added, "Most of these people were playing vital roles and yet taking minimal salary, this is an attempt to stop the working of the elected government."
Meanwhile, Delhi's Deputy chief minister Manish Sisodia said the order categorically targets Atishi Marlena. "It's because she's key to improving the education system in Delhi. I'm challenging BJP to find one state that it rules where government schools have not been shut down. And here in Delhi, we are improving the education system," he said.
"Narendra Modi has advisors who advise his government on how to save those accused of raping young girls and we have advisors who help us educate young girls," added Sisodia.
The deputy chief minister said that out of nine advisors, only four are currently working with the Delhi government. "Prime Minister Narendra Modi has decided to undermine the Delhi's education system that is why this order has been issued today," Sisodia alleged.  The Arvind Kejriwal government and the Centre have been at loggerheads on a range of issues, especially appointment of officials.