After a sweeping win of AAP in the Delhi Assembly elections, party chief, Arvind Kejriwal has been sworn in as the Chief Minister of Delhi.
Here are the highlights:
1:19 pm: Kejriwal arrives at the Delhi Secretariat.
1:09 pm: Kejriwal heads towards Rajghat.
1:07 pm: Kejriwal's speech ends.
1:05 pm: Kejriwal sings on stage.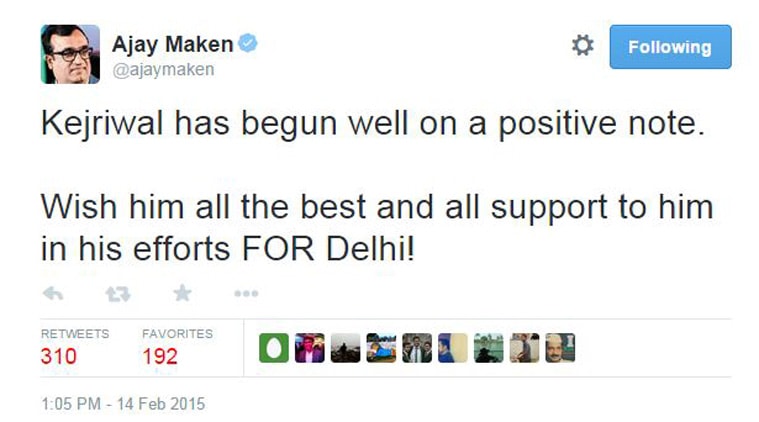 1:03 pm: BJP promises complete statehood, but did nothing: Kejriwal.
1:03 pm: Pray that the Indian Team wins the World Cup: Kejriwal.
1:02 pm: There is a lot of money in the government. There is only a lack of political will: Kejriwal.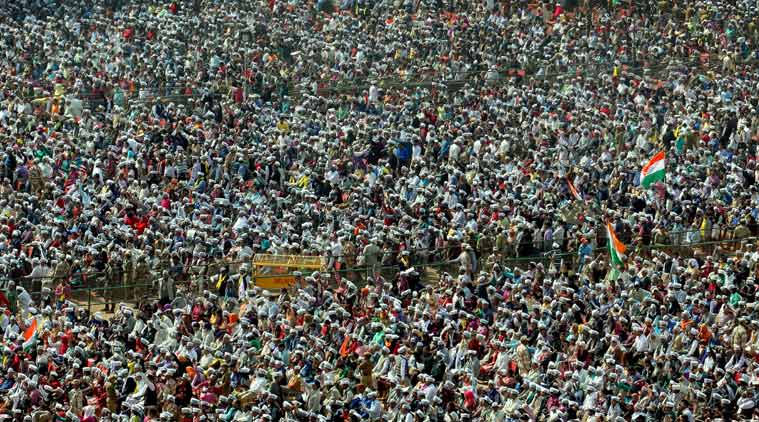 1:00 pm: In 5 years we will make Delhi a corruption-free city: Kejriwal.
12:57 pm: I respect Kiran Bedi and Ajay Maken: Kejriwal.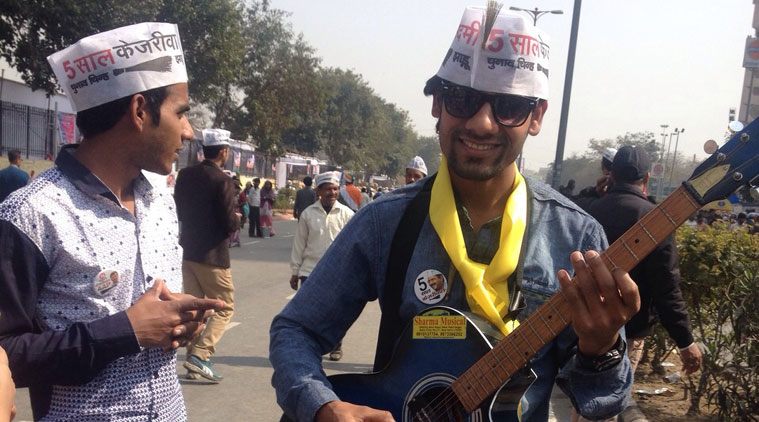 12:56 pm: In developed countries, even PM's wait at bus stands. Why can't we get that here? It will take time but it will happen: Kejriwal
12:56 pm: God has a big plan, we are only messengers: Kejriwal.
12:56 pm: Kejriwal urged media not be too critical of him in the beginning.
12:56 pm: We want to end the VIP culture in this country: Kejriwal
12:55 pm: Must act strongly against any act of religious hate: Kejriwal.
12:54 pm: I have just learnt one thing, that people of this country are good , just embrace them and they will love you back: Kejriwal.
12:53 pm: I request all traders that nobody will try to harass you and we want your business to grow but pay your taxes fully. I won't let your money go waste.
12:53 pm: The whole Delhi is our poll booth and collectively we need to change Delhi.
12:52 pm: Told PM time has come to grant Delhi full statehood: Kejriwal.
12:50 pm: Kejriwal rakes up Church attacks in Delhi, says people of Delhi will not tolerate such attacks.
12:49 pm: Kejriwal asks media not to expect things to happen in hours when Delhi has given AAP five years.
12:46 pm: Will make Delhi India's first corruption-free state: Kejriwal.
12:43 pm: Shouldn't let mandate make us arrogant, says Kejriwal.
12:42 pm: BJP lost due to their arrogance, so we must be cautious: Kejriwal.
12:41 pm: It is possible that the opposition wear our caps and try to defame us: Kejriwal
12:40 pm: Congress lost because of their arrogance: Kejriwal
12:39 pm: We have to do introspection every time: Kejriwal.
12:37 pm: People from all sects voted for us: Kejriwal.
12:35 pm: I didn't know that Delhi people love us so much that out of 70 seats we got 67 seats: Kejriwal.
12:34 pm: Arvind Kejriwal addresses the public.
12:32 pm: Tomar quit Congress, Joined AAP in 2013.
12:31 pm: Jitendar Tomar, MLA from Trinagar, being sworn in. BJP alleged Tomar had fake educational certificates.
12:29 pm: Former AISA student union leader from Lucknow.
12:28 pm: Gopal Rai, MLA from Babarpur, being sworn in. HAd a verbal spat with General VK Singh during Anna's hunger strike.
12:26 pm: Satinder Jain is MLA from Shakoor Basti.
12:26 pm: Thousands at Ramlila Maidan, but the crowd is very disciplined. Satinder Jain now being sworn in.
12:24 pm: Sandeep Kumar from Sultanpur takes oath.
12:20 pm: Asim Ahmad Khan, MLA from Matiya Mahal, takes oath. Only minority face in the cabinet.
12:19 pm: Bearer standing behind Kejriwal on duty shakes hand with him first after swearing in on stage.
12:18 pm: A total of 76 CCTV cameras have been installed at the venue and around its periphery to secure the place. Two monitoring units have been set up, with one taking care of 51 cameras while the other tracking the rest 25.
12:18 pm: Around 3,000 security personnel drawn from Delhi Police, ITBP, CRPF, CISF and SSB have been deployed at the venue. Delhi Police's Security Wing will secure the stage.
12:17 pm: Manish Sisodia takes stage for swearing-in.
12:16 pm: BJP MP Udit Raj: hamara dil bada hai. Pradhan mantri ko kahin aur jana tha toh hum aye hain badhai dene.
12:14 pm: Arvind Kejriwal takes oath.
12:11 pm: The swearing-in ceremony has begun.
12:10 pm: Visitors display I am AK-67 placards at the venue.
12:08 pm: Arvind Kejriwal is feeling unwell. He has fever and a sore throat, says AAP leader Ashutosh.
12:06 pm: 
12:04 pm: Madam, pehle hamari sarkar toh ban ne deejiye, Kejriwal pleads with a persistent reporter.
12:03 pm: Kejriwal invited people for oath through radio ads.
12:02 pm: 15-20 batchmates from IIT Kharagpur Nehru hostel from Dubai, Bhubaneshwar and Kolkata to cheer Kejriwal.
11:59 am: Around 1 lakh visitors expected at the venue. 
11:58 am: BJP MPs Ramesh Bidhuri, Dr Udit Raj and newly elected MLAs Vijender Gupta, Om Prakash Sharma at Kejriwal swearing in.
11:55 am: Shehnai to welcome Kejriwal , visitors.
11:55 AM: Arvind Kejriwal's IIT batch-mates at swearing-in ceremony.
11:53 am: 
11:49 am: Arvind Kejriwal reaches Ramlila Maidan.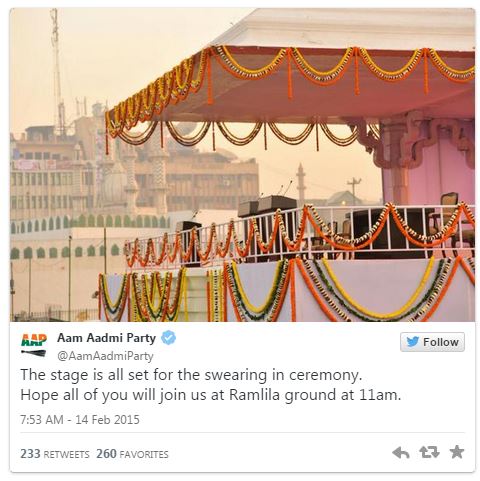 11:25 AM: Arvind Kejriwal leaves to Ramlila Maidan for the swearing-in ceremony.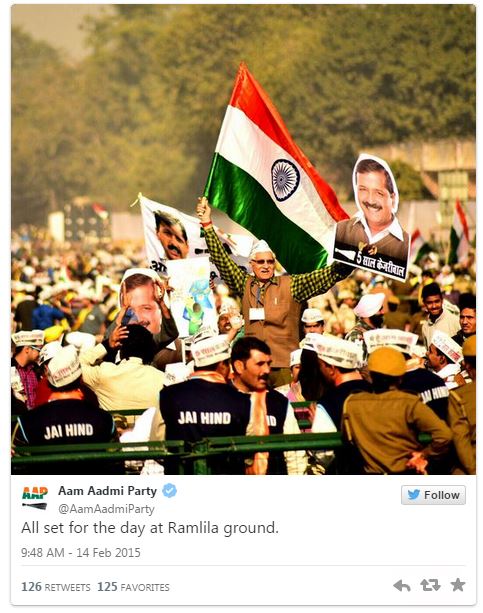 President Pranab Mukherjee appoints Kejriwal as Delhi CM
Sisodia, Jain back in same saddle, Bharti 'opted out'
Power, water top ministers' priority list
Arvind Kejriwal to keep finance, power in AAP govt; Manish Sisodia to retain portfolios
The Indian Express website has been rated GREEN for its credibility and trustworthiness by Newsguard, a global service that rates news sources for their journalistic standards.