Written by
Sandali Tiwari
| New Delhi |
Updated: October 19, 2015 5:24:49 am
Thousands of crores of real estate investment banks on the project, which has been delayed by seven years. In May, Punjab and Haryana High Court dismissed the last bunch of pending writ petitions around the NPR, paving the way for speedy construction. SANDALI TIWARI meets stakeholders for a status check on the expressway that is touted to provide a congestion-free ride between Delhi, Gurgaon and Manesar.
The traffic situation is "bad", Union Minister of Road Transport and Highways Nitin Gadkari remarked in July 2014 after a visit to Gurgaon. He had been stuck in traffic on National Highway-8 that cuts across 'smart' Gurgaon city.
More than two years on, little has improved and people trapped in frequent nightmarish traffic snarls use stronger words than "bad" to describe the experience.
[related-post]
The main carriageway and adjoining service roads to NH8 see bumper-to-bumper traffic nearly every working day. Despite efforts, which included dismantling the Sarhaul toll plaza, the Gurgaon-Delhi and Delhi-Gurgaon commutes remain a pain point. The traffic jams also choke major junctions of the city including Gold Course Road, Rajiv Chowk, Sohna Road, Udyog Vihar, IFFCO Chowk and Hero Honda Chowk.
Commuters also face problems at Kherki Daula Toll plaza that marks the end NH8 and opens into Manesar. During peak hours, there is no easy way to go to the service lane of the e-way while going from Manesar to Gurgaon. This leads to anti-directional traffic jams, as people choose not to drive 8 km to Rajiv Chowk from the toll plaza and drive back.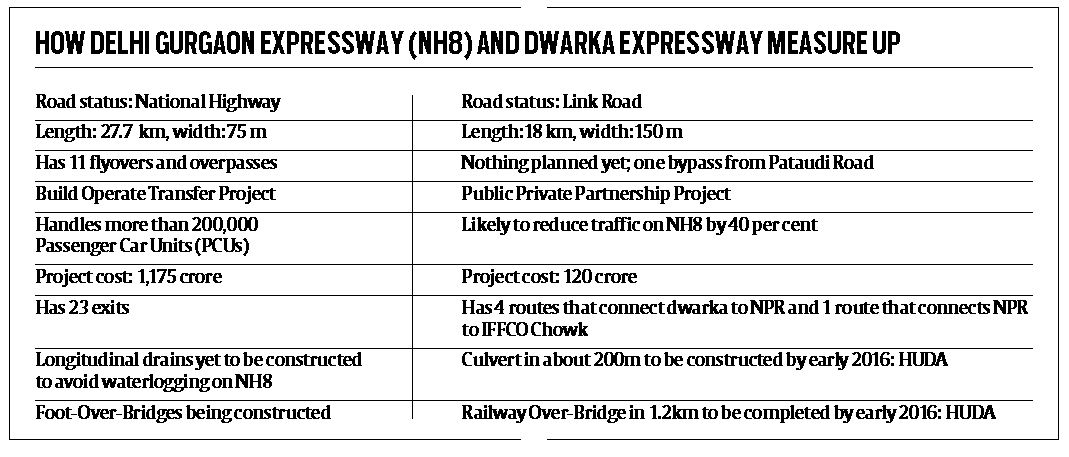 Amid the robust expansion in Gurgaon and influx of traffic, the Northern Peripheral Road (NPR), commonly known as Dwarka Expressway, promised to provide a congestion-free ride between Delhi, Gurgaon and Manesar.
In May, Punjab and Haryana High Court dismissed the last bunch of pending writ petitions around the NPR, paving the way for speedy construction of the road, already delayed by seven years. The litigation had held up investment of about Rs 50,000 crore by property buyers.
The parabola-shaped Dwarka Expressway is an 18km stretch of 150m-wide road starting from Dwarka. It will connect Palam Vihar and the proposed SEZs in Gurgaon to NH 8 near Kherki Dhaula and bypass at Pataudi Road.
The road from Dwarka is expected to reduce the travel time from West Delhi by 40 per cent, say experts.
"A person staying in Dwarka will no longer have to hit the NH 8 before the Delhi-Gurgaon border and the toll bridge. However, the new link, which is the backbone of the capital, would be parallel to the expressway till it merges ahead with the NH8," says P Raghuraman, chief of MCEPL, the concessionaire of NH8. According to the plan, the parabola road will hit the NH8 at IFFCO Chowk, where plans are to construct a bypass through Pataudi Road.
Comparing the NPR to Delhi-Gurgaon Expressway, Raghuraman says the need is to regularise commercial traffic on the NH8. "There is no point just shifting traffic from NH8 to the NPR. Like Bangalore, we need to have a double-decker flyover connecting Manesar and NPR so that sectors are not disturbed. Dwarka Expressway is for sector development." As far as diverting traffic is concerned, the Kundli-Manesar-Palwal (KMP) Road is the best bet, he adds.
According to sources, the NPR may not be the magic wand to address all traffic woes for commuters because 'technical glitches' in the design could create bottlenecks at two locations. "The road is said to be 150m wide, but this is not a uniform plan. Near Dwarka, the road width is going to be only 60m, and 70-75 m near Kherki Daula, Manesar," says a Haryana Urban Development Authority (HUDA) official.
The proposed expressway is Haryana government's widest expressway project. The NPR is expected touch 16 new residential colonies nearby and a commercial corridor while linking with Garhi Harsaru dry port. Much of the strategic development is along the metro corridors in the form of metro malls, say experts.
Land for the road was acquired in 2007-2008. In 2008, a number of writ petitions were filed by New Palam Vihar residents challenging the acquisition. Consequently, a 1.3 km stretch of the road could not be undertaken for construction.
The NPR will be the third link road connecting Delhi and Gurgaon after NH8 and Mehrauli-Gurgaon Road.
Rishi Raj Rana, councillor and INLD leader in Gurgaon, who spearheaded the group of petitioners from Palam Vihar, says it will take time before people start living here. "Even though the litigation is sorted now and HUDA will start constructing the remaining patch in Gurgaon, it will take them around four to five years to make this area livable," adds Rana.
According to Rana, "Basic amenities like water and electricity are still being planned. There are two water treatment plants, which supply about 100 MLD and 120 MLD of water, located in sector 100 and Chandu Budhera village along GWS canal. There is a dire need to have more water treatment plants through which GWS canal water can be treated and utilised in these new sectors. Also, transportation will remain major challenge for 'real' real estate development in the corridor. At present, the condition of connecting roads is not very good."
Realty Check: Industry, home buyers wait for e-way to hit fast track
The Dwarka Expressway, when announced in 2007, was touted as a game changer for developers and home buyers. The market dynamics, however, have changed since. According to experts, if infrastructure development does not pick up, there could be a risk of a heavy price crash, hurting developers and end-user sentiment.
The proposed NPR is divided in 3 clusters. Cluster A which is the Delhi Side of Expressway accommodates sectors 110A, 111, 112, 113, 114; cluster B, which is the centre of the expressway, accommodates sectors 110, 109, 106, 105, 108, 107; and cluster C which is the Gurgaon Side of Expressway includes sectors 103, 104, 102, 102A, 101, 100, 99, 99A. Many developers, including Tata Housing, Homestead Group, AMB Group, Raheja Group, Godrej Properties, Ramprastha, BPTP and M3M, have lined up projects in the area.
"This is going to be the most important link not only in NCR but the entire nation as it will connect the industrial corridor straight in line with IGI Airport. This is the future of real estate. Even if one compares it to the existing real estate at Gold Course Extension road, properties along NPR will be a class apart and set futuristic standards," says Navin Raheja, CMD of Raheja Developers and chairman of National Real Estate Development Council.
Gautam Sethi, MD, AMB Group, says, "Dwarka Expressway promises modern township just 10 minutes' drive (from Delhi), meeting client affordability level and promising both end users and investors capital appreciation."
The delay has hurt, admit stakeholders. "Due to the unnecessary delay, developers are facing a lot of disgruntled customers," says a spokesperson for M3M Developer which has a residential project in Sector 107 spread across 19 acres.
Raheja feels developers have done their bit by giving external development charges to the government and it is the responsibility of authorities to fast-track the project.
At present, about 42,000 housing units are in various stages of construction. Of these, nearly 35 per cent are in high-end luxury segment, say insiders.
A property dealer based close to the expressway says, "2013 saw a decrease of 10 per cent in number of launches compared to 2012. Dwarka Expressway is expected to witness similar growth profile as seen by Gurgaon locations such as Golf Course Road, Golf Course Extension Road and Sohna Road."
Builders feel it will still take at least two to four years for the expressway to be fully functional. "The rehabilitation issue is causing a lot of trouble… Those who have invested in projects are worried, as they are unclear on the status of completion of work and supportive infrastructure," says a developer.
HUDA sweats on rehab plan
Though Punjab and Haryana High Court has cleared litigation on about 3.5 km of land for early completion of the NPR, HUDA officials believe the link road "will not be operational before 2017-end". Authorities can only start work on the remaining stretch of the road once the oustees are rehabilitated — "equally".
Nearly 500 families living in and around New Palam Vihar, Tek Chand Nagar, Daulatabad and Kherki Daula have been affected by the project. "In 2008, nearly 450 residents had filed petitions in the high court seeking a stay order on the acquisition of their properties. It was was granted in 2010. HUDA had offered to resettle the petitioners in sectors 37C and 110A. However, draw of lots for plots have been cancelled twice and we have not been given a date now. Most of the families live in fear," says INLD leader Rishi Raj Rana.
According to a HUDA official, around 382 plots were demarcated for rehabilitation in Sector 110A. But HUDA can only develop 63 plots right now, says the official. "The remaining 25 acre in Sector 110A is stuck in litigation and hence no development work including laying of roads, sewer and water supply lines, and construction of culverts can take place," adds the official.
According to sources, HUDA has 284 plots in Sector 110A that would be allotted first and the remaining would be allotted plots in Sector 37C, where the agency has 609 plots.
The residents are in no hurry. "The previous two draws were cancelled because the residents have more than 100 objections to the rehabilitation plan presented. The plot sizes were not equal and names of residents were missing from the list. We are ready to wait till we are given our rightful share," says Rana.
HUDA officials are "hopeful" the rehabilitation process will end by early 2016.
The Indian Express website has been rated GREEN for its credibility and trustworthiness by Newsguard, a global service that rates news sources for their journalistic standards.