Written by
Naveed Iqbal
| New Delhi |
Updated: May 31, 2017 3:24:26 am
In a bid to curb pollution in areas under its jurisdiction, the South Delhi Municipal Corporation has issued more than 3,000 challans this year for garbage burning and construction dust. The corporation has collected over Rs 2 crore in fines between January and May and has issued "strict directions" to field functionaries to act against defaulters. Over 1,100 challans have been issued for solid waste and garbage burning, of which 573 were in the corporation's central zone, fetching over Rs 63 lakh as fines. The corporation also issued over 2,000 challans for construction activities and dust on roads.
The SDMC has also shut 27 industrial units causing pollution and is likely to seal another 174. In a report, the corporation mentioned that prosecution has been initiated against defaulting units in another 502 cases and nine FIRs have been registered. The average air quality index for April 24 to May 24 this year was 252, placing the city in the 'poor' air category. This figure is one point higher than the average of 251 during the same time last year. Additionally, the number of days over the 31-day period categorised as having 'very poor' air was seven days in 2017, up from six in 2016.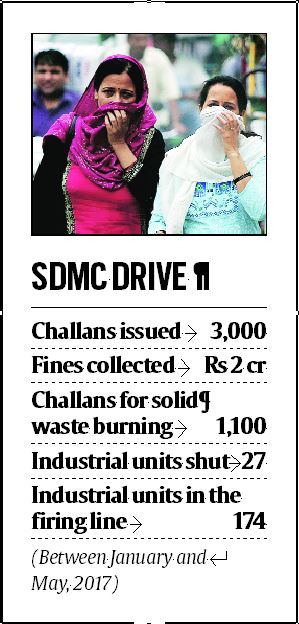 The SDMC is in the process of procuring 30 road sweeping machines at Rs 4.06 crore. These will be deployed on roads to bring down the particulate matter in the air. The amount was cleared by the outgoing MCD. However, the machines are yet to be purchased.
The SDMC in January began installing a Radio-Frequency Identification (RFID) system at entry points to Delhi, as advised by the Environment Pollution (Prevention And Control) Authority. These will be installed at 13 entry points and Rs 120 crore collected as environment cess at these points will be used for the project. The project, which had an initial deadline of April, is likely to take another month.
📣 The Indian Express is now on Telegram. Click here to join our channel (@indianexpress) and stay updated with the latest headlines
For all the latest Delhi News, download Indian Express App.
The Indian Express website has been rated GREEN for its credibility and trustworthiness by Newsguard, a global service that rates news sources for their journalistic standards.