Fifty bike sharing stations, cycle tracks, redevelopment of markets, stack parking at Khan Market and Connaught Place, hostels for daughters of martyrs, and sanitary napkin vending machines were the focus of the New Delhi Municipal Council's budget for 2018-19, presented on Monday.
The priorities in the Rs 3,935.91 crore budget for areas under the NDMC — which has the upscale Lutyens' Delhi, Lodhi Road, Parliament House and Supreme Court — are education, health and non-motorised transport. An area of 43.7 km falls under the NDMC. Several old proposals, such as WiFi connectivity, smart parking management system, geo-tagging of public toilets, and 'solar trees', were repeated in this year's budget.
The bike sharing system, the NDMC said, will be developed under a private public partnership model. A contract has been awarded to install 50 bike sharing stations, with a capacity of 500 smart bikes. The terminals will be automatic, the proposal read. The council has also proposed a cycle track on a 24.5 km stretch, and linking Metro stations, office complexes, markets and tourist places via cycle track routes.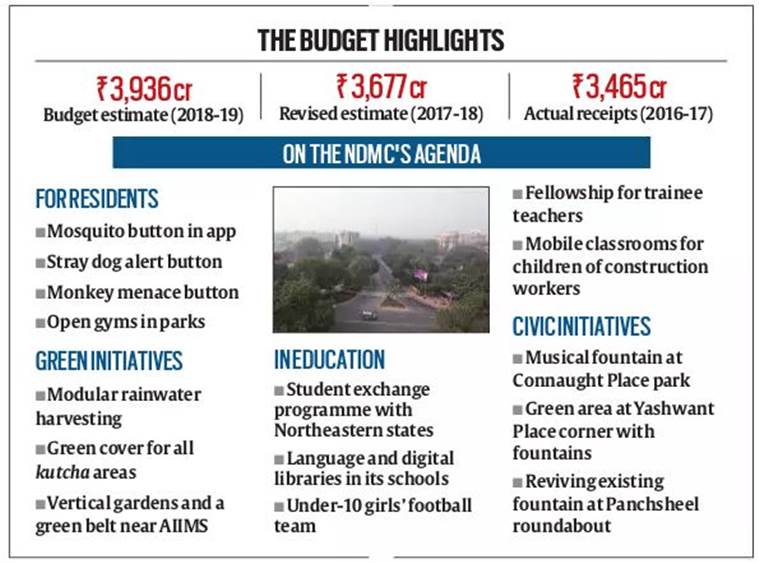 "Smart bicycles can be taken from any station and deposited at any station for the benefit of small distance commuters and for last-mile connectivity. Work is likely to be completed by June this year," an official said. The initiative has, however, failed to find many takers in south Delhi.
Smart Bus Queue shelters have been proposed at 20 locations, with facilities such as 'micro towers' to provide free WiFi, LED display, real-time bus information, mobile charging stations and digital screens.
Five schools in Lodhi Road will be converted to 'world class schools' by 2019-20 and renamed Navyug Girls International School, NDMC chairman Naresh Kumar said.
Other key initiatives for students include encouraging football among girls and coming up with 10 multi-purpose playing fields. The NDMC also said that 'sanitary napkin vending machines' will be installed in all secondary and senior secondary Navyug/ NDMC schools.
In the health sector, it is proposed that the 'NDMC 311 App' will be launched to provide a 'mosquito button', though which the geographical location of mosquito breeding sites/stagnant water can be sent to officials concerned. Similarly, there will be a stray dog alert button and a monkey menace button on the app. At Charak Palika Hospital, an advanced laparoscopic set will be provided at Rs 1.5 crore in 2018-19. With it, minimal access surgeries will become a reality.