The Delhi government on Saturday called off the Odd-Even scheme after Delhi Chief Minister Arvind Kejriwal called an emergency meeting in view of National Green Tribunal (NGT)'s order on the scheme. Earlier, the NGT on Saturday had given a go-ahead to the Odd-Even scheme to be implemented from November 13 but reprimanded the Delhi government for acting late on rising pollution levels.
The NGT asked why the odd-even rule wasn't applied when the air quality situation was worse. The green panel also told the Arvind Kejriwal-led Delhi government to show the letter on the basis of which this decision was taken, and whether the LG's approval was taken for the same. The Delhi government had announced the implementation of the Odd-Even plan for five days from November 13 to November 17. Chief Minister Arvind Kejriwal blamed the burning of paddy stubble in adjoining states as the main cause of degrading air quality.
However, in a sign of relief for Delhi NCR citizens, the Indian Meteorological Department (IMD) on Friday said air quality in the capital should improve from Saturday as wind speed would pick up and help disperse pollutants. "We expect wind speed of 19-20 kilometres per hour from Saturday afternoon. The temperature is not expected to be too low either and we expect a marked improvement in air quality starting Saturday," a senior IMD official said.
Delhi Pollution highlights:
06.30 pm: The AAP government will file a review application in NGT on Monday
06.00 pm: The NGT flayed the Delhi Transport Corporation (DTC) for not maintaining its buses properly and running them without passengers for a major part of the day. "Your buses create so much noise on the road. They are a great nuisance. Most of parts of your buses are either hanging in air or broken. Why don't you take proper steps for their maintenance. Either your buses run empty or they are over-loaded," a bench headed by NGT Chairperson Justice Swatanter Kumar observed.
05.15 pm: The air quality index of Gurugram is at 480 and that of Delhi is at 468, according to the data source of CPCB: ANI
04.30 pm: 
Layer of smog seen at #Delhi's Rajpath. pic.twitter.com/XpYTTz8ImC

— ANI (@ANI) November 11, 2017
04.10 pm: United Airlines suspends it's Newark-New Delhi flight due to poor air quality concerns in Delhi
04.00 pm: AAP MLA Saurabh Bharadwaj took to Twitter saying, "Odd-Even was not to satisfy anybody's ego. Women being vulnerable, cannot be exposed to risks. Delhi Govt is committed to safety and security. Delhi Govt cannot risk safety of women in Odd-Even. Will not implement Odd-Even without exemptions to women."
03.40 pm: In light of the the two conditions by NGT on two-wheelers and women, at the moment we are calling it off. We will go back to NGT on Monday, file a review petition for them to reconsider their decision regarding the two, added Kailash Gahlot
03.30 pm: Odd-Even scheme has been called off for now, says Delhi Transport Minister, Kailash Gahlot
02.45 pm: NGT's decision came after the Central Pollution Control Board (CPCB) and the Delhi Pollution Control Committee (DPCC) told a bench, headed by NGT Chairperson Justice Swatanter Kumar, that two-wheelers were more polluting than other vehicles, and emissions from motorbikes accounted for 20 per cent of the total vehicular pollution.
2:00 pm: Delhi CM Arvind Kejriwal calls an emergency meeting in view of NGT's order on Odd-Even scheme. Meeting to begin shortly.
1:41 pm: Highlight of the order is that Odd Even will be implemented automatically if PM 10 level goes above 500 & PM 2.5 level goes above 300, which will be monitored for 48 hours: Rajiv Bansal, Counselor for DDA
1:36 pm: NGT issues direction for reconsidering decision to hike parking charges by four times in Delhi.
1:31 pm: Next hearing to take place on 14th November.
1:30 pm: NGT directs Delhi Govt to reconsider decision to hike parking charges by four times in Delhi.
1:00 pm: Measures like enhanced parking fee, as suggested by EPCA, to decrease pollution are absurd: NGT.
12:37 pm: CNG vehicles, emergency services such as ambulance and fire, exempted from Odd Even rule.
12:35: NGT gives nod to implementation of odd-even scheme, but no exemption for two-wheelers.
12:35 pm: NGT asks Traffic Police to deploy its personnel at traffic lights, observing that almost all the main roads in the city are witness to diesel vehicles which are older than 10 years and petrol vehicles which are older than 15 years.
12:35 pm: The National Green Tribunal asks Uttar Pradesh Government over the number of violators challaned in Noida and Greater Noida.
12:34 pm: The National Green Tribunal observed "it is most worrying that there is absolute non cooperation between various departments of govt"
12:32 pm: NGT asked the Delhi government "Won't the hike of parking fees only benefit the parking lots, and would stress people even further, thereby encouraging them to park vehicles on the roads instead, choking them in the process?"
12:30 pm: NGT directs all the neighboring state Govts and departments to ensure complete mechanism during environmental emergency, says don't wait for crisis situation. Also directed various departments and executing agencies for better cooperation and coordination including Delhi police
12:27 pm: NGT pulls up CMD of DTC for not reading the former judgements in this regard. NGT observed that it was unfortunate. NGT asked DTC on the number of its unused buses in its workshops.
12:26 pm: The National Green Tribunal asks CPCB, DPCC and Delhi Govt "why didn't you implement it earlier?"
12:15 pm: NGT asked Delhi Govt about reasons behind exemptions and the impact of pollution emanating from two wheelers, and whether they intend to employ this scheme of Odd Even whenever the pollution levels spiral, to which the Delhi Govt stated that this couldn't be said as of now.
12:13 pm: Central Pollution Control Board submitted before the National Green Tribunal that rain could take place in the next two days.
12:08 pm: NGT is saying the PM is at 292 and not 300 so there is no need to implement odd even. It also asked why are those doing construction work not being fined.
12:05 pm: NGT observed that its patience shouldn't be tested.
12:00 pm: What is the basis of granting exemptions under the scheme if you want to improve ambient air quality? NGT asks AAP govt.
11:58 am: According to the Met department, humidity levels in the national capital shot up to 91 per cent this morning.
11:50 am: NGT asked Delhi govt about the pollution levels caused by two-wheelers  and diesel vehicles and also asked them whether the exemption was carved out scientifically.
11:45 am: NGT to Delhi government: So we should assume that the government is sure of the odd even scheme's benefit, and of no inconvenience taking place to the citizens?
11:35 am: NGT asked the Centre and the Delhi government to name a big city where PM 10 levels were lower than 100.
11:33 am: NGT asks Delhi government if they have read their judgment on odd and even?
11:32 am: Central Pollution Control Board submitted that they had warned the Delhi government orally in advance about the impending problem, which the Delhi government denied, says NGT.
11:25 am: NGT asked the Delhi government to state how many times does a person breathe in a day.
11:23 am: NGT asks Delhi government to show the letter on basis of which this decision was taken, and whether the LG's approval was taken for the same.
11:20 am: NGT asks Delhi Government the rationale behind applying the odd even scheme, and why it wasn't applied when the air quality situation was worse.
11:15 am: The NGT bench is headed by Justice Swatantra Kumar. Advocate Tarunvir Kehar is Delhi Government's counsel in the case.
11:00 am: NGT begins hearing on odd-even scheme.
9:20 pm: "Odd-Even formula cannot be imposed like this. You can't have a shock treatment like this. By this scheme, you are only encouraging people to buy more vehicles and allowing more inter-state traffic. We will not allow odd-even vehicle rationalisation scheme until you prove that it's not counterproductive," the NGT bench had said. Also Read: NGT puts Delhi's odd-even on hold, says scheme not effective
8:45 am: The NGT will have a special sitting on Saturday to allow the Delhi government to convince it of the merits of the scheme and asked it to be ready with answers.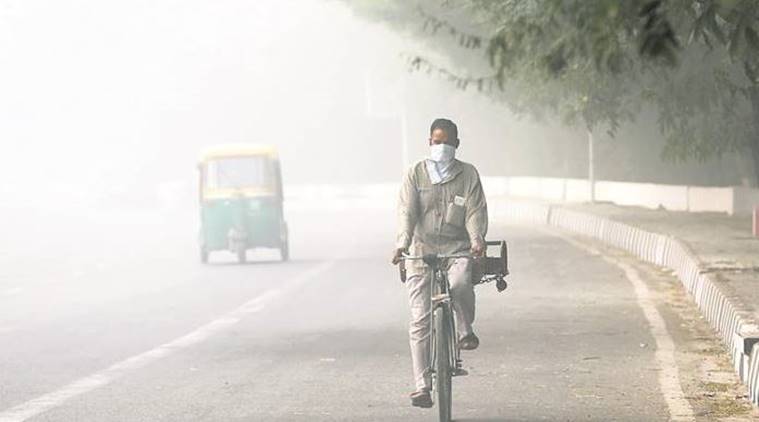 8.20 am: "This is truly a health emergency," Anumita Roychowdhury, the executive director of research and advocacy at New Delhi's Centre for Science and Environment told The Associated Press. She said doctors in recent days have been dealing with a 20 per cent spike in emergency hospital admissions from people suffering heart and lung problems
7.50 am: Air Quality Index for today.
Mandir Marg at 326
Anand Vihar at 430
Siri Fort at 316
Dwarka at 327
Shadipur at 331
Vikas Sadan Gurgaon at 330
Sector16A Faridabad at 204
7.40 am: 64 trains delayed, 14 rescheduled and two cancelled because of low visibility due to fog and smog, reports ANI.
7.30 am: According to the SAFAR forecast, the PM 2.5 concentration in the city is expected to be 286 micrograms per cubic metre on Saturday, which still puts the air in the 'severe' category. On Sunday, it is expected to be 238 micrograms per cubic metre, or 'very poor'.
7.25 am: According to IMD and the Central Pollution Control Board data, a combination of low temperature and slow winds made November 8 one of the most polluted days in the city in several months.
Start your day the best way with the
Express Morning Briefing
For all the latest Delhi News, download Indian Express App