Construction activity in the capital has been put on hold till Sunday as the dust storm originating in Rajasthan continued to adversely affect air quality. Thursday was the second day in a row that the city reeled under "severe" air quality conditions. Lieutenant Governor Anil Baijal Thursday called an emergency meeting with Delhi Environment Minister Imran Hussain, Environment Pollution (Prevention & Control) Authority chairperson Bhure Lal, as well as the environment secretary and representatives of civic bodies.
The L-G said all civil engineering construction activities be stopped till Sunday, and directed the MCDs, Delhi Pollution Control Committee and all construction agencies to ensure that the temporary ban is enforced. The agencies have also been directed to enforce dust control measures at all construction sites.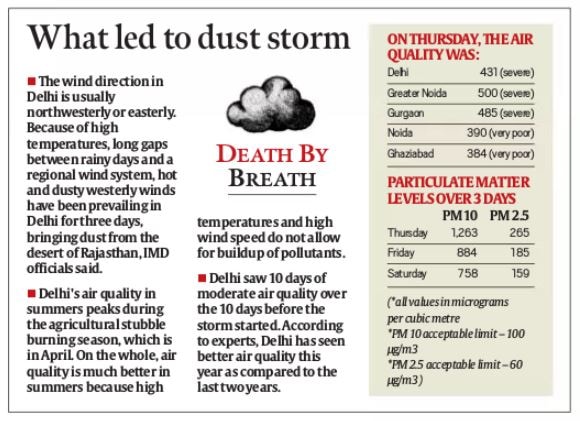 He also ordered the MCDs and PWD to intensify mechanical road sweeping (vacuum sweepers); sprinkling of non-potable water at central verges and roadsides; and stop sweeping main roads with brooms to avoid dispersal of settled dust. Delhi, along with parts of Rajasthan, Punjab, Haryana, and western UP, has been affected by a dust storm for the past three days. On Thursday, the air quality index for Delhi stood at 431, against 445 on Wednesday.
The concentration of PM 10, the primary pollutant as of now, was 1,263 micrograms per cubic metre — 12 times the acceptable limit of 100 µg/m3.
The PM 2.5 concentration is 265 µg/m3, almost 4.5 times the acceptable limit of 60 µg/m3. The hot and dry dust-laden westerly winds that have been blowing for four days have been bringing coarse dust particles to Delhi from Rajasthan, IMD officials said. Lack of rain in northwestern India has worsened the situation. Delhi and neighbouring areas have seen only one day of rain over the past two weeks, and the rainfall deficit in the city is 57 per cent. The deficit in Rajasthan, where the storm originated, is 45 per cent.
IMD officials said a slight improvement in air quality is expected Friday with slowing of wind speed. There is a slight chance of rain Sunday, which is the only respite Delhi can expect in the coming days, said officials.
The L-G has also directed that plantation targets and plans of all agencies — DDA, MCD, DMRC — be submitted to the Forest Department and the progress be continuously monitored.
"It is clear that nature is not on our side. This dust storm is very unusual. People will have to take ownership, and action against pollution will have to be ramped up," said EPCA member Sunita Narain.