This monsoon season has been the wettest for the national capital in the past 46 years. The IMD's Safdarjung observatory, which provides representative data of the city, recorded 1,136.8 mm of rainfall between June 1 and 2.30 pm on September 11.
In 1975, Safdarjung had received a total of 1,155.6 mm rain.
Heavy rainfall on Saturday morning ensured that the total rainfall this monsoon broke the previous record from 2003 when the Safdarjung station logged 1,051.7 mm, IMD officials said.
According to data from the IMD, between 1901 and 2021, five years have recorded monsoon rainfall over 1,050 mm. The highest stands at an unbeaten 1,420.3 mm in 1933, followed by 1,190.9 in 1964 and 1,155.6 in 1975 at Safdarjung. The monsoon season is yet to conclude this year.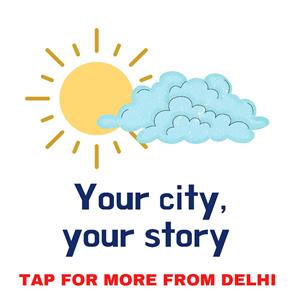 While June has recorded 34.8 mm of rainfall, July saw 507.3 mm, August recorded 214.5 mm and September so far has witnessed 380.2 mm. Normal rainfall for the monsoon season, calculated from June to September, in Delhi is 653.6 mm at Safdarjung.
Two months of the season have recorded deficit rainfall and the other two have seen an excess: Rainfall in June was 47% below normal and 13% below normal in August. In July, excess of 140% above normal was seen, while September has seen a departure of 193% from normal figures.
Total rainfall for September this year is also the highest in the past 77 years. Between 1901 and 2021, the month of September that saw the maximum amount of rainfall is in 1944, when 417.33 mm was recorded.
On the rainfall this monsoon season, Sathi Devi, head of the IMD's National Weather Forecasting Centre, said, "Rainfall depends on synoptic situations and rain producing systems, like easterly winds and low pressure systems. There is a low pressure area lying over East Rajasthan bringing rainfall now. August saw low rainfall but September has seen higher rainfall because of the presence of low pressure systems. This week, the low pressure system is itself close to Northwest India. When you have such systems, intense rainfall is expected and not unusual."
Between 8.30 am on Friday and 8.30 am on Saturday, the Safdarjung station recorded 94.7 mm of rainfall. The Palam station recorded the highest amount during the same 24-hour period —103.3 mm. The observatory at the Ridge logged 67.6 mm.
Till 5.30 pm Saturday, the Safdarjung station recorded 39.8 mm of rainfall. More rain is on the IMD forecast from September 12-17 — moderate rain is on the cards for Sunday, while light rainfall is a possibility on Monday.
Rain also brought with it a fall in temperature. The maximum temperature on Saturday was 26.8 degrees Celsius, while the minimum was 24 degrees Celsius. Maximum temperature on the forecast for Sunday is 30 degrees Celsius.
The Indian Express website has been rated GREEN for its credibility and trustworthiness by Newsguard, a global service that rates news sources for their journalistic standards.