The municipal bypolls in 13 wards in the capital was contested on the most basic of issues — overflowing drains, lack of potable water and delayed salaries, among other concerns.
According to the State Election Commission, 45.90 per cent of 6.68 lakh eligible voters participated in Sunday's bypoll to elect new representatives to the city's civic bodies for a single year's term.
The Congress, the BJP, AAP and independent candidates campaigned for over a month in the 13 wards, each with a different agenda. While the AAP is seeking to make inroads into the MCD after the clean sweep in last year's Assembly election, the Congress is hoping to make a comeback after being swept out in 2014. The BJP, on the other hand, is concerned with maintaining its stronghold on the corporations. The party has remained a majority in the MCDs for nine years.
WATCH VIDEO | Breaking Down The MCD Bypoll Results: AAP Wins In 5 Wards, Congress In 5

[related-post]
In south Delhi's Tekhand ward — roughly 19 km from the civic headquarters in the north — voters spoke of how they had to sweep overflowing drains during the monsoon season.
Gorakh Nath, awaiting his turn to vote in an SDMC school in his ward, pointed to the pile of garbage right outside and said, "Do you think it matters who we vote for?"
In the wards, parties are mentioned not by names but by their symbols – "kamal, haath aur jhaadu (Lotus, hand and broom.)"
Most voters said they were not expecting much from either of the parties. Voters in Nanakpura, Vikas Nagar and Bhati complained of sanitation issues, as well poor maintenance of roads. They added that these problems have become especially acute since these seats were vacated by representatives to contest the 2013 Delhi assembly elections.
In Jhilmil constituency, Ramei (45), a sanitation worker, said, "I voted today with the hope that our key problem of funds will be addressed. We have seen BJP after they were elected to the Lok Sabha and AAP in Delhi. Neither has lived up to expectations."
Driven by the MCDs acute financial crisis, safai karamcharis in Khichripur ward also vented their frustration.
Fifty-year-old Darsha said she had to wake up at 6 am and clean the roads till 3 pm. However, she faces lot of trouble and added, "Due to irregular payments, my monthly budget is disturbed. Now the general stores have also stopped selling to me on credit."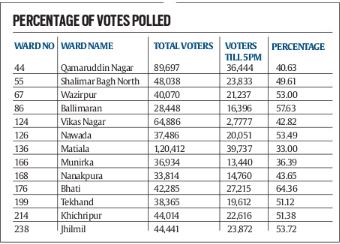 In Wazirpur, party volunteers added a last minute campaign detail by reminding voters to vote "1" for Congress and "2" for BJP, as per their placement on the Electronic Voting Machines.
At Qamaruddin Nagar, under the North Municipal Corporation, party workers were conspicuous by their absence. No posters, banners or any paraphernalia associated with elections could be seen, other than the queues inside the polling booths.
The election commission termed the bypolls "peaceful". In the run-up to voting, police seized 78 unlicensed pistols and 126 unlicensed cartridges from different parts of the city between May 1 and 14. "There were 18 incidents of violence but these were not of a grievous nature. Nine persons were injured in these incidents," said an official.
Meanwhile, the Delhi Police said they will be taking legal action against AAP and BJP supporters who got into a clash just as voting drew to a close in west Delhi's Vikas Nagar.