The Delhi government Thursday announced that it would, within four months, roll out a scheme to enable citizens to get public services, including caste certificates and driving licenses, at their doorsteps. The decision, taken in a Cabinet meeting chaired by Chief Minister Arvind Kejriwal, is an attempt towards the "home delivery of governance", said Deputy Chief Minister Manish Sisodia.
"Mobile sahayaks (facilitators) will be equipped with all necessary machines such as biometric devices and a camera. For home delivery services, the applicant would be charged a nominal fee, which is yet to be decided," Sisodia said, adding that 30 more services will be added to the scheme in the second phase.  He said this will be the first time that such a scheme is being attempted in the country. The government will hire a private agency to implement the scheme. Officials said the fee will be decided after the tendering process.
Government sources said of the 40 services, 15 under the Revenue Department, including the issuing of caste, domicile and income tax certificates, 11 under the transport department, such as duplicate registration certificate (RC), change of addresses in RC, transfer of ownership and services under social welfare, food and civil supplies, labour departments, Delhi Jal Board and women and child development department will also be covered.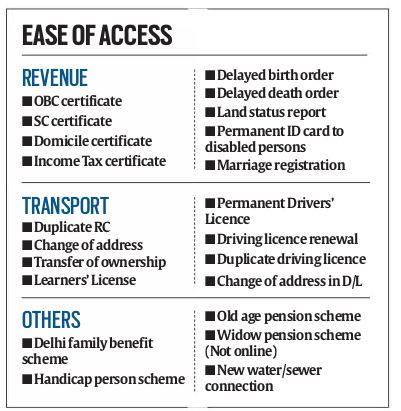 Of these 40 services, only five — registration and renewal of registration of construction workers, pension to widows, financial assistant to poor widows and marriage licences to solemnise marriages between Indian Christians — are not online.
"With the delivery of these schemes at doorsteps, it will become easier for these people, many of who do not have access to the internet. All one will have to do is make one call and the person will reach there with a printer."
Sisodia added, "The mobile sahayaks will be hired through the agency that would set up call centres. Various certificates such as caste, new water connection, income, driving licence, ration card, domicile, marriage registration, duplicate RC and change of address in RC, will be covered under the scheme in the first phase."
Citing an example, he said if a person wants to apply for a driving licence, he or she will have to call a designated call centre and register their details. Thereafter, the agency would assign a 'Mobile Sahayak', who will visit the applicant's residence and get the required documents, he said.