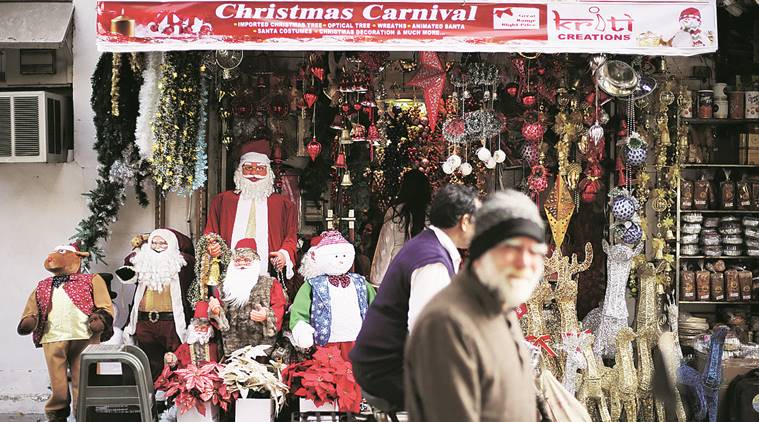 For thousands of Christian families in Delhi, celebrations begin much earlier than December 25. At least a month before the big day, spices and dry fruits are bought from Khari Baoli in bulk and soaked in rum, ready to be used later to make Christmas cake.
Many families buy large quantities of meat, which is rubbed with salt and lemon and preserved for two weeks. Equally important is the purchase of new ornaments for decoration and gifts for family and friends. This year, though, a lot of those celebrations have been hit by demonetisation.
"We get cake made, instead of buying it off the shelves. That needs vanilla essence, cashews, orange peels, ginger, etc from Khari Baoli more than a month in advance to soak it in rum. Then we give it to a baker who makes cakes in batches. Normally we would get 4-5 kg of cakes made and distribute it to friends and family. This year, we were planning to make 8-10 kg. But since nobody in Khari Baoli accepted anything but cash, we couldn't do that," said Rajinald Vijay Milton, a singer who stays at Kingsway Camp.
Many Christians said they have had to scale down celebrations, like relying on last year's decorations and store-bought Christmas cakes.
Seventy-one-year-old Ernest Joseph, who used to work with a publishing house, would also buy new Christmas decorations every year, but not this time. "We can't even withdraw our own money for things we want to spend on. I haven't been able to buy gifts for my children or grandchildren. Whatever money I have will have to be saved for medical expenses, because that is more important," he said.
Getting ready for Christmas with his family, Sarvjeet Singh said that "most of the festive fun is in the details" — like sitting at the baker's shop and chatting while the cake gets baked.
"People would buy a chunk of meat, salt it and nurse it for 15-20 days by applying lemon, till it was ready to be boiled, fried and eaten. Decorations are also largely cash purchases, and shops which have digital payments are exorbitantly priced. We will re-use last year's decorations this time," he said.