Written by
Mallica Joshi
| New Delhi |
October 29, 2017 1:37:11 am
EVEN THOUGH almost a year has passed since the Graded Response Action Plan to combat air pollution was put in place, a robust mechanism to measure air quality across NCR towns in Haryana and Uttar Pradesh is still incomplete. The action plan, formulated by the Supreme Court-appointed Environment Pollution (Prevention and Control) Authority (EPCA) last December, hinges on accurate air quality data from Delhi-NCR towns to suggest actions according to the concentration of pollutants. However, several stations in Haryana and Uttar Pradesh are yet to come up.
While the Central Pollution Control Board (CPCB) has added towns such as Alwar, Bhiwadi, Ghaziabad and Noida to its daily air quality bulletin over the past year, the number of stations is still less as compared to Delhi, where 20 more stations have been activated over the past year.
Ghaziabad, which has been consistently topping the list of the most polluted towns in the regions for the past several months — as per CPCB data — has only one monitoring station so far.
Gurgaon, too, has only one monitoring station, with the second one expected to start functioning by next week. Noida, meanwhile, continues to read air quality from only two stations.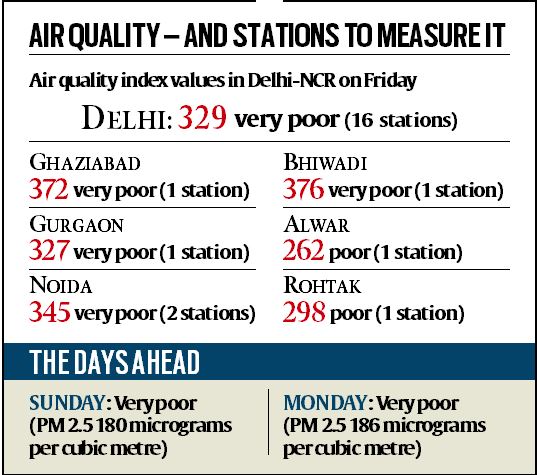 Delhi-NCR is spread across an area of 46,208 sq km with towns from Haryana, Uttar Pradesh and Rajasthan forming part of it. The EPCA's target was to set up 55 new stations in the area by the end of 2017. However, only about 10 monitoring stations have been added so far, if the ones set up in Delhi are not included.
Acknowledging the delay, EPCA member Sunita Narain said, "The target was to set up at least 13 monitoring stations in the NCR districts of Haryana. This has not happened because the Haryana Pollution Control Board did not have a chairperson for several months even after an NGT order laid down strict guidelines for the selection of officials for the post. Similarly, there have been delays in UP. The governments of both states have said they will be able to meet the targets in the coming months. Some of these should be functional in December."
CPCB officials, however, maintained that work to procure equipment and set up the stations is being completed on war footing.
"We should be ready with 100 new stations across the country by the end of the year. Setting up one station comes at an initial cost of around Rs 1 crore. Added to this are the operational costs. Not every city can afford to have as many monitoring stations as Delhi has and build them within a year's time. There are also issues of availability of equipment. All the equipment used in automatic 24-hour monitoring stations is imported. These are not machines you can buy off the shelf like air conditioners or water purifiers. There are certain specifications according to which the equipment is manufactured after placing orders. The tendering process also takes time," said Dipankar Saha, in charge of CPCB's Air Laboratory.
Saha also said that CPCB used manual air quality monitors regularly in the absence of automatic stations. "The idea behind implementation of the graded response action plan is to have indicative values for an area. This we regularly do through manual stations," he said.
📣 The Indian Express is now on Telegram. Click here to join our channel (@indianexpress) and stay updated with the latest headlines
For all the latest Delhi News, download Indian Express App.
The Indian Express website has been rated GREEN for its credibility and trustworthiness by Newsguard, a global service that rates news sources for their journalistic standards.