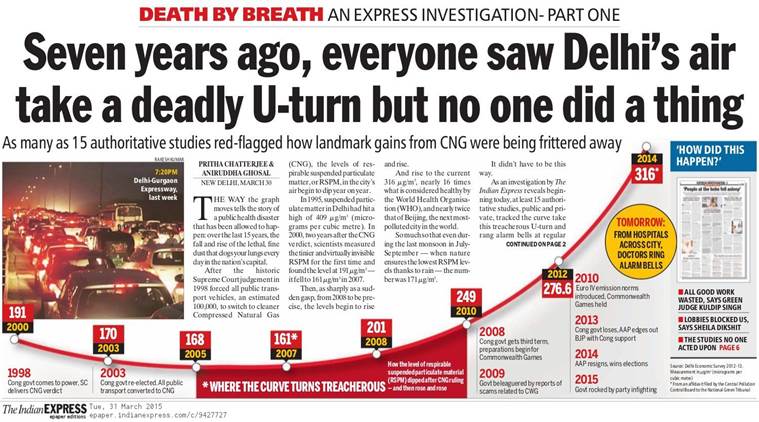 The Indian Express launched an investigative series called 'Death by Breath' on Delhi's air quality last year on March 31. An exhaustive investigation by the Indian Express reveals that in spite of numerous studies and alarm bells ringing at repeated intervals, political inaction and the administration's apathy has turned the air of India's capital into poison and set in motion a major public health disaster in the making.
Here are a few stories that look at key studies on Delhi's air pollution, and how none of the warnings issued by environmental organisations and experts were acted upon.
Seven years ago, everyone saw Delhi's air take a deadly U-turn but no one did a thing
The way the graph moves tells the story of a public health disaster that has been allowed to happen: over the last 15 years, the fall and rise of the lethal, fine dust that clogs your lungs every day in the nation's capital. READ FULL STORY
Delhi pollution: The studies no one acted on
At least 15 key studies have looked at air pollution in Delhi over the last 18 years, the first three cited by the SC in its 1998 judgment on CNG in public transport. No one followed up the rest. READ FULL STORY
'Judiciary hasn't been as active, needs to step in,' says Kuldip Singh
Retd Justice Singh looks back at the way the capital, having once become a model for fighting air pollution, went downhill from there. Justice Kuldip Singh became known as the "green judge" after he presided over a number of PILs on environmental issues. Till his retirement from the Supreme Court in 1996, he passed crucial judgments on air pollution, including specifying norms for industries around the Taj Mahal. READ FULL STORY
'You have to understand there are various lobbies,' says Sheila Dikshit
Sheila Dikshit was chief minister of Delhi's Congress government from 1998-2013 — 15 years during which several measures were charted out to contain air pollution. But except for CNG for public transport following a Supreme Court verdict, and a cess on diesel, nothing much happened on the ground. READ FULL STORY
Explained: Know your toxins
The lungs and the air passage are the first organs affected. The smaller the particles, the deeper they enter the lungs. Here's a story that explains the toxins around us and how it affects our health. READ FULL STORY
📣 The Indian Express is now on Telegram. Click here to join our channel (@indianexpress) and stay updated with the latest headlines
For all the latest Delhi News, download Indian Express App.
The Indian Express website has been rated GREEN for its credibility and trustworthiness by Newsguard, a global service that rates news sources for their journalistic standards.