The number of rapes in Delhi registered a rise in 2015, with data suggesting an average of six cases every day. As many as 2,095 cases of rape were reported in 2015 till December 15, compared to 2,085 cases during the same period in 2014.
Last year's statistics are the highest in 15 years. "Most likely, the highest ever," said an officer, adding he was speaking from experience and had not pored over data prior to 2001.
Data also revealed that 5,192 cases of molestation and 1,444 cases of eve-teasing (euphemism for sexually-coloured remarks, street harassment etc) were reported till December 15, 2015, compared to 4,182 molestations and 1,282 eve-teasing cases in the corresponding period the previous year.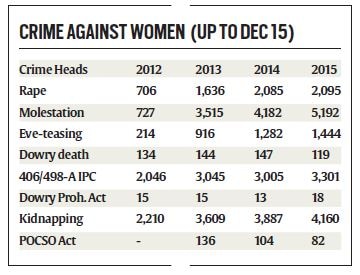 Delhi Police Commissioner B S Bassi said 70 per cent of the perpetrators in rape cases belonged to the age group of 21-35 years. "Crime-mapping analysis of the city suggested that any woman in a locality is surrounded by between 250 and 400 men who would not think twice before assaulting a woman. Analysis also suggests that 60 to 65 per cent of women victims are between 15-30 years old. Their self-defence expertise shall be a sure counter to men with sick mindset," added Bassi. "… almost 39 per cent of the rapes were committed by friends and family members' friends, something which cannot be prevented by the police."
The number of rape cases came down to 452 in 2009, but rose each year thereafter.
📣 The Indian Express is now on Telegram. Click here to join our channel (@indianexpress) and stay updated with the latest headlines
For all the latest Delhi News, download Indian Express App.
The Indian Express website has been rated GREEN for its credibility and trustworthiness by Newsguard, a global service that rates news sources for their journalistic standards.