Chennai, Tamil Nadu News June 19 Highlights: The elected Lok Sabha candidates from Tamil Nadu took oath as Members of Parliament (MPs) at the Parliament in New Delhi on Tuesday. The members including K Kanimozhi, Thol Tirumavalavan, T R Balu, Karti Chidambaram, Dayanidhi Maran, Thamizhachi Thangapandian, Thirunavukarasar, and All India Anna Dravida Munnetra Kazhagam's (AIADMK) O P Ravindranath Kumar took oath in Tamil.
In light of the city-wide water crisis, about 100 hostels in Chennai have stopped operations over the past few days and shut down, seemingly in contradiction to the government's claims that Chennai is not suffering from a drinking water shortage. Read –Atleast 100 hostels owned by 350 members have stopped operations and requested inmates to leave premises 
The Tamil Nadu Hostel Owners' Welfare Association said that at least 15 among the 200-odd ladies hostels which are affiliated to them have stopped operations in Chennai. Meanwhile, several mansions in Triplicane in Chennai have also shut shop due to the ongoing water crisis.
Click here to follow Chennai, Tamil Nadu News June 20 Live Updates 
Live Blog
Get Chennai, Tamil Nadu news today with live updates

on weather, traffic, train services, airlines, politics, movies, civic issues and much more through the day. Also read our Bangalore News Live Updates | For updates in Tamil, click our Tamil Live Blog IETamil Live Blog |

DMK to hold protests in districts from June 22

Dravida Munnetra Kazhagam (DMK) president, M K Stalin announced today that from June 22, the DMK will hold protests in all districts of Tamil Nadu to bring attention to the state-wide water crisis. Stalin directed all the district secretaries of DMK to stage protests in this regard from June 22.

Slow moving traffic on Sterling Road

Traffic from Loyola College to College Road Junction via Sterling Road has hit a snag. Traffic men are expected to clear it soon.
#TrafficAlert:
Traffic flow slow on Sterling Rd from Loyola College towards College Rd Jn.Traffic men attending.

— ChennaiTrafficAlert (@CCTPolice_Alert) June 19, 2019
First look and name of Vijay's upcoming film to be unveiled on Friday
A press release from the production company that is producing actor Vijay's upcoming Kollywood flick announced today that the name and the first look of the film will be revealed at 6 pm on June 21. The film, which has tentatively been titled, Thalapathy 63, is being helmed by Atlee and features soundtrack by A R Rahman.
Sanjay Dutt, AICC Secretary for Tamil Nadu and Puducherry to hold two-week visit to the states
Sanjay Dutt, the All India Congress Committee (AICC) Secretary for Tamil Nadu commenced his two-week long tour of Tamil Nadu and Puducherry on June 18 and heralded Rahul Gandhi's birthday with an eye donation and blood donation camp being organised in his honour at Thoothudi district in Tamil Nadu.
The tour, which will be held from June 18 to June 30 is being undertaken by Sanjay in response to the Congress' Lok Sabha mandate and hopes to strengthen the Congress' position in the State. Sanjay will be visiting Chennai, Tenkasi, Dindigul, Puducherry, Nagercoil and Kanyakumari.
Dear @INCTamilNadu & @INCPuducherry Family,
Vanakkam.
My two week #TamilNadu & #Puducherry tour prog. itenary beginning from today.
Looking forward to interact with you all.
Let us carry forward the overwhelming mandate received in LS polls to further strengthen our organisation. pic.twitter.com/9wnENS8dF0

— Sanjay Dutt (@SanjaySDutt) June 19, 2019
Hearing for case against Group 1 of TNPSC postponed to tomorrow
The Madras High Court announced today that the hearing for the case requesting cancellation of Group 1 of the Tamil Nadu Public Service Commission (TNPSC) has been postponed to tomorrow. The case was filed against TNPSC after it failed to release the answer key of the exam as per schedule, even after the Madras HC had directed TNPSC to do so.
Registration for round 1 of counselling under all-India quota starts today
Registration for Round 1 of counselling under the all-India quota at government colleges, deemed universities and central government institutions have begun today. The registrations will be open on the website of the Directorate General of Health Services from June 19 to June 24.
Tamil Nadu Lok Sabha MPs call on Venkaiah Naidu at Delhi
Members of Parliament (MP) from Tamil Nadu, who were elected to the Lok Sabha visited the Vice President of India, Venkaiah Naidu at his official residence today after the All Party Meet in New Delhi. Taking to Twitter, Naidu tweeted that V Kalanidhi, the MP from North Chennai and Dayanidhi Maran, the MP from Chennai Central had called on him today at New Delhi.
The Member of Parliament (Lok Sabha), Chennai North, Shri V. Kalanidhi calling on me, in New Delhi. #TamilNadu pic.twitter.com/Pk3QvVWGdv

— VicePresidentOfIndia (@VPSecretariat) June 19, 2019
The Member of Parliament (Lok Sabha), Chennai Central, Shri Dayanidhi Maran calling on me, in New Delhi. @Dayanidhi_Maran #TamilNadu pic.twitter.com/SxBm3nnpyI

— VicePresidentOfIndia (@VPSecretariat) June 19, 2019
No water crisis in Tamil Nadu: K T Rajendra Balaji
K T Rajendra Balaji, the All India Anna Dravida Munnetra Kazhagam (AIADMK) MP from Sivakasi spoke up on the ongoing water crisis in Tamil Nadu today and said that the entire state was receiving adequate water and added that there was no crisis in Tamil Nadu. "It is the government's intention to prevent a drinking water crisis in Tamil Nadu", said Rajendra.
Swimming pools in Chennai rely on water tankers for operations amid crisis
While most hotels, hostels and mansions in the city have shut down operations in light of the city-wide drought, swimming pools in Chennai continue to function with the help of water tankers. The pools, which are owned by public and private parties assert that there is no crisis, despite the fact that their borewells have gone dry and the authorities are having to rely on private tankers for replenishment.
However, most citizens want the government to shut down all private pools until the crisis tides over.
Madurai bench of Madras HC postpones Pa Ranjith's bail hearing
The Madurai bench of the Madras High Court announced today that it had postponed the hearing for Director Pa Ranjith's anticipatory plea to the day after tomorrow. Pa Ranjith had sought anticpatory bail from the bench last week after a case was filed against him for his remarks against Raja Raja Chola and his reign which was made by the director at an event in Kumbakonam in Tamil Nadu.
The Madurai bench of the Madras HC also gave a stay order against the arrest of Ranjith until the hearing.
Residents of Royapettah given tokens to avail water supply
While the Tamil Nadu Government denied that there is a water crisis in Chennai and promised uninterrupted water supply till November, residents in Royapettah, Chennai have been issued tokens to avail water being supplied by tankers.
Chennai: Water tokens are being issued to residents facing acute water crisis in Royapettah area, to avail water supply through water tankers. #TamilNadu pic.twitter.com/66Oh53NlGL

— ANI (@ANI) June 19, 2019
7 Southern Railway Hospitals included in Ayushman Bharat scheme
The Southern Railway announced today that seven of its hospitals have been empanelled in the Ayushman Bharat scheme to offer secondary and tertiary hospitalisation services to over 10 crore people from the marginalised sections pan India.
Chennai Event: Theatre performance at Alliance Française of Madras
Signature - A Collaborative Space for Movement will be hosting Pipe Dreams, an abstract movement theatre performance at Alliance Française of Madras today at 7 pm.
Directed by Vikas Rao, the play travels through the trials and tribulations faced by a family of four, as the story unfolds through the eyes of a teenager who is riddled by questions.
Between moderate and satisfactory: Air Quality Index of Chennai
The Tamil Nadu Pollution Control Board (TNPCB) released the annual pollution report of Chennai recently, where it described the city's Air Quality Index (AQI) to be between moderate and satisfactory. It recorded AQI to be moderate on the days when the air quality levels were between 101 and 200 micrograms and satisfactory when it was between 51 and 100 micrograms.
The report showed that the average values of sulphur dioxide and nitrogen dioxide were within presribed standards, while the particulate matter in the air below 10 microns in size had high values in certain areas due to vehicular movement. The report also indicated that pollution levels in the city were on the rise when compared to previous years.
Change in timings of MGR Chennai Central-Thiruvananthapuram Central Bi-weekly Express
The Thiruvananthapuram division of the Southern Railway has announced that the timimgs of the AC Biweekly Express from Thiruvananthapuram Central to Puratchi Thalaivar Dr. M G Ramachandran Chennai Central Station have been permanently changed, with effect from July 1, 2019 due to operational reasons.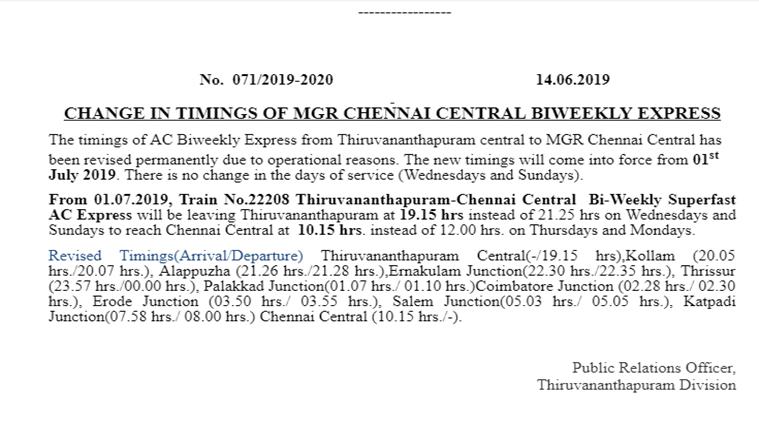 MK Stalin wishes Rahul Gandhi on his birthday
DMK leader MK Stalin wished Congress leader Rahul Gandhi on his 49th birthday. "I wish my good friend Rahul Gandhi a very happy birthday. I wish you many more years of public service," Stalin tweeted.
I wish my good friend @RahulGandhi a very happy birthday.

I wish you many more years of public service.

#HappyBirthdayRahulGandhi pic.twitter.com/5oQlNQU8Cz

— M.K.Stalin (@mkstalin) 19 June 2019
Traffic flow normalised on Mount Road
The Greater Chennai Traffic Police have managed to normalise traffic flow on Mount Road, from Little Mount to Saidapet, which was held up in traffic snarls in the morning. Commuters to Saidapet via Mount Road can now travel along the stretch with ease.
#TrafficAlert:
Traffic flow normalised on Mount road from little mount towards Saidapet. https://t.co/rwFTw0p10L

— ChennaiTrafficAlert (@CCTPolice_Alert) June 19, 2019
DMK workers hold protests over water crisis in Coimbatore
Workers from the Dravida Munnetra Kazhagam (DMK) held protests in front of the Coimbatore City Corporation Office today to demand a solution for the water crisis.
Meanwhile, D Jayakumar, the Tamil Nadu Minister for Fisheries and Personnel and Administrative reforms addressed the media and said, "Water management is a crucial subject. We are doing maximum what we can do. Even after deficit rain, we are trying hard to provide water. Over 400 water tanks are distributing water in the city. At this time, playing politics is wrong."
Tamil Nadu: DMK workers hold protest in front of Coimbatore City Corporation Office demanding immediate solution for the severe water crisis in Coimbatore. pic.twitter.com/Fg6PBiKOUE

— ANI (@ANI) June 19, 2019
Shruti Haasan joins USA Network's Jason Bourne-universe series 'Treadstone'
Actor Shruti Haasan has boarded the cast of USA Network's upcoming series Treadstone, which will be based in the Jason Bourne universe. She will portray Nira Patel, a young woman in Delhi whose waitress job serves as a cover for a dangerous double life as a trained assassin. The studio had ordered a pilot for the series in April this year and later greenlit the project in August, reported Deadline.


'Paandavar Ani' meets TN Governor regarding Nadigar Sangam Election
'Paandavar Ani' led by Actor Vishal met Tamil Nadu Governor Banwarilal Purohit today regarding the Nadigar Sangam Election. Other members of Paandavar Ani including Karunas, Poochi Murugan were present in the meeting. The Madras High court on Tuesday denied permission to hold the Nadigar Sangam Election at the premises of M.G.R Janaki College of Arts and Science for Women on June 23rd as it may cause disruption to the public. The court suggested the Nadigar Sangam to choose a different venue to hold its election.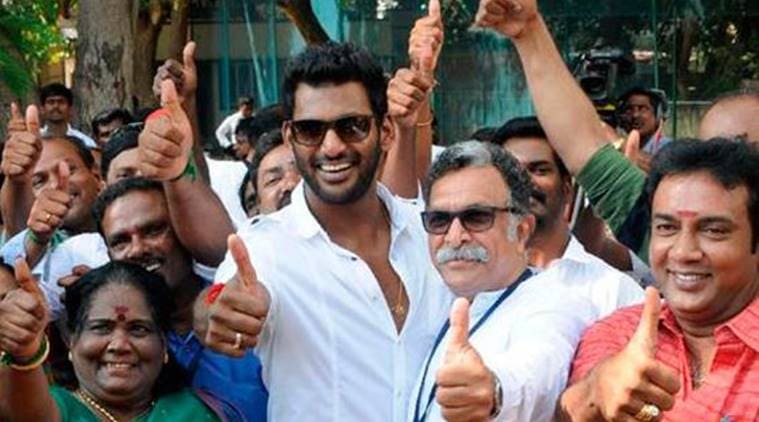 TN SDMA releases water storage data
Tamil Nadu State Disaster Management Authority has released the water storage and the flow data. It has compared the irrigation reservoirs level with last year and has listed out the city drinking water supply reservoirs, hydel reservoirs and also the rainfall data.
Water storage and flow data on 19th June' 2019 pic.twitter.com/6YkLZzifDd

— TN SDMA (@tnsdma) 19 June 2019
Siddharth bats for Citizen Activism
Actor Siddharth lashed out at the government for not taking any steps to resolve the water crisis. He said the acute water shortage is nothing new and urged the citizens to join hands to overcome the hurdle.
I've been seeing #watertankers in #Chennai since I was child in the 80's. This is not a recent problem. It is a problem made worse by callous governance and #corruption. The #watermafia exists. It will continue to. #CitizenActivism is the only way forward. The system is rotten.

— Siddharth (@Actor_Siddharth) 19 June 2019
Threatened by attacker, victim delays treatment for bullet wound by 10 days in Chennai
Trains from Mysore to Chennai cancelled until Thursday
Due to non-interlocking work being carried out for yard modelling work over the Mysore division of the South Western Railway at Mysore, trains from Mysore to Puratchi Thalaivar Dr. M G R Chennai Central on June 19 and June 20 have been cancelled.
Trains fully cancelled pic.twitter.com/A3vnWOYf3S

— @GMSouthernrailway (@GMSRailway) June 18, 2019
Stalin to skip PM Modi's All Party Meet
Dravida Munnetra Kazhagam (DMK) President, Stalin will not be attending the All Party Meet that has been called by Prime Minister Narendra Modi at Parliament today.
Modi will be chairing a meeting with the heads of various political parties in both Houses of the Parliament today, on the eve of the Budget Session of 2019.
CMRL to hold four-day Yoga Camp at eight stations
The Chennai Metro Rail Limited (CMRL) will be organising a four-day Yoga camp at eight metro stations from June 20 to June 23 in Chennai. The camp, which will be held by the CMRL in association with Suthaveli Sabhai will be conducted as a part of the International Yoga Day, which is observed on June 21 every year.
The camp will be held at Central, Tirumangalam, Mannadi and Vadapalani stations at 06:30 am and at Saidapet, Egmore, St Thomas Mount and Ashok Nagar stations at 05:30 pm.
Chennai suburban trains to skip stopping at Senji Panambakkam station until June 25
The Southern Railway announced on Tuesday that there would be a change in the pattern of suburban train services due to track maintenance work being carried along the Chennai - Arakonam section at Kadambattur Yard on the Up and Down lines from June 18 to June 25.
As per the revised schedule, trains plying along the Down fast line between Tiruvallur to Thiruvalangadu will skip stopping at the Senji Panambakkam station until the maintenance work is over.
CHANGES IN PATTERN OF TRAIN SERVICES @DrmChennai pic.twitter.com/Vw3MAc1HKQ

— @GMSouthernrailway (@GMSRailway) June 18, 2019
Chennai Weather for the day
After facing a heat wave for over ten days now, citizens in Chennai can expect the heat to subside a little over the weekend, with weather forecasters predicting the minimum and maximum temperatures today to be 29C and 37C respectively. The sky is also expected to be cloudy, although chances of rainfall are nil.
Weather forecasters have also said that the current conditions in Chennai and neighbouring districts are becoming favourable for the advancement of the Southwest monsoon in Tamil Nadu over the next four days.
Welcome to today's live blog
Welcome to the live blog from Chennai where we bring to you the latest updates on traffic, weather, politics, movies, culture and civic issues in the city. Follow the blog to stay up to date with the city in real time.