Chennai News Live Updates: Tamil Nadu Minister for Rural and Municipal Administration S P Velumani assured citizens on Monday that there won't be a water shortage in Chennai till November. Addressing the reporters in Chennai, the minister, said, "Some people are creating like there is a severe water shortage in Chennai, which is not true. IT firms haven't asked their employees to work from home due to water scarcity and no hotel has been shut down. People need not fear, from November, there won't be a water shortage in Chennai." He assured citizens that the government will supply 525 MLD of water until November.
Meanwhile, the Chennai administration declared on Monday that 331 schools in Chennai lacked government recognition and advised parents against enrolling their children in these schools.
Chennai district collector, A.Shamuga Sundaram said that 331 schools in the city have been found to be running without authorization. "Parents should avoid enrolling their wards in these schools. The schools which function without No Objection Certificate (NOC) and other required certificates will be subjected to legal action," he said.
Chennai, Tamil Nadu June 19 News Live Updates 
Live Blog
Follow our live blog for the latest updates on Chennai news, Tamil Nadu news, Chennai weather, Chennai traffic, Tamil Nadu politics, Tamil movies, Chennai and Tamil Nadu civic issues and much more through the day. Also read our Bangalore News Live Updates | For updates in Tamil, click our Tamil Live Blog IETamil Live Blog |
Trouble for Bigg Boss season 3
Chennai lawyer Sudhan has filed a petition in the Madras High Court to halt the telecast of reality tv show Bigg Boss. The show which is hosted by Kamal Haasan enters its third season this year. In the petition, Sudhan has said the show has to acquire the censor certificate by Indian Broadcast Foundation(IBF) in order to be telecasted.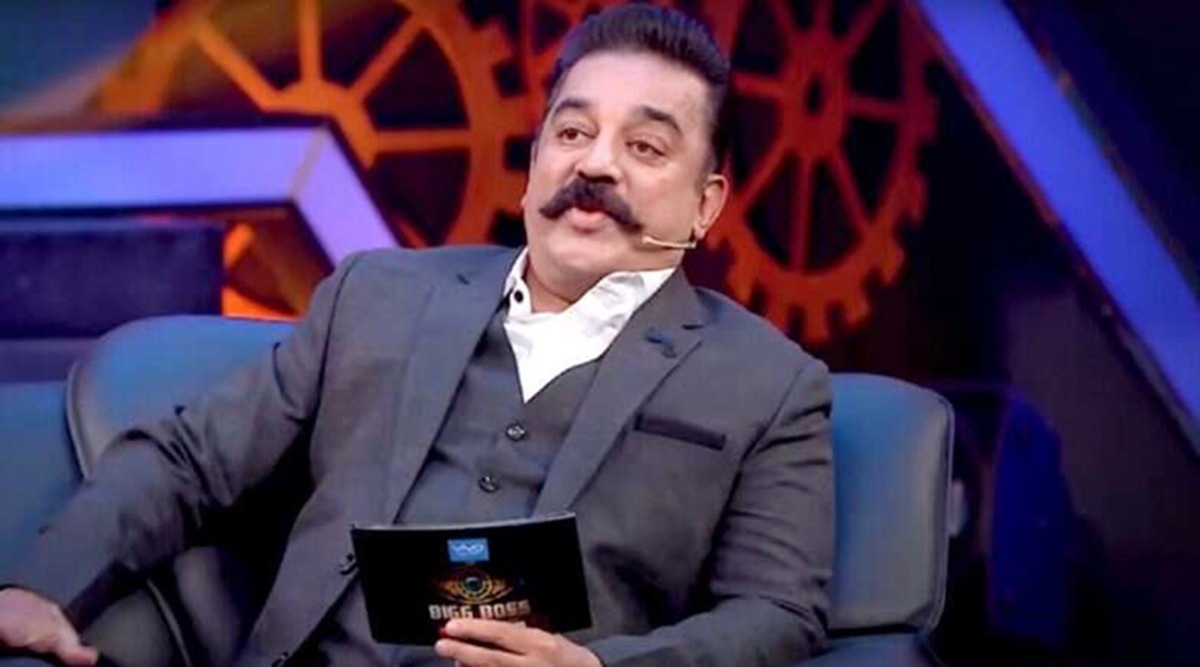 Triplicane Mansions run out of water
Several Mansions in Triplicane have temporarily been shut down due to the ongoing water crisis in the city.
Chennai: Guest-houses in Triplicane area have temporarily suspended operations due to water scarcity in the city. #TamilNadu pic.twitter.com/6DqaPoeNhh

— ANI (@ANI) 18 June 2019
TN CM pay tribute to Jayalalithaa
Tamil Nadu Chief Minister Edappadi K. Palaniswami paid floral tribute to Jayalalithaa at her memorial in Marina. He promised that former TN Chief Minister's memorial hall will be completed within the next five months.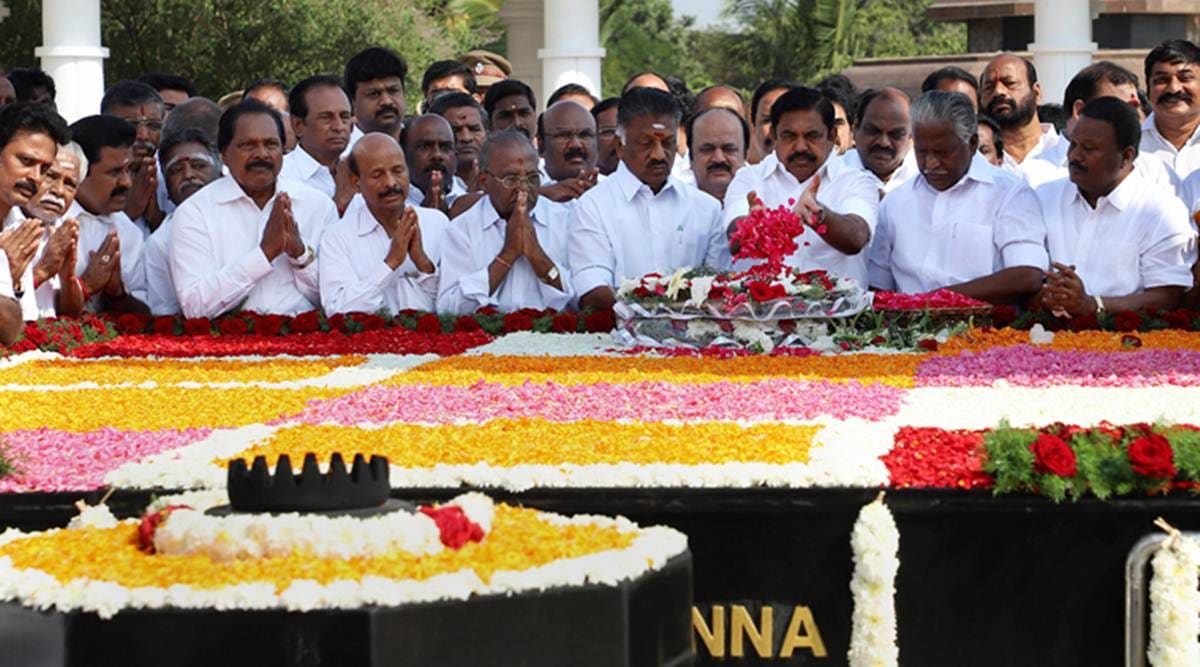 School declares holiday due to water scarcity

Due to the ongoing water crisis in Chennai, a government-aided school in Tambaram declared holiday today for students from class V-VIII as they ran out of water. According to the reports, the school has apparently sought the permission Tamil Nadu Education Department before initiating the announcement to the students. Earlier on Monday Municipality and Rural Administration Minister SP Velumani said there was no drinking water shortage in Chennai and termed such reports as manufactured news.
Trains from Mysore to Chennai cancelled for next two days
Due to non-interlocking work being carried out for yard modelling work over the Mysore division of the South Western Railway at Mysore, trains from Mysore to Puratchi Thalaivar Dr. M G R Chennai Central on June 19 and June 20 have been cancelled.
Trains fully cancelled pic.twitter.com/A3vnWOYf3S

— @GMSouthernrailway (@GMSRailway) June 18, 2019
Actress Amala Paul's 'Aadai' teaser released!
Actress Amala Paul's 'Aadai' movie teaser got released today by actor-producer Karan Johar. "Freedom is what you do with what's been done to you.' Presenting #Aadai a Tamil film that breaks the shackles of the status quo," Karan Johar tweeted. The thriller genre film is directed by 'Meyaadha Maan' fame Rathnakumar.
'Freedom is what you do with what's been done to you.' Presenting #Aadai a Tamil film that breaks the shackles of the status quo. Starring the bold, beautiful & badass @Amala_ams. Directed by @MrRathna produced by @vstudiosoffl@thisisoorka @vijaykartik_khttps://t.co/yvfV17ezcG

— Karan Johar (@karanjohar) 18 June 2019
Government requests HC to conduct Nalini hearing through video call
The Government of Tamil Nadu requested the Madras High Court today to conduct the hearing for Nalini's parole plea through video call owing to security reasons.
Nalini Sriharan was convicted in 1991 for the assassination of the former Prime Minister, Rajiv Gandhi, along with four other terrorists and has been serving a life term since then.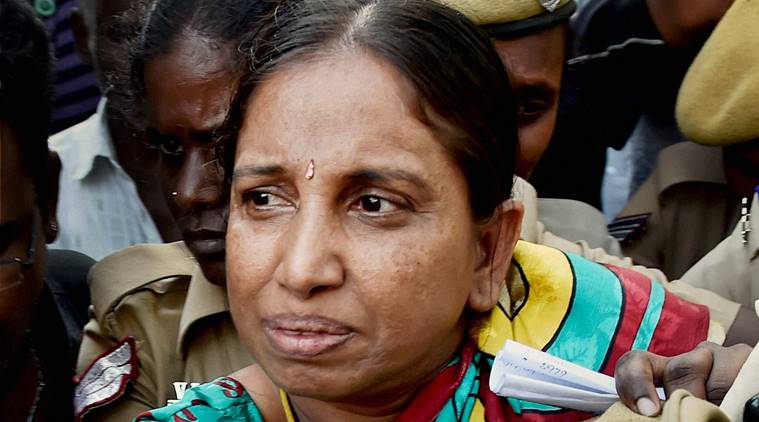 Chennai suburban trains to skip stopping at Senji Panambakkam station until June 25
The Southern Railway announced today that there would be a change in the pattern of suburban train services due to track maintenance work being carried along the Chennai - Arakonam section at Kadambattur Yard on the Up and Down lines from June 18 to June 25.
As per the revised schedule, trains plying along the Down fast line between Tiruvallur to Thiruvalangadu will skip stopping at the Senji Panambakkam station until the maintenance work is over.
CHANGES IN PATTERN OF TRAIN SERVICES @DrmChennai pic.twitter.com/Vw3MAc1HKQ

— @GMSouthernrailway (@GMSRailway) June 18, 2019
AIADMK is responsible for water scarcity - DMK treasurer S Duraimurugan
DMK treasurer and senior leader S Duraimurugan slammed the AIADMK government for the ongoing water scarcity in Chennai. He said, "AIADMK government is solely responsible for the water scarcity in Chennai. People are queueing up on the streets to fetch water," he said.

He added that the only solution to this crisis is to bring water in trains from places like Trichy, Erode, Jolarpetai, etc.
Chennai Event: Machine Learning week by Makers Tribe
Makers Tribe is conducting a five-day workshop, Machine Learning Week, from June 17 to June 21 at their centre in Old Mahabalipuram Road (OMR), Chennai. The workshop aims to explore technology and its usage, since Machine Learning has a wide scope of learning. Today's lesson will focus on Scikit-Learn and will be held at Makers Tribe from 7 pm to 9 pm.
No hooliganism during our days, says a twitter user
The Chennai Police detained at least 24 students from Pachayappa College for climbing on buses and hanging from its windows in the name of the city's infamous 'Bus Day' celebrations on Monday. In a video which went viral on social media, several students are seen falling off an overcrowded bus. The video drew a lot of flak online, and one of the users tweeted how the 'Bus Day' celebration was carried during his period without any hooliganism.
Bus Day, when I was in college, used to be an enjoyable affair with basic intention of thanking the drivers & conductors for driving us to college during the year. The buses were decorated and sweets for the passengers. And gifts to the driver and conductor. No hooliganism at all

— Vasu (@vasudevan_k) 18 June 2019
Mongoose hairbrushes seized in Chennai
The Wildlife Crime Control Bureau and the Tamil Nadu Forest Department seized over 9000 brushes made of mongoose bristles on June 13 in Chennai and arrested a few people in coonection with the same.
Although mongooses in India are protected under Schedule II of the Wildlife Protection Act of 1972, there is no follow up by enforcing agencies to keep a check on mongoose poaching and trading in India.
#Mongoose hair #brushes were seized by #WCCB and Tamil Nadu #Forest Department on 13-06-2019 with the arrest of accused from #Chennai, Tamil Nadu. pic.twitter.com/BiCNxPqBsd

— Wildlife Crime Control Bureau (@WCCBHQ) June 18, 2019
Madras HC denies permission to conduct Nadigar Sangam Election
The Madras High court on Tuesday denied permission to conduct the Nadigar Sangam Election at the premises of M.G.R Janaki College of Arts and Science for Women in Chennai as it may cause disruption to the public. The court directed the Nadigar Sangam to suggest a different venue to conduct its election. The election is scheduled to take place on June 23rd.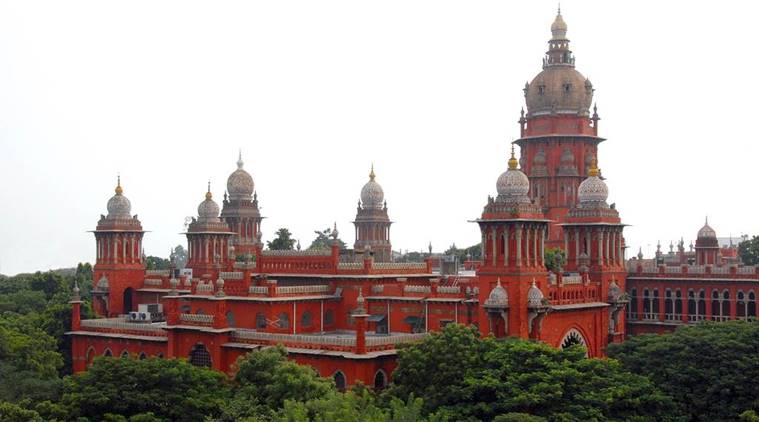 Greater Chennai Corporation officials carry out raids against violation of plastic ban
Hours after Tamil Nadu Chief Minister, Edappadi K Palaniswami called for a ban on plastics used by companies, officials from the Greater Chennai Corporation (GCC) carried out raids on Monday against commercial establishments in Chennai and collected over Rs. 2 lakh in fine for violating the ban on single-use plastics in the city.
Officials raided over 1800 commercial establishments that had an area of less than 1000 square feet in certain zones.
மாண்புமிகு முதல்வர் திரு.எடப்பாடி கே.பழனிசாமி அவர்கள் தலைமையில் இன்று "பிளாஸ்டிக் மாசில்லா தமிழ்நாடு" உருவாக்கிட தமிழக அரசால் 1.1.2019 முதல் தடை செய்யப்பட்டுள்ள ஒருமுறை பயன்படுத்தி தூக்கிஎறியும் பிளாஸ்டிக் தடை நடவடிக்கைகளின் முன்னேற்றம் குறித்த ஆய்வுக்கூட்டம் நடைபெற்றது. #TNGovt pic.twitter.com/ofNdZRLeg0

— Edappadi K Palaniswami (@CMOTamilNadu) June 17, 2019
Actress Amala Paul's new movie teaser to be released today
Avadi becomes municipal corporation
Avadi, located in Chennai district has become Tamil Nadu's 15th municipal corporation. Avadi is surrounded by various defense establishments, Universities, Factories, etc. The existing municipal corporations are Chennai, Coimbatore, Erode, Madurai, Dindigul, Salem, Thanjavur, Trichy, Tirunelveli, Tirupur, Thoothukudi, Vellore, Hosur, and Nagercoil. The Tamil Nadu government has passed the ordinance.
Have got permission to perform drama: S Ve Shekhar
Tamil playwright and actor, S Ve Shekher announced today that he had been authorised to perform his drama at the Dr. M G R Janaki Arts and Science College on June 23, the same day that the Nadigar Sangam Elections are scheduled to be conducted.
He demanded that actor Vishal show a receipt authorising him to conduct the elections in the college on June 23.
Tamil Nadu MP's take oath in parliament
The elected Lok Sabha candidates from Tamil Nadu took oath as MP's in parliament today. The members Including K.Kanimozhi, Thol Tirumavalavan, TR Balu, Karti Chidambaram, Dayanidhi Maran, Thamizhachi Thangapandian, Thirunavukarasar, and AIADMK's OP Ravindranath Kumar took oath in Tamil.
'வாழ்க தமிழ்; வாழ்க பெரியார்' என தூத்துக்குடி எம்பியாக பதவியேற்றார் கனிமொழி..! @KanimozhiDMK pic.twitter.com/im8mFRAmnd

— PuthiyathalaimuraiTV (@PTTVOnlineNews) 18 June 2019
GV Prakash's new show aims at showcasing the sacrifice of commoners
Actor GV Prakash has released the first episode of 'Magathana Manidhargal' on Monday. The series is aimed at showcasing various commoners who have sacrificed their lives for the development of Tamil Nadu. In this first episode, GV is seen traveling to Jawadhu Hills in Tiruvannamalai district of Tamil Nadu in search of Mahalakshmi teacher, who teaches the underprivileged children in the surrounding areas.
Something special https://t.co/Q3T5HWANhV here goes the first episode of #magathanamanidhargal .. now it's up to u people to make these great people where they deserve 🔥🔥💪🏻💪🏻 spread and share everywhere friends 🔥❤️✨✨

— G.V.Prakash Kumar (@gvprakash) 17 June 2019
College students fall off the top of a bus while celebrating 'Bus Day'
Special category students to avail counselling from June 25
The Tamil Nadu government announced on Monday that engineering counselling for special category students for the Tamil Nadu Engineering Admissions (TNEA) will be held on June 25. The statement was made in rectification to an earlier statement that announced that counselling for special category students will be held on June 20.
Candidates can log on to the Directorate of Technical Education Website or the Tamil Nadu Engineering Admissions Website for further details.
Madras HC to hear actor Vishal's petition today
The Madras High Court is expected to hear a petition filed by actor Vishal, requesting police protection for the Nadigar Sangam elections today. Vishal had moved the court on Monday, alleging that the police had refused to provide security for the elections which will be held at the Dr. M G R Janaki Arts and Science College in Chennai on June 23.
The Nadigar Sangam elections, which will be held on June 23, will see the Nasser-led Pandavar Ani going up against Bhagyaraj's Swami Sankardas Ani.
Woman killed after water tanker ploughs into bus stop
A woman was killed and three men were injured after a water tanker ploughed into a bus stop at Nerkundram in Chennai on Monday morning. The deceased, Kaliammal, was caught in the front tyre of the lorry and dragged for a few metres before the lorry stopped. The injured were identified as Vijaykumar, Kaliammal's husband, Tamil Selvan and Bakiyaraj.
According to the police, driver Vijaya Balan was driving the lorry from Koyambedu towards Maduravoyal, when he fell asleep behind the wheel and rammed into two parked bikes before ploughing into the bus stop. Police later arrested Balan and filed a case of causing death due to negligence, rash and negligent driving against him.
Change in timings of MGR Chennai Central-Thiruvananthapuram Central Bi-weekly Express
The Thiruvananthapuram division of the Southern Railway has announced that the timimgs of the AC Biweekly Express from Thiruvananthapuram Central to Puratchi Thalaivar Dr. M G Ramachandran Chennai Central Station have been permanently changed, with effect from July 1, 2019 due to operational reasons.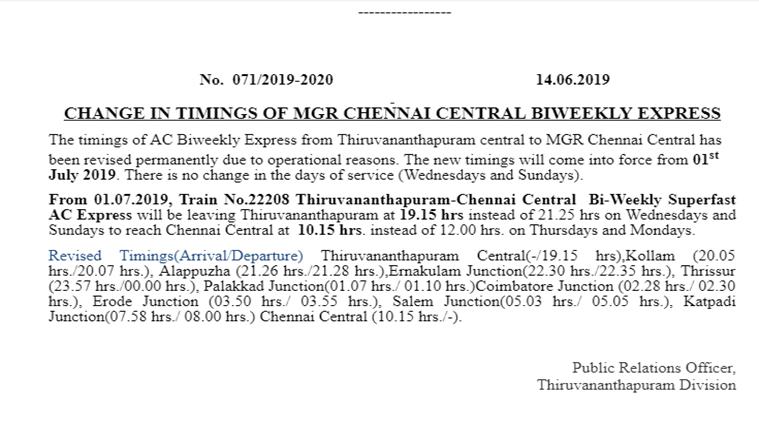 Outpatients hit severely during doctors strike
Outpatients in Chennai's hospitals were hit severely during the nation-wide strike that was called by the Indian Medical Association (IMA) yesterday, after doctors and students in Chennai's government hospitals held protests to express solidarity with their West Bengal brethren.
Click on the video below to see what students and doctors at the Government Stanley Hospital in Chennai had to say regarding the nation-wide call on ensuring the safety of doctors.
Government Stanley Hospital, Chennai medicos speak up on the nation-wide strike called by IMA to express solidarity with doctors in West Bengal.

Doctor's strike in Tamil Nadu | தமிழகத்தில் மருத்துவர்கள் போராட்டம் https://t.co/CXwala7PHS via @YouTube

— Express Chennai (@ie_chennai) June 17, 2019
Chennai Event: Alliance Française of Madras to host Day 2 of Peruvian Film Festival
Alliance Française of Madras will be hosting Day 2 of Peruvian Film Festival, conducted by the Embassy of Peru in New Delhi in association with the Indo Cine Appreciation Foundation at Chennai today.
The institute will screen Captain Pantoja and the Special Services at 4 pm, Gods at 06:15 pm and Days of Santiago at 08:15 pm. For all those cinema lovers out there who love watching International films, the Peruvian Film Festival is the right place for you!
Train services to be hit from Mysore on June 16, trains to Chennai affected
The Southern Railway announced on June 13 that trains from Mysore will be cancelled, partially cancelled, diverted or rescheduled from June 16 to June 23 following non-interlocking work being carried out for Yard modelling work in the Mysore Division of South Western Railway at Mysore.
CHANGES IN PATTERN OF TRAIN SERVICES pic.twitter.com/r7yZjaTVkG

— @GMSouthernrailway (@GMSRailway) June 13, 2019
Chennai weather for the day: Chennai and neighbouring districts to experience heat wave
The Regional Meteorological Centre (RMC) has forecasted that Chennai and its neighbouring districts of Tiruvallur and Kancheepuram, and isolated areas in Tiruvannamalai and Vellore will be experiencing a heat wave today, with temperatures expected to rise above 40C.
Although the sky is expected to be cloudy today, minimum and maximum temperatures have been forcasted at 31C and 41C respectively. The RMC has warned people to not step outdoors between 11 am and 4 pm in order to avoid having a sunstroke.
Welcome to today's live blog
Good morning!
Welcome to the live blog from Chennai where we bring to you the latest updates on traffic, weather, politics, movies, culture and civic issues in the city. Follow the blog to stay up to date with the city in real time.