Chennai News June 17 Highlights: In light of the city-wide water scarcity, most hotels in Chennai are mulling shutting down or reducing work hours due to lack of water supply. Most small and medium sized hotels in the city depend on water tankers to supply water. However, the city-wide drought has led to a delay in supply, with tankers charging thrice the normal amount for supplying water to their clients.
While a few hotels have already shut shop during peak hours in a bid to save water, others are debating the use of disposable cups and plates to reduce water consumption and ensure that the restaurant remains open throughout the day.
Unknown people broke into the house of a traffic constable at his quarters in Madhavaram, Chennai and made away with gold jewellery and cash on June 17. According to the police, the thieves had stolen 13 sovereigns of gold and about Rs. 2000 in cash from the house of Kothandaraman (51), while the latter had gone to Thiruchendur on a pilgrimage on June 13. The police collected CCTV footage from the Madhavaram police station and registered a case on Sunday.
Catch the Chennai News Live Updates June 18 here
Live Blog
Follow our live blog for the latest updates on Chennai news, Tamil Nadu news, Chennai weather, Chennai traffic, Tamil Nadu politics, Tamil movies, Chennai and Tamil Nadu civic issues and much more through the day. Also read our Bangalore News Live Updates | For updates in Tamil, click our Tamil Live Blog IETamil Live Blog |
Suhasini Mani Ratnam rubbishes reports of Mani Ratnam's ill health
Actress Suhasini took to Twitter on Monday to clear the rumors revolving around director Mani Ratnam's health. "my husband went to work at 9.30 am this morning...I had a work shop for naam women at home...rupa a naam trust coach brought yum roti and mango pickle..he loved it and went back to office to add more spice to his script..." [sic] she tweeted. Earlier on Sunday, Mani Ratnam went for a routine check-up to Greams Road Apollo Hospital.
my husband went to work at 9.30 am this morning...I had a work shop for naam women at home...rupa a naam trust coach brought yum roti and mango pickle..he loved it and went back to office to add more spice to his script...

— Suhasini Maniratnam (@hasinimani) 17 June 2019
We have to win to complete the Nadigar Sangam building : Actor Karthi
Actor Karthi, the treasurer of Nadigar Sangam, said they need to win in the upcoming election to complete the Nadigar Sangam building. Speaking amidst the drama artist in Salem today, Karthi said, "Constructing a building for Nadigar Sangam is similar to constructing a temple. Everyone should vote for us to complete this building successfully." He added that others are contesting in this election for money, whereas his team is contesting only to bring welfare schemes for the artist. The election will be held on June 23rd in Chennai.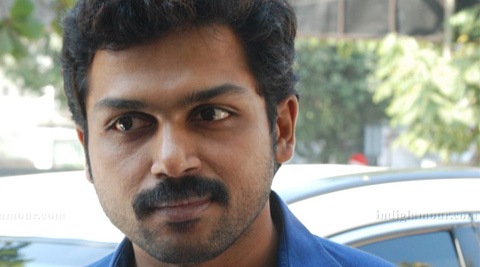 Toilet closed in Chennai metro station due to water scarcity
In Chennai's St.Thomas Mount metro railway station, the toilet has been shut down due to water scarcity. "Toilet is closed due to Non-Availablity of water. Sorry for the inconvenience caused," said a notice put by the authorities.
Chennai Metro..! pic.twitter.com/ac5W5Raib4

— pal murukan (@palmurukan) 17 June 2019
Vairamuthu condemn the attack on doctors in Kolkata
Condemning the recent attack on a doctor at a hospital in Kolkata, Tamil poet and Lyricist Vairamuthu today tweeted that doctors should be protected. "Doctors who protect us should be protected; justice must be served for the injured doctors," he tweeted.
காக்கும் மருத்துவர்கள்
காக்கப்பட வேண்டியவர்கள்;
தாக்கப்படக்கூடாது.
மருத்துவர்களின் காயத்திற்கு
நியாயம் வேண்டும்.#DoctorsProtest #DoctorsFightBack

— வைரமுத்து (@vairamuthu) 17 June 2019
Don't enroll your wards in unauthorized schools : Chennai District Collector
Chennai district collector A.Shamuga Sundaram today said that 331 schools in the city have been found to be running without authorization. "Parents should avoid enrolling their wards in these schools. The schools which function without NOC and other required certificates will be subjected to legal action," he said.
Students and doctors at Government Stanley Hospital, Chennai speak up on the IMA nation-wide strike
After the Indian Medical Association called for a nation-wide strike today, doctors and students from the Government Stanley Hospital, Chennai held a protest outside the hospital premises today to express solidarity with their medical fraternity in West Bengal. The doctors urged the Centre to establish a security force for all government hospitals in India.
Government Stanley Hospital, Chennai medicos speak up on the nation-wide strike called by IMA to express solidarity with doctors in West Bengal.

Doctor's strike in Tamil Nadu | தமிழகத்தில் மருத்துவர்கள் போராட்டம் https://t.co/CXwala7PHS via @YouTube

— Express Chennai (@ie_chennai) June 17, 2019
Police to question 17 students for Bus Day celebrations
In spite of strict vigilance being maintained by the Chennai police, students in Chennai went on to celebrate Bus Day today. The police have detained 17 students for questioning.
Vishal seeks police protection for Nadigar Sagam election
Actor Vishal has filed a petition in the Madras High Court seeking police protection for the Nadigar Sangam Election which is scheduled to be held on June 23rd at the premises of MGR-Janaki College in Chennai. Vishal's 'Paandavar Ani' will lock horns with veteran director K.Bhagyaraj's 'Swami Sankaradas Ani'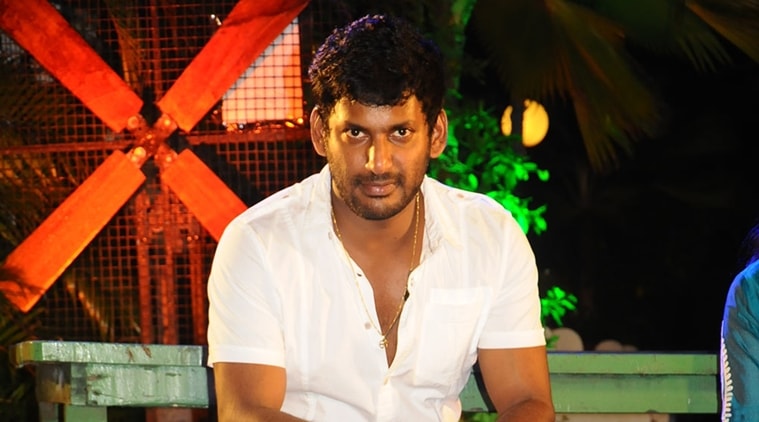 Chennai Event: Dance repertoire by Aalaap Studios Pvt Ltd
Aalaap Studios Pvt Ltd will be hosting a dance recital, Dances of Sri Lanka, today from 5 pm to 8 pm at Narada Gana Sabha in Chennai. The recital will feature different styles of dance such as Bharatanaytam, Odissi, Kuchipudi and Sri Lankan dance forms.
All the budding dancers in the city who would love to explore styles of dance can head to the Sabha on TTK today and immerse themselves in an evening full of music, rhythm and dance.
Transsexual moves Madras HC to revise TNUSRB norm
Deepika, a trangender woman moved the Madras High Court last week to revise the age limit that was imposed by the Tamil Nadu Uniform Services Recruitment Board for joining as a Grade II police constable in the State. The petition was filed by the woman, aged 27, after the TNUSRB stated that candidates coming under the Most Backward Class quota during applications should be less that 26 years. With her application having been rejected despite her being only a year older than the limit, Deepika pointed out that the age limit for other quotas was higher and requested the court to relax the upper age limit for transsexual applicants to 45 years.
The Madras HC has issued a notice to the government for the same, seeking its response on the writs that have been filed.
TN CM directs authorities to take strict action against companies that use banned plastics
Tamil Nadu Chief Minister Edappadi K. Palanisamy has directed the authorities to take strict action against companies that use banned plastic Items. The ban came into effect in the state on January 1st, 2019.
மாண்புமிகு முதல்வர் திரு.எடப்பாடி கே.பழனிசாமி அவர்கள் தலைமையில் இன்று "பிளாஸ்டிக் மாசில்லா தமிழ்நாடு" உருவாக்கிட தமிழக அரசால் 1.1.2019 முதல் தடை செய்யப்பட்டுள்ள ஒருமுறை பயன்படுத்தி தூக்கிஎறியும் பிளாஸ்டிக் தடை நடவடிக்கைகளின் முன்னேற்றம் குறித்த ஆய்வுக்கூட்டம் நடைபெற்றது. #TNGovt pic.twitter.com/ofNdZRLeg0

— Edappadi K Palaniswami (@CMOTamilNadu) 17 June 2019
Request Centre to provide security at hospitals: Government Stanley Hospital doctor
One of the doctors at the Government Stanley Hospital, Chennai said that they were protesting today to condemn the attack on doctors in West Bengal and urged the Central Government to punish the culprit immediately.
He further added, "I request the Central government to bring in a Central Hospital Protection Force immediately and it should be implemented throughout the country." The doctor urged the government to recognize all government hospitals as 'protected zones' and initiate a Central Hospital Protection Force, similar to the Central Industrial Security Force.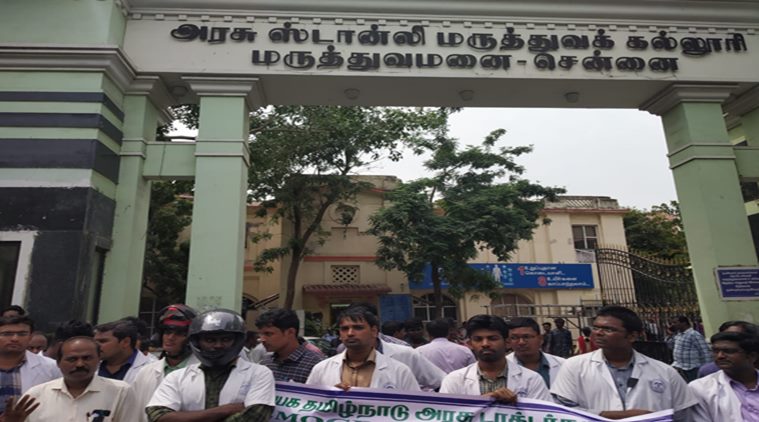 Doctors and students at Government Stanley Hospital go on strike
In response to the Indian Medical Association's (IMA) call for a nation-wide strike in solidarity with the doctors at West Bengal, doctors at the Government Stanley Hospital in Chennai are holding a protest outside the hospital premises.
"We are protesting in solidarity with the entire medical fratenity of the country. We are standing with our fellow doctors in the demand that we get a safe environment so that we can work and trust the patients with the hope that they won't hit us back. If we don't hold a protest today, there will be no one to acknowledge it. It is up to the Central government to come forward with a law that safeguards the medical fraternity", said one of the students who was participating in the protest.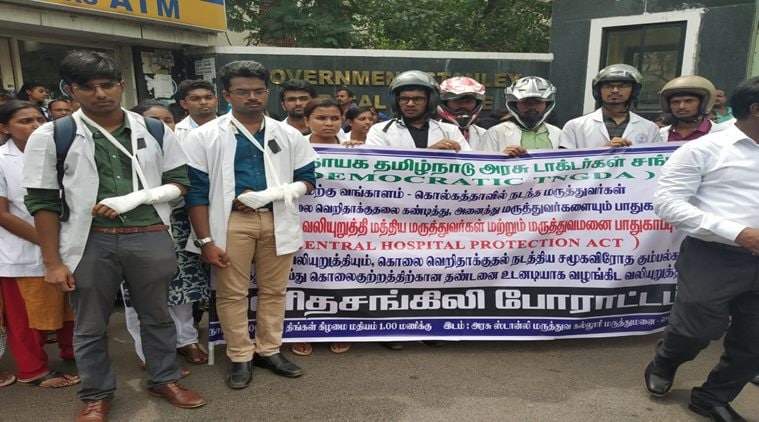 Requests of drama artists will be considered after elections: Actor Vishal
Addressing the media ahead of the Nadigar Sangam elections, actor Vishal spoke up about the construction of the Nadigar Sangam building and said, "An empty land has now turned into a building."
Speaking about the Pandavar Ani's meeting with drama artists, he said that they would be meeting up with drama artists across Tamil Nadu to seek their vote during the elections, and added that their requests would be examined after the elections. Speaking up on the alleged divide between the film fraternity and theatre fraternity, he said, "We have never observed any difference between cinema actors and theatre artists."
Ambulance staff return Rs. 69 lakh retrieved from accident site
Attending to the injured at an accident site off Chennai in Kancheepuram district, an ambulance driver and a medical technician returned Rs. 69 lakh to hospital authorities from an overturned car as they rushed three injured men to the nearest hospital for treatment. Businessmen Balaji and Murali and their driver Saravanan were returning from Dharmapuri to Chennai on Saturday evening after completing a business deal, when a tyre burst and their car turned turtle near Chinnayanchatiram, around 60 km from Chennai.
Following calls to 108 and the police control room, ambulance driver V Santhanam and medical technician, D Vijayan were pressed into service. They reached the accident site and found the three men lying outside the car, with money amounting to Rs 69 lakh strewn about. The duo retrieved the money and rushed the men to the hospital where they handed over the money to hospital authorities. The duo were later lauded by the police for their honesty.
Lawyer asks HC to take up water crisis case in Tamil Nadu
A lawyer approached the Madras High Court today and pleaded with the HC to come forward and take up the case of water crisis across Tamil Nadu on its own.
Speaking on the same issue, judges Mani Kumar and Subramaniam Prasad clarified that they had already asked the government for details.
From November, there won't be a water shortage in Chennai : TN Minister SP Velumani
Tamil Nadu minister for rural and municipal administration S P Velumani assured that there won't be a water shortage in Chennai from November. Addressing the reporters in Chennai, the minister, said: "Some people are creating like there is a severe water shortage in Chennai, which is not true. IT firms haven't asked their employees to work from home due to water scarcity and no hotel has been shut down. People need not fear, from November, there won't be a water shortage in Chennai."
சென்னையில் கடுமையான தண்ணீர் பஞ்சம் இருப்பது போன்ற தோற்றத்தை சிலர் உருவாக்கி வருகிறார்கள்.

சென்னையில் எந்த ஐ.டி. நிறுவனங்களும் ஊழியர்களை வீட்டிலிருந்து வேலை செய்ய சொல்லவில்லை, ஓட்டல்கள் எதுவும் தண்ணீர் இல்லாமல் மூடப்படவில்லை - மாண்புமிகு அமைச்சர் திரு. வேலுமணி அவர்கள் பேட்டி.

— AIADMK (@AIADMKOfficial) 17 June 2019
Thirumavalavan urge center to scrap Hydrocarbon Project
VCK leader and Chidambaram MP Thol.Thirumavalvan has urged the central government to scrap Hydrocarbon Project in delta districts of Tamil Nadu. He added that the AIADMK government should function individually and the center shouldn't interfere in state affairs.
தமிழகத்தில் ஹைட்ரோ கார்பன் திட்டத்தை முற்றிலும் கைவிட வேண்டும் - விடுதலை சிறுத்தைகள் கட்சி தலைவர் திருமாவளவன் pic.twitter.com/fSG3fg4mlZ

— IE Tamil (@IeTamil) 17 June 2019
Police on the lookout for chain snatchers in Tiruvallur district
The police released photos of suspects on June 16, after four chain snatching incidents were reported in the neighbouring district of Tiruvallur on Saturday. On June 15, two bike-borne men snatched the chains of four women in separate incidents which occurred on the same day within a gap of two hours. Suspecting the same men to be involved in the four cases, police registered a case and released the photos.
Concrete slab kills man at ICF
A 32-year-old contract worker was killed at the Integral Coach Factory (ICF) in Chennai after a concrete slab fell on him on Saturday night. The victim, Thirumurthy, was sitting beside a pillar that was supporting the slab and was having dinner at the time of the incident. He was rushed to the hospital, where he succumbed to his injuries on Sunday morning.
Greater Chennai Traffic Police conduct helmet awareness program
The Greater Chennai Traffic Police carried out a Helmet awareness programme in the city on June 17 at EVR Salai and St. Thomas Mount. The programme was conducted with an aim to sensitize commuters about the importance of following traffic rules and road safety.
A Helmet Awareness Program was conducted by Greater Chennai Traffic Police at EVR Salai near Ega Juncion and St.Thomas Mount, by issuing awareness leaflets and giving Roses and sensitizing them about importance of traffic rules and road safety. pic.twitter.com/0UCs9xrH9M

— ChennaiTrafficAlert (@CCTPolice_Alert) June 15, 2019
Sindhubaadh trailer released
Chennai Event: Five-day workshop on Direction
Wandering Artist will be hosting a five-day workshop, Direction Matters at the Wandering Artist office in R A Puram, Chennai from 10 am to 5 pm. The workshop will commence today and will go on until June 21.
Direction Matters is a 30-hour workshop by Varun Aiyer that deals with the direction of live performance, film and television and aims to look at the idea of Direction and the Director, the dynamics of the role and the relationship of the director with other elements of performance. Tickets are available on the Wandering Artist site.
Pandavar Ani to meet drama artists
Ahead of the Nadigar Sangam polls, Pandavar Ani is expected to meet various drama artists from Tricy, Karaikudi, Madurai, Salem and Namakkal in Tamil Nadu over the next three days.
The Nadigar Sangam elections, which will see Pandavar Ani face-off with Swami Sankardas Ani will be held on June 23 at MGR Janaki Arts and Science College in Chennai.
Change in timings of MGR Chennai Central-Thiruvananthapuram Central Bi-weekly Express
The Thiruvananthapuram division of the Southern Railway has announced that the timimgs of the AC Biweekly Express from Thiruvananthapuram Central to Puratchi Thalaivar Dr. M G Ramachandran Chennai Central Station have been permanently changed, with effect from July 1, 2019 due to operational reasons.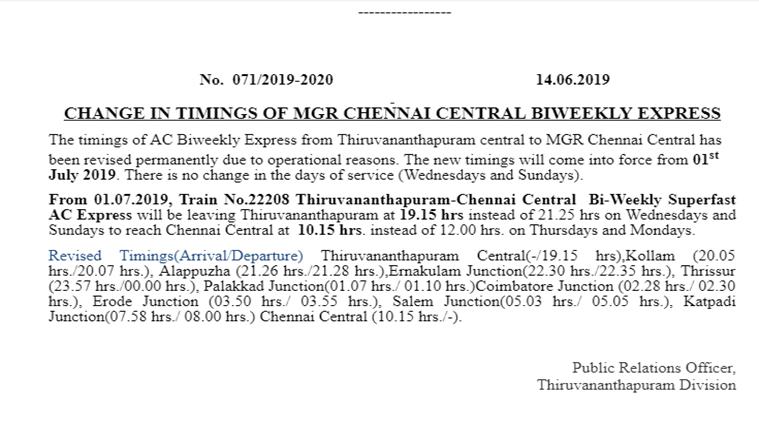 Indian Medical Association calls for nation-wide strike
Chennai water crisis: Clashes erupt in city while IT firms and restaurants cut down operations
With Chennai under the grip of a drought with no rainfall in sight for the past 193 days, clashes have begun to crop up in pockets of the city with residents struggling to book water tankers, even as the government is disconnecting supply to houses that are illegally drawing water Chennai.
IT firms in the city have asked employees to work from home, while hotels and restaurants have had to cut down operations to save water.
The Madras HC has sought a report from the Tamil Nadu government on the looming water crisis.
Chennai Event: Stand-up comedy by Sumukhi Suresh
Stand-up comedian, Sumukhi Suresh will be performing a show, Don't Tell Amma, at the CounterCulture Comedy Club Chennai in Alwarpet today evening from 8 pm to 9pm.
Don't Tell Amma is a trial show where Sumukhi Suresh will be trying jokes that you should not tell your amma (mother). Those of you in Chennai who enjoy watching stand-up comedy shows should head out for this one. Tickets are available on Book My Show.
Train services to be hit from Mysore on June 16, trains to Chennai affected
The Southern Railway announced on June 13 that trains from Mysore will be cancelled, partially cancelled, diverted or rescheduled from June 16 to June 23 following non-interlocking work being carried out for Yard modelling work over the Mysore Division of South Western Railway at Mysore.
CHANGES IN PATTERN OF TRAIN SERVICES pic.twitter.com/r7yZjaTVkG

— @GMSouthernrailway (@GMSRailway) June 13, 2019
Engineering merit list to be out on June 20
The Directorate of Technical Education announced on Sunday that the merit list for the Tamil Nadu Engineering Admissions (TNEA) for engineering courses affiliated to Anna University will be announced on June 20. The results were expected to be announced on June 17 but have been postponed to Thursday due to the extension of the certificate verification procedure.
Candidates can log on to the Directorate of Technical Education Website or the Tamil Nadu Engineering Admissions website for further details.
Chennai weather for the day: Chennai, neighbouring districts to experience heat wave
The Regional Meteorological Centre (RMC) has forecasted that Chennai and its neighbouring districts of Tiruvallur and Kancheepuram, and isolated areas in Tiruvannamalai and Vellore will be experiencing a heat wave for the next two days, with temperatures expected to rise above 40C until June 18.
Although the sky is expected to be cloudy today, minimum and maximum temperatures have been forcasted at 31C and 41C respectively. The RMC has warned people to not step outdoors between 11 am and 4 pm in order to avoid having a sunstroke.
Welcome to today's live blog
Good morning!
Welcome to the live blog from Chennai where we bring to you the latest updates on traffic, weather, politics, movies, culture and civic issues in the city. Follow the blog to stay up to date with the city in real time.