Chennai June 12 Highlights: Tamil Nadu Minister of School Education, K A Sengottaiyan announced yesterday that Chief Minister Edappadi K Palaniswami will be launching smart cards for government school students across the state on Thursday. The cards, which will be distributed to roughly 70 lakh students will contain a QR code that provides vital information of the students and will help parents keep track of their children.
Chief Minister Edappadi K Palaniswami urged parents and employers in Tamil Nadu to help make the state child-labor-free by taking a vow to not employ children for work, in a post which he shared on Twitter yesterday. The CM's appeal was made ahead of World Day Against Child Labour which is observed on June 12 every year.
Live Blog
Follow our live blog for the latest updates on Chennai weather, traffic, politics, movies, civic issues and much more through the day.
Man posing as journalist arrested, police seize 950 grams of marijuana
The city police arrested a man from Andhra Pradesh, who claimed to be a journalist and his woman accomplice near the Pallikaranai Marshland today afternoon.
The man, who was posing as a journalist claimed to have been working with a monthly investigative magazine, Namadu Kottai. The police seized around 950 grams of ganja (marijuana) from the man and arrested the duo on the spot.
NIA concludes raids at Coimbatore
The National Investigation Agency (NIA), which had conducted raids in seven places in Coimbatore, Tamil Nadu arrested four people today afternoon. The NIA had carried out an investigation in connection with a case that was registered by the agency against the Islamic State of Iraq and Syria (ISIS) module today.
CMRL undertakes Rail Yatra to spread awareness against Child Labour
The Chennai Metro Rail Limited (CMRL) conducted a Rail Yatra from the AG-DMS station to the Airport station to create awareness against child labour today afternoon to mark the World Day Against Child Labour, which is celebated on June 12.
CMRL took 200 students from National Child Labour Project Schools on the Yatra, which was inaugurated by the Minister for Labour, Nilofar Kafeel. The event was presided over by Sunil Paliwal IAS, Principal Secretary of Labour and Employment Department; R Nandagopal IAS, the Commissioner of Labour; Kollywood actor Vijay Anthony and higher officials from the Labour Department and CMRL.
On the occasion of Anti Child Labour day, a Rail Yatra was provided to 200 no's of school students from National Child Labour Project Schools from AG- DMS to Airport Metro Station today (12.06.2019) to create an awareness on Anti Child Labour. pic.twitter.com/QD77NVHSyE

— Chennai Metro Rail (@cmrlofficial) June 12, 2019
Director Pa Ranjith seeks anticipatory bail
Director Pa Ranjith, who delivered back to back hits like Kabali, Kaala starring Rajinikanth found himself in the soup after he spoke ill about the south Indian king Raja Raja Cholan I at a meeting in Thirupanandal near Thanjavur district of Tamil Nadu. Following a complaint by Hindu Makkal Katchi, a case has been registered by the Thirupanandal police. On Wednesday, Ranjith moved the Madurai Bench of the Madras High Court, seeking anticipatory bail.
Kamala Ramaswamy, freedom fighter from TN is no more
Kamala Ramaswamy, a freedom fighter from Trichy passed away on June 9 at the age of 93. Kamala Ramaswamy was the wife of Rajan, the grandson of the freedom fighter T S S Rajan and was one among the four women who had participated in the Quit India Movement in Trichy 1942.
Tamilnadu has lost a soul , Smt Kamala Ramasamy, that had deep interests in students movements' . She was also part of the Quit India Movement and South Indian Railway struggle. May her soul Rest In Peace. Our condolences with the bereaved family. pic.twitter.com/tJ4iqI36dD

— Tamil Nadu Pradesh Mahila Congress (@TamilNaduPMC) June 12, 2019
Chinmayi Sripaada takes to Twitter as Radha Ravi joins AIADMK
Singer Chinmayi Sripaada took to Twitter today after AIADMK announced that Kollywood actor Radha Ravi had joined the ruling party today morning. In her tweet, she urged people to remember the parties and their names the next time they 'waxed eloquently' about women's safety or rights. The singer had been an active voice in the #MeToo movement in India last year, when she made allegations against poet and lyricist Vairamuthu, following which the singer was denied work in the industry.
With Mr. Vairamuthu mollycoddled by the DMK and Mr. Radha Ravi mollycodded by the AIADMK, the power circles in Tamilnadu are on a roll.
Remember these parties, these names the next time their party members wax eloquently about women's safety or women's rights.

— Chinmayi Sripaada (@Chinmayi) June 12, 2019
Kamarajar Salai gets LED lights at stop lines
In a bid to alert motorists riding along Kamarajar Salai at night, the Chennai Traffic Police installed led lights at the stoplines near the Director General of Police (DGP) office and the Gandhi statue along the road in Chennai. The lights, which are coloured red, white and blue - similar to those on police patrol vans are battery operated and can be seen from a distance, even during heavy rains.
The LED lights were installed after motorists failed to notice signboards along the road which signalled speed breakers and U-turns. This move was also taken at a time when numerous arrests were made by the police last week against youngsters for rash riding and drag racing along Kamarajar Salai, which left one youth dead.
Comicstaan second episode to be shot on Sunday
The Live Recording of the Amazon Prime original, Comicstaan (Tamil) will be held at Thaamara Studios in Vadapalani on June 16. Comicstaan is a regional language spin-off of the Prime Original series, Comicstaan and is a show that showcases upcoming stand-up comedians contesting against each other to become the next Tamil Stand-up Champion. The show will feature six contestants who will compete each week after being mentored in different genres of comedy by their mentors.
The second episode will star Praveen Kumar, Karthik Kumar and Raj Mohan as judges, with Vidyullekha Raman and Mervyn Rozario teaming up as the show's hosts. Tickets for the live recording can be purchased from Book My Show.
Chennai!! Second episode of Comicstaan will be shot this Sunday. Come in big numbers as you will also be asked to vote. I am also performing a small set in this episode. Last few tickets left at https://t.co/6k0hMTshoE pic.twitter.com/ZdZ3FL2d9U

— Comedian Praveen (@Funny_Leone) June 12, 2019
Madras HC cancels Group 1 main exam of TNPSC
The Madras High Court cancelled the main exam for Group 1 of the Tamil Nadu Public Service Commission (TNPSC), which was scheduled to be held on July 12 today. The decision was taken by the HC after the TNPSC failed to release the answer key for Phase 1 of the test, which had already been written by candidates.
The candidates had approached the HC to direct the TNPSC to release the answer key after it had failed to release them as per schedule. After receiving no response from TNPSC, the Madras HC ordered the cancellation of the main exam next month.
Ner Konda Paarvai trailer to be released today
AIADMK passes five resolutions, congratulates Narendra Modi for his second term in office
AIADMK has passed five resolutions in the meeting held today. The resolution thanks voters and alliance partners for voting for the party in Lok Sabha elections and by-elections. It also congratulated Narendra Modi for his second term in office.
இன்று அதிமுக கட்சித் தலைமை அலுவலகத்தில் நடைபெற்ற ஆலோசனைக் கூட்டத்தில் ஐந்து தீர்மானங்கள் நிறைவேற்றப்பட்டுள்ளன. உள்ளாட்சித் தேர்தலில் வெற்றிப் பெற உறுதியேற்பது, உட்பட 5 தீர்மானங்கள் நிறைவேற்றப்பட்டுள்ளது. #AIADMK https://t.co/zq5L9o4xXP pic.twitter.com/Xufdrc7QfJ

— IE Tamil (@IeTamil) 12 June 2019
Tamil Nadu to have automated driving tracks for driving license test
"Tamil Nadu will be setting up automated driving tracks to raise the quality of testing and reduce corruption", said Citizen Consumer and Civic Action Group (CAG) on Twitter today.
The pilot for this will be launched in Karur in Tamil Nadu for Rs. 14 lakh, with 13 more tracks in the offing. The plan is to have one track each in 43 Regional Transport Offices (RTO).
Arappor Iyakkam to conduct a workshop tomorrow
City based NGO, Arappor Iyakkam will be conducting a Know Your Rights workshop tomorrow at Vijaya Nagar in Velachery at 5 pm. The workshop aims to educate citizens on their rights and teach them to register their grievances with the Greater Chennai Corporation (GCC), obtain government information while sitting home and lodge complaints with the police in a hassle-free manner.
3 மணி நேரத்தில் உங்கள் உரிமைகளை பற்றி அறிந்து கொள்ளுங்கள்.
வருகிற சனிக்கிழமை மாலை 5 மணிக்கு அறப்போர் Know Your Rights நிகழ்வில் கலந்து கொண்டு பயன்பெறுங்கள்.
அனுமதி இலவசம். பதிவு அவசியம்.
Register at https://t.co/fsGbxwZNoT pic.twitter.com/ecdAUnNYwO

— Know Your Rights (@Arappor) June 11, 2019
There is no conflict inside the party, says Tamil Nadu Minister KT Rajendra Balaji
"At the party headquarters, we didn't discuss anything with regard to the leadership issue. There is no conflict inside the party, Chief Minister and the Deputy Chief Minister will take a call on the General Council meeting," said Tamil Nadu Minister KT Rajendra Balaji.
Chennai Beach - Chennai Beach Circular EMU Local cancelled until Friday
Southern Railway announced today that Train number 40900 from Chennai Beach to Chennai Beach Circular EMU local via Chengapattu and Arakkonam will be cancelled for three days until June 14, since track maintenance work is being carried out in the Chennai Egmore - Villupuram section from 10 am to 2 pm on June 12, 13 and 14.
CHANGES IN PATTERN OF TRAIN SERVICES @DrmChennai pic.twitter.com/v0Q2tpxdIP

— @GMSouthernrailway (@GMSRailway) June 11, 2019
AIADMK leaders meeting at the party headquarters concluded
The AIADMK secretaries meeting at the party headquarters in Royapettah has been concluded. Chief Minister Edappadi K Palanisamy, Deputy Chief Minister O.Pannerselvam, Ministers and other party members took part in the meeting.
கழக ஒருங்கிணைப்பாளர்கள் தலைமையில் இன்று (12.6.2019) தலைமைக் கழக நிர்வாகிகள், மாண்புமிகு அமைச்சர் பெருமக்கள், கழக செய்தித் தொடர்பாளர்கள், கழக நாடாளுமன்ற மற்றும் சட்டமன்ற உறுப்பினர்கள் ஆலோசனைக் கூட்டம் நடைபெற்றது. #AIADMK pic.twitter.com/ktZWHXQiKS

— Edappadi K Palaniswami (@CMOTamilNadu) 12 June 2019
NIA raids 7 locations in Coimbatore
The National Investigation Agency (NIA) conducted raids in seven places in Coimbatore, Tamil Nadu in connection with a case that was registered by the agency against the Islamic State of Iraq and Syria (ISIS) module today.
The NIA also discovered that the ISIS module and Zahran Hashim, who was allegedly behind the Sri Lankan Easter bomb blasts were Facebook friends.
Not satisfied with DMK: Radha Ravi
Kollywood actor, Radha Ravi, who joined the AIADMK today said that he had been with the party for the past 18 years and added that he was not satisfied with the DMK.
கழக இணை ஒருங்கிணைப்பாளரும் மாண்புமிகு தமிழக முதல்வருமான திரு.எடப்பாடி கே.பழனிசாமி அவர்களை இன்று (12.6.2019) திரைப்பட நடிகரும் முன்னாள் சட்டமன்ற உறுப்பினருமான திரு.ராதாரவி அவர்கள் நேரில் சந்தித்து தன்னை கழகத்தின் அடிப்படை உறுப்பினராக இணைத்துக் கொண்டார். #AIADMK pic.twitter.com/hnXCE2FPRV

— Edappadi K Palaniswami (@CMOTamilNadu) June 12, 2019
Netflix orginal Leila to premiere on June 14
Netflix original, Leila, starring actors Huma Qureshi and Siddharth will be premiering on Netflix on June 14. Directed by Deepa Mehta, the movie traces the journey of a mother as she searches for her daughter, who she lost years ago in a dystopian future.
Siddharth? More like Siddheart ❤️ #Leila premieres 14th June.@Actor_Siddharth pic.twitter.com/2ktzDMoeUM

— Netflix India (@NetflixIndia) June 10, 2019
Actor Radha Ravi joins AIADMK again
Director Venkat Prabhu reacts on 'Imsai Arasan' controversy
Director Venkat Prabhu, who rose to fame with Tamil movies like Mankatha, Chennai 600028, etc has urged all the artists not to forget the creators who helped them shape their career. Recently, Actor Vadivelu slammed director Chimbudevan and Shankar in an interview regarding the 'Imsai Arasan 23am Pulikesi' controversy. In a move to support the directors, Prabhu said the director is the captain of the ship and he is hurt by the comments of the veteran actor. "We all are working here to make people happy. Let's spread love, not hatred," tweeted Prabhu.
Let's spread love not hatred!! #dont_forget_the_creators @shankarshanmugh @chimbu_deven @NaveenFilmmaker @thondankani @vijaymilton @dir_susee pic.twitter.com/lJERdzCzJd

— venkat prabhu (@vp_offl) 12 June 2019
AIADMK district secretaries meeting underway at the party headquarters
A meeting of the AIADMK district secretaries is underway at the party headquarters in Royapettah in Chennai. Various Issues like the Lok Sabha election debacle, demand for unified leadership, AIADMK's stand on BJP-alliance, etc are set to be discussed in the meeting. Outside the headquarters, posters urging Chief Minister Edappadi K Palanisamy to take over AIADMK chief has been put up. As the party cadres have started to gather in large numbers outside the headquarters, the traffic is slow moving.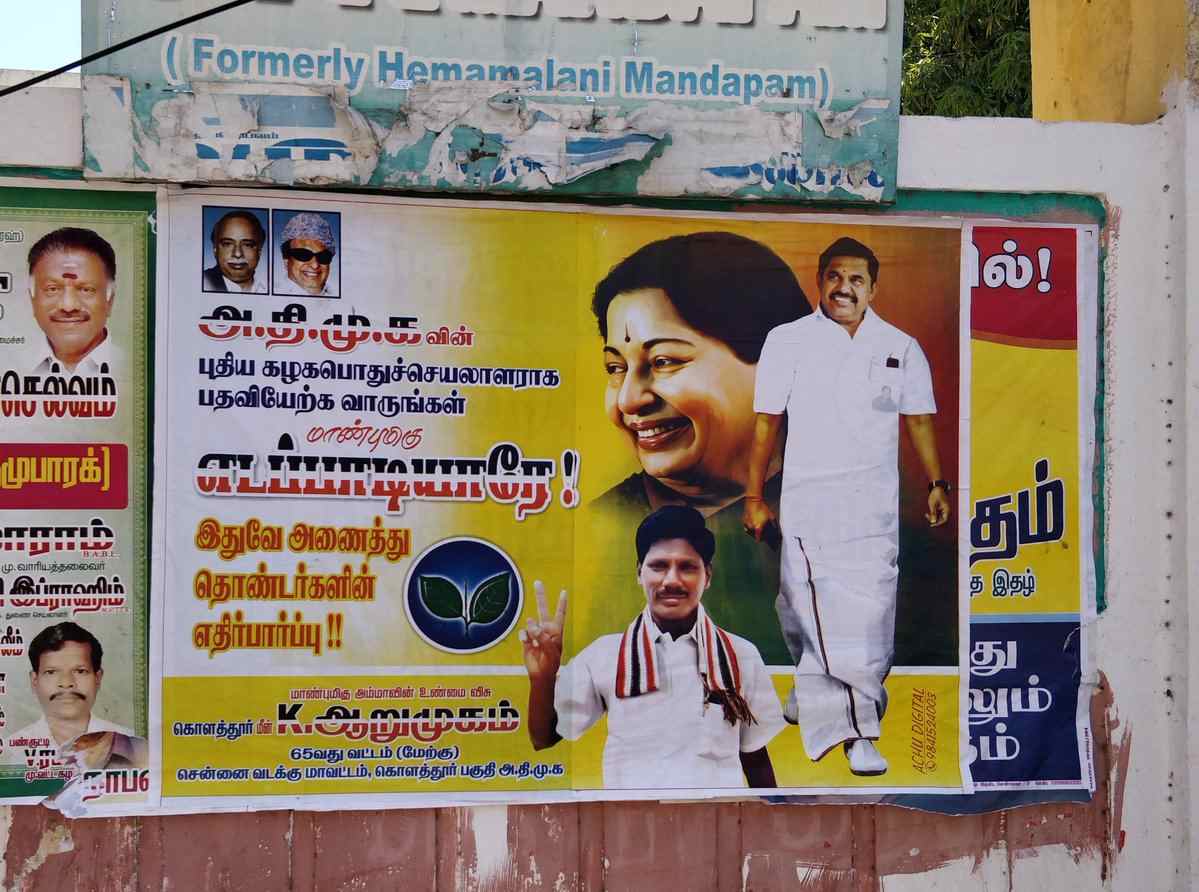 Awe-inspiring welcome for students
A majority of schools reopened in the state on June 6th after the summer vacation. The Madura College Higher Secondary School situated in Madurai has welcomed its students in an innovative way. The school has designed the classrooms like the coaches of a train.
Tamil Nadu: Madura College Higher Secondary School, a school in Madurai, has been given the looks of coaches of a train. The school has been designed as a train from Madurai to Chennai. pic.twitter.com/7pj7g2RSsh

— ANI (@ANI) 12 June 2019
Chennai candidates can avail free coaching for TNPSC Group-4 exam
Tamil Nadu Public Service Commission (TNPSC) will conduct the examination for direct recruitment to the posts included in the Combined Civil Services Examination - IV 2019 on 01.09.2019. The online application for the recruitment will be available from June 14th and the last date for submission of forms is July 14, 2019. Chennai district collector A Shanmugasundaram released a circular on Tuesday which said the Chennai candidates, who will be taking up the Group-4 examination, can avail free coaching in District Employment Office situated in Santhome from 19th of this month.

For further details, candidates can contact 044-24615160
Traffic police continue crackdown, book 90,000 violators
Less than a week after City Police Commissioner A K Viswanathan launched e-challan devices in Chennai, the traffic police have begun taking stringent action against traffic violators in the city. The Anna Nagar police booked around 90,000 people yesterday for violating traffic rules such as jumping a signal, taking a wrong U-turn, riding helmetless, riding triples on the road and having defective vehicle number plates.
The police in the city are planning to install cameras having Automatic Number Plate Recognition (ANPR) software embedded in the cameras and the system across the city soon, in a bid to reduce traffic violations in Chennai.
CMRL to install escalators in select metro stations in Chennai
The Chennai Metro Rail Limited (CMRL) will soon install escalators in a few metro stations in the city, to help commuters reach the concourse easily and reduce foot traffic on the pedestrian subways.
Most of the stations have long, winding staircases, which make it difficult for commuters to reach the platform, especially if the platforms are located on the second floor of the station. The CMRL has proposed building escalators at the Saidapet, Nandanam, LIC and Thousand Lights stations and ensure a haslle-free commute for passengers.
Chennai and surrounding districts under heat wave
The Regional Meteorological Centre issued a warning against heat wave to Chennai and its neighbouring districts of Tiruvallur, Vellore, Kancheepuram, Thiruvannamalai and Cuddalore yesterday, after certain places in the city recorded temperatures above 40C yesterday afternoon.
Chennai Corporation Council elections to have 5720 polling booths
Ahead of the local body elections, officials announced yesterday that the city will be receiving 5720 polling booths, after having identified over 80 schools and government buildings to serve as stations, in addition to the existing stations this year.
The new stations are expected to improve the access of residents to the stations, which will be located in all 200 wards of Chennai. The draft for the polling station list can be accessed in every ward office, zonal office, revenue office and the District Election Office in the Ripon Building, near Puratchi Thalaivar Dr. M G Ramachandran Central Railway Station. The Chennai Corporation Council Elections will be held in August.
Awareness programme by NGO against Child Labour today
Arunodhaya Centre for Street and Working Children, a Non Governmental Organization (NGO) that works towards the elimination of child labour and protection of child workers and street children from abuse will be carrying out an awareness programme against child labour at Egmore today evening.
The programme, which will be held from 4 pm to 5 pm will focus on the ill effects of child labour and will create awareness on child protection to mark the World Day Against Child Labour which is celebrated on June 12.
AIADMK party meet today
The All India Anna Anna Dravida Munnetra Kazhagam (AIADMK) will be holding a party meet at their head office in Royapettah today. The meeting is expected to be attended by all AIADMK district secretaries, Members of Parliament (MP), Members of Legislative Assembly (MLA), office bearers and spokespersons.
The meet has been called to discuss the issue of single leadership that was raised over the past few days in critisim against the ruling party's dual leadership. Further, AIADMK is expected to discuss the party's defeat in the Lok Sabha elections and devise new strategies for the upcoming local body elections.
Chennai weather for the day
Chennai is in for another day of sun as minimum and maximum temperatures are expected to be 32C and 40C respectively. While weather forecasts predict the sky to be cloudy, the heat wave in the the city is expecetd to continue for another day.
Ensure that you do not step outdoors between 11 am to 4 pm today or you could suffer a sunstroke. Commuters, make sure that you cover yourselves up well while travelling and remember to keep yourselves hydrated.
Welcome to today's live blog
Good morning!
Welcome to the live blog from Chennai where we bring to you the latest updates on traffic, weather, politics, movies, culture and civic issues in the city. Follow the blog to stay up to date with the city in real time.