Chennai News June 7 Highlights: Explaining the ongoing water crisis in Chennai, Pradeep John aka the Tamil Nadu Weatherman has come up with an interesting update on Twitter which shows how the capital city of Tamil Nadu is bereft of rains for the past 180 days. From December 5 2018 – till now, there has been no rainfall in the city.
In a tragic turn of events, another student in the State committed suicide yesterday after failing the National Eligibility cum Entrance Test (NEET). The girl, Monisha hailed from Marakanam, a panchayat town in Villupuram district and was one of the three daughters of Mohan, the secretary of the fishermen wing of the Amma Makkal Munnetra Kazhagam (AMMK).
Live Blog
Follow our live blog for the latest updates on Chennai weather, traffic, politics, movies, civic issues and much more through the day.
Director K Bhagyaraj to contest against Vishal
With Nadigar Sangam elections scheduled to take place on June 23, the Opposition against actor Vishal, the current General Secretary of Nadigar Sangam was formed today. Veteran Director K Bhagyaraj will be contesting for the post of the President, Dr. Isari Ganesh for General Secretary and actors Udhayaa and Kutty Padmini for Vice Presidents of the Nadigar Sangam.
Breaking News
Dir K Bhagyaraj to contest as President
Dr Isari Ganesh as General Secratary
Actor @ACTOR_UDHAYAA
Actress Kutty Padmini
Vice Presidents
In Nadigar Sangam Elections
More interesting Details Soon pic.twitter.com/xae9VZn9OL

— Nikkil (@onlynikil) June 7, 2019
Truck loaded with 20-tons of empty bottles toppled near Tambaram
A truck loaded with 20-tons of empty perfume bottles overturned when it was passing through the subway in Tambaram. The truck was carrying the load from a private company situated inside the premises of Madras Special Economic Zone in Sanatorium and it was supposed to deliver the goods at the Chennai Harbour. The traffic department has filed a case against the driver.
Twitter in TN celebrates 1 year of Rajini-starrer Kaala
Arappor Iyakkam to conduct a workshop on Sunday
Arappor Iyakkam, a civic activism group in Chennai will be conducting a workshop, Know Your Rights on at 5 PM at Adyar on June 9.
The workshop aims to educate citizens on their rights and empower them to tackle basic civic issues on their own.
Arappor Iyakkam is a an anti-corruption group in Chennai that aims to achieve a just and equal society by ensuring transparency and accountability in governance , working towards political, judicial and electoral reforms, acting as an advocacy group to influence government policy formulation and building a large democratic people's movement.
Madras HC refuses to restrain NGO from making corruption allegations against S P Velumani - Read in Tamil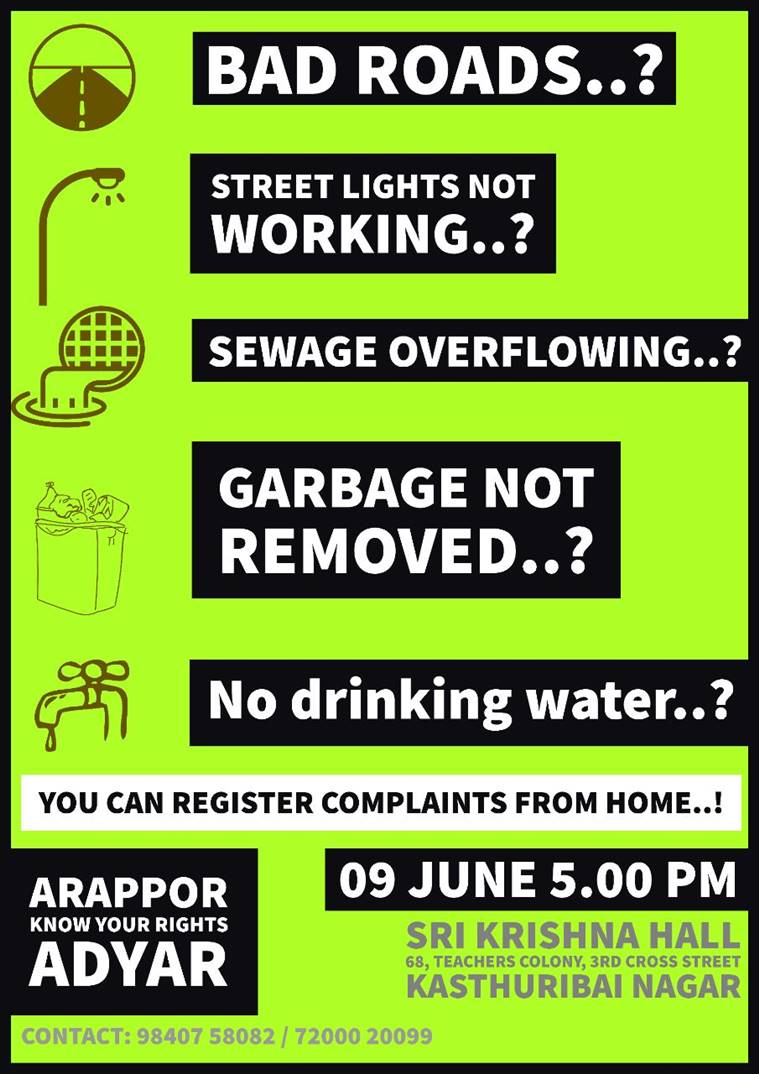 Tamil Nadu officials demand Karnataka to release Cauvery water
Tamil Nadu officials demanded Karnataka to release 9.19 thousand million cubic feet (TMC) of Cauvery water to Tamil Nadu at the Cauvery Water Management Authority (CWMA) meeting which was held at Delhi today.
The demand by the officials was raised today after Karnataka had failed to release 9.19 TMC of water to the state as per the directions given by the CWMA during a meeting on May 28 this year.
Headed by Navin Kumar, the meeting was attended by officials from Tamil Nadu, Karnataka, Kerala and Puducherry.
Thermal convection likely to trigger rain in TN
S Balachandran, the RMD director in Chennai, said the thermal convection can lead to rainfall in one or two places in Tamil Nadu. Further, he added that the South West Monsoon is expected to make onset over Kerala tomorrow.
அடுத்த 24 மணிநேரத்தில் தமிழகத்தில் வெப்பச்சலனம் காரணமாக ஓரிரு இடங்களில் இடியுடன் கூடிய மழை பெய்யும் - சென்னை வானிலை மையம்https://t.co/a8HK7QY2JY pic.twitter.com/UKynZ4o8Kc

— IE Tamil (@IeTamil) 7 June 2019
Zero Waste Chennai campaign to be held on Saturday
As a part of the city wide Zero Waste Chennai Programme, the Greater Chennai Corporation, in collaboaration with the Citizen Consumer and Civic Action Group (CAG) will be conducting a door to door campaign regarding waste segregation from 7 am to 11 am on June 8.
The campaign will cover Anna Nagar Park in Royapuram, Bashyam Naidu Park in Kilpauk and Kotturpuram Park on River View Road.
Zero Waste Chennai is a city-wide campaign that aims to implement a decentralized waste management system in Chennai and make the city sustainable and garbage free in its 200 wards.
Suriya's NGK Joins 100 Crore Club
Actor Suriya's latest film 'NGK' entered the 100 crore club in less than a week of its release. Despite receiving mixed reviews from the critics, the movie managed to achieve this feat. The movie marked Suriya's first collaboration with Director Selvaraghavan.
#NGK Blockbuster 2nd week & the film joins the 100 CRORE CLUB in just 7 days. Congrats to the whole team👍 #NGKBlockbuster2ndWeek

Watch this intense political thriller only in theatres... Happy Decoding! pic.twitter.com/EDzcXLODg8

— Tamilnadu Theatres Association (@TN_Theatres) 7 June 2019
Kolaigaran, Seven hit theatres today
Tamil audience in the city are in for an exciting weekend with two Kollywood thrillers hitting the screens today.
Seven, which hit the screens today is an investigative thriller starring Rahman, Havish, Regina Cassandra and Nandita Shwetha , with Director Nizar Shafi at the helm. The film is produced by Sri Green Production, with screenplay by Ramesh Varma and music by Chaitan Bharadwaj.
Kolaigaran, the second release of today is touted to be an action-thriller which revolves around a cat-and-mouse game between a murderer and a cop. The movie, which has been directed by Andrew Louis stars Action King Arjun Sarja, Vijay Anthony and Ashima Narwha in leading roles, with Nasser, Seetha and Gautham essaying the roles of the supporting characters.
Day 3 of Carbon Zero Challenge underway at IIT-M
The Indian Institute of Technology, Madras is hosting the final day of their Carbon Zero Challenge (CZC) at the Madras campus today. The All India Energy and Environment Innovation and Entrepreneurship Contest which aims to ideate, innovate and incubate with the Carbon Zero Challenge will be showcasing 20 teams, each of them presenting prototypes of devices based on five different themes - Water and waste management, Urban areas, Industries, Transportation and Agriculture and Forestry.
IIT Madras invites you for the CARBON ZERO CHALLENGE 2019 DEMO DAY!
ALL INDIA ENERGY AND ENVIRONMENT INNOVATION & ENTREPRENEURSHIP CONTEST!

czeroc@iitm.ac.in
+91 9566092982
Click to register : RSVP: https://t.co/Vcv0yCw696#carbonzerochallenge #iitmadras #virtusa #makeinindia pic.twitter.com/bEmhsCoa9b

— Carbon Zero Challenge @IIT Madras (@czeroc_IITM) May 28, 2019
No rain in Chennai for the past 180 days
Tamil Nadu Weatherman has come up with a stat which shows how the capital city of Tamil Nadu is bereft of rain.
No significant rains in last 180 days, Is Chennai cursed ?, or is it the trees ?, is it the people ?. Its pouring everywhere in Tamil Nadu. Even right now many districts are getting intense thunderstorms and Chennai alone remains a silent spectator. Lets see the climatology pic.twitter.com/UhFUsN5vYQ

— TamilNadu Weatherman (@praddy06) 6 June 2019
Chennai Commissioner of Police initiates e-tickets for traffic violators
The Commissioner of Police, A K Viswanathan initiated e-tickets in the city today in a bid to curb traffic violations by commuters. "This technology will help people obey traffic rules", said the Commissioner after the launch.
சென்னையில் போக்குவரத்து விதிமீறலுக்கு அபராதம் வசூலிக்க நவீன இ- சலான் வசதியை காவல் ஆணையர் ஏ.கே.விஸ்வநாதன் தொடங்கி வைத்தார் #JUSTIN

— PuthiyathalaimuraiTV (@PTTVOnlineNews) June 7, 2019
Welcome to the Live Blog
Good afternoon!
Welcome to the Daily Live Blog from Chennai where we bring to you the latest updates on traffic, weather, politics, movies, culture and civic issues. Follow the blog to stay up to date with the city in real time.