Last week's blanket of toxic smog over Tricity left residents literally gasping. City Beautiful all but disappeared and in its place stood the urban nightmare — a barely visible sky, vague outlines of buildings, visibility down to a kilometre or so, and a wall of smoke around Sukhna, the city's beloved showpiece lake. The meteorological department said it was a result of easterly winds bringing the paddy stubble smoke from Punjab and Haryana, and not enough of a wind system over Chandigarh to blow it off. The air quality index (AQI) value was 375 on November 8, the worst ever, according to data.
But here's the bad news: data of the last 12 years shows that Chandigarh's clean air is a myth, and better only relatively speaking, as other cities are much worse. The average annual pollution level in Chandigarh has always been beyond permissible limits, according to data collated by the Chandigarh Pollution Control Committee (CPCC).
The annual average of repairable suspended particulate matter (RSPM) has never been less than the permissible value of 60 µg/m3 (microgram per cubic meter). This year for the first time, the AQI value fell in the "very poor category" at all five monitoring stations.
The five monitoring stations in Chandigarh are located in Sector 17, Industrial area, Punjab Engineering College, IMTECH in Sector 39 and Kaimbwala village.
From 2004 to 2016, the Sector 17 monitoring station has shown an average annual RSPM value between 71 µg/m3 and 111µg/m3 . The Industrial Area monitoring station recorded an annual value of 147 µg/m3 in 2005. Between 2004-16, the value has remained between 93-147µg/m3.
READ | Chandigarh pollution: More disruption of flights on the cards
The best annual average RSPM value was recorded at the PEC monitoring station, but even this was beyond the permissible limit — in 2004, it was a low 69 µg/m3, and the highest value of 97 µg/m3 was in 2012. The annual average value last year was 92µg/m3.
Two other stations (IMTECH and Kaimbwala village) also recorded the same trend and the values remaining more than the permissible limits since 2004.
So what has been polluting the city's air? Vehicles, biomass burning, unchecked small-scale industries, burning of municipal waste, construction activities, brick kilns on the periphery and seasonally, paddy stubble burning. "Vehicles are one of the major contributors of pollution in the city," says P J S Dadhwal, member secretary of CPCC.
There are over 10 lakh vehicles (both commercial and normal) registered in the city as per the UT transport department. Every year, over 40,000 vehicles are added to the roads.
Chandigarh's semi-arid weather compounds the problem. "Chandigarh doesn't receive much rain other than the monsoon. At the same time, the national pollution norms are also strict. Earlier, the RSPM permissible limits were 100 and now they are 60," says Dadhwal. But he emphasises that Chandigarh's air is cleaner than that of other cities.
READ | 40,068: Number of patients with respiratory problems PGIMER recorded last year
"Regional air pollution such as burning of crop residue, uses of solid biomass fuel also affects Chandigarh air quality," says Dr Ravindra Khaiwal, Associate Professor of Environment Health, School of Public Health, PGI. "The number of vehicles is continuously rising in the city, so does pollution. We need to take think about it," says Dr Khaiwal.
In Haryana till Friday evening, there have been 1,417 incident of paddy stubble. In Punjab, till November 9, there were 39,686 incidents of crop burning. November 4th was the worst with 4,500 fire incidents, which was the highest number recorded in a single day. On November 5, there were 1,900 cases. During the other days after Diwali festival on October 19th, 1,200 to 1,500 cases were being reported daily.
READ | PPCB forms teams to carry out checks at brick kilns
What needs to be done? "We have to plan short, mid-and long-term goals. Pollution should be a top agenda for smart cities like Chandigarh. It is high time we thought about what needs to be done after proper scientific assessment," says Dr Khaiwal.
"Chandigarh is well planned, but you need to consider the issue of pollution very seriously as the air quality is at a critical level," says Professor Manju Mohan, head, Centre for Atmospheric Sciences, Indian Institute of Technology, New Delhi. She says that local administration has a big role to play in dealing with the increasing pollution in Chandigarh and they should take steps immediately.
She stresses that there has to be a "regional plan" to deal with the problem.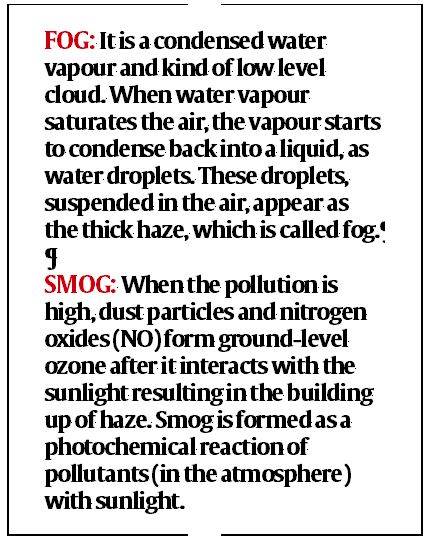 Studies show that people could live more if there is no pollution. Recently, as per the Air Quality-Life Index (AQLI) tool developed by the Energy Policy Institute at The University of Chicago (EPIC), if India is able to reduce air pollution to meet the WHO standards, people in the country could live four years longer on average.
What is lacking for the city is that there is no health data, which can be linked to the air pollution. "Globally, there have been studies showing how people die due to pollution," says Dr Khaiwal, while referring to last month's Lancet study. "There is a need of proper study, which can tell you the exact problem."
READ | HC took note of air quality, ordered curbs on bursting of firecrackers
Last month, a study released by Lancet, a renowned medical journal, showed India topped the list of countries with pollution-related deaths in 2015. As per the report, 2.51 million people died prematurely in 2015 due to diseases linked to air, water and other types of pollution. The report also stated that air pollution was globally the biggest contributor of pollution deaths in 2015. In India, out of 2.51 deaths, 1.81 were associated to air pollution.
Professor Suman Mor, from the Department of Environmental Studies, Panjab University, says the foremost step is to identify the proper source apportionment and emission inventory studies to identify the contribution of major sources of pollution in the city. "It is high time residents understood their responsibility. They can stop the car engine at long-duration red lights. This will not only save the fuel but reduce the pollution as traffic lights are the hotspot of pollution," she says, praising the UT Administration for building cycle tracks. "More people should use them now."
"Safety of bicycle rider should be ensured. Ensure that at least one day in a month city remains car-free (except emergency and police vehicles), and bikers and pedestrians enjoy the road with free public transport."
According to Mor, while the stubble burning is becoming a major contributor to the Chandigarh pollution, there have to be some alternatives from the government for the farmers so that this problem can be solved. "We cannot blame the farmers for burning the stubble as this is the only choice they have to clear their land for more crops. The government has to come up with some plan, keeping their problems in mind," says Mor.