No city from Punjab has managed to make it to the list of top 100 cleanest cities in the country, as per the Swachh Survekshan 2018 rankings, released by the Ministry of Housing and Urban Affairs Saturday. A total of 485 cities were surveyed across India including 17 from Punjab with more than 1 lakh population. Last year as well, no city from Punjab had made it to the top 100.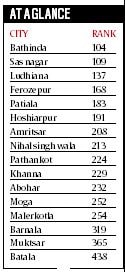 The cleanest city from Punjab this year is Bathinda (rank 104) while the dirtiest is Batala (rank 438) among 485 cities surveyed. Batala is a municipal council in Gurdaspur district whereas Bathinda is a Municipal Corporation. This year, the top three rank holders from Punjab are: Bathinda (104), SAS Nagar (Mohali)(109) and Ludhiana(137). The three dirtiest this year are: Batala (438), Muktsar (365) and Barnala (319).
In 2017, the highest rank holder in Punjab was SAS Nagar (Mohali)(121) followed by Bathinda (132) and Ludhiana (140). Last year, the three dirtiest cities were: Muktsar (428), Abohar (427) and Batala (438).
With a massive improvement in its ranking, Abohar, which was among the dirtiest last year, is placed at 232 this year.
SAS Nagar (Mohali) and Bathinda have again bagged the top two positions in Punjab, but their last year's rank have been exchanged. Improving its performance, Bathinda has bagged first rank in Punjab leaving behind Mohali. This, even as Mohali has seen an improvement in ranking from 121 last year to 109 this year. Ludhiana remains the constant third.
Among the three 'Smart Cities' of Punjab, Ludhiana was ranked 137, three places higher than last year's 140. This year, Amritsar did better than Jalandhar as it took a massive leap it has moved from 258 rank last year to 208 this year. Jalandhar,which was placed at 233 last year, ranked 215 this year.