Leaders of Himachal Students' Union (HIMSU) on Thursday declared their extensive panel for the upcoming Panjab University Campus Students Council (PUCSC) elections.
Declaring its list of panelists, party chairman Anshul Naini said, "We have a very strong team this year and together we will work not only for the students from Himachal, but for the welfare of all students in the university."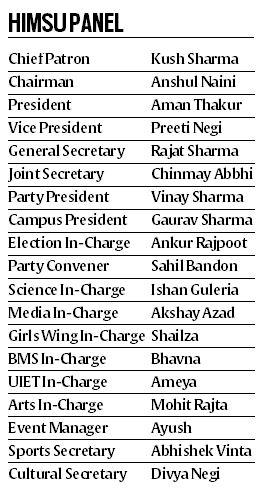 The party declared Kush Sharma as its chief patron, with Aman Thakur as their president and Anshul Naini as the chairman. Preeti Negi was declared the vice-president for HIMSU, with Rajat Sharma as the general secretary. Vinay Sharma will be the party president and Chinmay Abbhi will serve as the joint secretary for HIMSU. The party is now expected to release its agenda in the next few days.
HIMSU was started in 2001 at DAV College, and for the past two years, the party has been contesting the PUCSC elections in alliance with the National Students' Union of India (NSUI). According to the party members, as of now the party has not made any decision about forming an alliance this year. "We will weigh our options and make a decision about forming an alliance accordingly," Anshul added.
Stressing the need for more women representation in the student elections at Panjab University (PU), HIMSU vice-president Preeti Negi said, "Majority of the students at PU are women. So, we believe that more women should be involved in the decision making process. From the very beginning, we have believed in having a strong women representation in the party."
Members of Students Association of Punjab (SAP) also announced their list of office bearers for the upcoming elections at Students Centre in Panjab University on Thursday. The party started contesting the elections at DAV College in 2007 and is set to contest independently for the first time this year. During the PUCSC elections in 2014, the party had formed an alliance with Panjab University Students Union (PUSU).
Maninder Cheema was declared the party president and Simar Sandhu the vice-president. Janta Virk was announced as the party's president for DAV College. The party is going to release more of its panelists in the next few days.
Stressing the need for clean politics and student welfare, party president Maninder Cheema said, "Our party is not at all politically motivated and our only aim is to work to solve the problems that students face inside the university campus and across other colleges. If elected in the students council this year, we will not fail to deliver on our promises."