Only around 40 per cent residents in the district who have licenced firearms have deposited their weapons in police stations or gun-houses until Saturday — a day before the Mohali Municipal Corporation elections and three days before elections to the municipal councils and nagar panchayats in the district. round 3,000 people have deposited their arms of the total of approximately 7,230 holders of arms licences, police said.
Initially, the police started collecting weapons only from people residing within the limits of the civic bodies, but later all arms licence holders were included. The maximum arms were deposited at the two police stations in Kharar, where around 650 weapons have been deposited.
At the Zirakpur police station, around 330 guns have been deposited.
[related-post]
Police said residents can either directly deposit the firearms at the local police station or to the arms dealers, as per law. There are around four-five gun-houses in the district.
"Among the licence holders, there are a large number of security guards deployed at various banks, ATM kiosks and other establishments. Most of them have deposited their weapons in their respective banks and then given us receipts bearing the seal of the banks," said a police officer.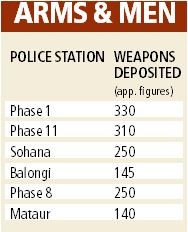 Sources said while several people deposited weapons on their own, following an order issued by the deputy commissioner under Section 144 of the CrPC, others had to be contacted and then persuaded for the same.
"A few days ago, we made announcements in villages and also contacted as many licence holders as we could," added the officers.
SSP Gurpreet Bhullar said, "While ensuring deposition of arms, we have concentrated not on quantity but on quality. We zeroed in on all people from whom threat perception was high, and made them deposit their weapons. A well-educated person having no criminal record, for instance a doctor or an engineer, having a gun at his house will not be a threat during the elections."
The Indian Express website has been rated GREEN for its credibility and trustworthiness by Newsguard, a global service that rates news sources for their journalistic standards.