THE JOINT Electricity Regulatory Commission (JERC) has approved up to 17.78 per cent hike in power tariff for various categories of consumers for the 2016-17 fiscal.
In the domestic category, the rate has been increased from Rs 2.30 to Rs 2.55 in the slab of 0-150 units. In the slab of 151-400 units, rate has been increased from Rs 4.20 to
Rs 4.80. In the commercial category, an increase from Rs 4.30 to Rs 5 in the slab of 0-150, Rs 4.50 to Rs 5.20 in the slab of 151-400 and Rs 4.70 to Rs 5.45 in the slab above 400 units has been increased.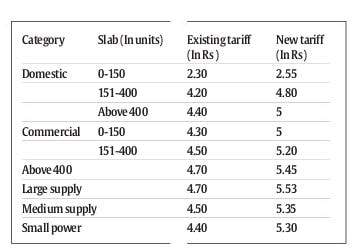 Consumers falling in the category of large supply will have to pay Rs 5.65 per unit while those using medium supply will have to pay Rs 5.35 per unit.
UT superintending engineer MP Singh said that the new rates will be applicable with effect from April 1.
The department caters to 2.12 lakh consumers, of whom 1.75 lakh are in the domestic category.
JERC had last increased the tariffs in April 2012. The commission had been turning down tariff proposals on grounds of failure of the Chandigarh electricity department in getting commercial audits done, which is mandatory. This year, the department had managed to get the audit done.
With no revision of tariff in the last three years, the gap between revenue and expenditure stands at Rs 1,127.69 crore.
In the order, the commission stated that it finds it appropriate to approve the restricted tariff hike corresponding to recovery of standalone revenue gap of financial year 2016-17, that is, Rs 124.91 crore and creation of regulatory asset of Rs 265.04 crore to be liquidated from the 2017-18 financial year.
📣 The Indian Express is now on Telegram. Click here to join our channel (@indianexpress) and stay updated with the latest headlines
For all the latest Chandigarh News, download Indian Express App.