Bangalore News May 15 Highlights: Bangalore's prime lung space Cubbon Park is all set to get greener as the authorities have planned to develop the area adding more highlights and new species of trees to the existing varieties of plants and trees in the park.
While more than 50 varieties of new plants, mostly of Indian origin, are expected to make way to the park shortly, the authorities have also proposed to set up three new fountains at different ponds. Also, as many as 65 shallow recharging wells will be dug up to empower water security and sustainability initiatives at the area.
At the same time, the chorus against the proposed elevated corridor in the city has intensified as several citizen groups pointed out that the ambitious project might force many to shift houses or business from areas that come under the project. The team had carried out an assessment from Shantinagar to Bannerghatta and released a report indicating over 250 houses and shops are likely to be affected.
The weatherman has predicted a partly cloudy sky for Bangalore today. Rain/thundershowers are likely to make an appearance, mostly by evening. The mercury levels are expected to range between 23 and 35-degree Celsius respectively.
Live Blog
SWR reschedules Yesvantpur – Muzaffarpur Express
Train No. 15227 Yesvantpur – Muzaffarpur Express scheduled to leave Yesvantpur at 11.55 pm today (15.05.2019) is rescheduled to leave at 5 am tomorrow (16.05.2019) due to late running of pairing train.
Bangalore receives moderate rains; 37 mm rain at Yelahanka alone
According to the Karnataka State Natural Disaster Management Committee (KSNMDC), Bangalore received moderate rains this afternoon. Incidentally, the KSNMDC campus at Yelahanka itself received most rains (37 mm) during from 8.30am to 4.30pm today.
8hrs☔️Map of #Karnataka from 8.30am of 15th May 2019 to 4.30pm of 15th May 2019, Highest 37mm ☔️@Bangalore_KSNDMC Campus. pic.twitter.com/tofnFcbyTA

— KSNDMC (@KarnatakaSNDMC) May 15, 2019
Hail fall at Yelahanka
As most parts of Bangalore received rains in the afternoon today, Yelahanka witnessed hail fall amusing many.
Heavy rain with hail @ Yelahanka pic.twitter.com/kwhaTpCAKY

— Nagaraj Hegde (@nagaRamaHegde) May 15, 2019
Rains accompanied by gusty winds lash Bangalore yet again
Rains accompanied by gusty winds lash Bangalore yet again. Thunderstorm makes cameo appearance in Silicon City for the first time this week.
Civic activist points out reasons for traffic jam in Peenya
Pointing out traffic mismanagement at TVS Cross in Peenya, a civic activist has uploaded a video on Twitter in a bid to grab attention from the Bengaluru Traffic Police. The video features BMTC buses 'bulldozing' their way through denying space to other vehicles on the same road.
at TVS Cross in @peenyatrfps. First bus stops right at the signal to offload passengers even though bus stop is further down. This is causing all vhcls to stop and cause a jam on the intersection. Also, oncoming bus blocks oncoming traffic. @BMTC_BENGALURU @CPBlr @blrcitytraffic pic.twitter.com/OViUt6Z1Ql

— concernedcitizen (@concern13161846) May 15, 2019
"Buses r big bulldozers on the road using the size of vhicls to do what they please cause no one will take action against them. So they will do what they want. They r suppose to be more responsible BECAUSE they have bigger vehicles. What training is this @BMTC_Bengaluru. Horrible," another tweet from 'concernedcitizen' reads
IISc offers scholarship for women trying to pursue engineering masters degree
The Indian Institute of Science has announced a new scholarship program for women students seeking to pursue their master's degree in engineering fields at the institute, starting the academic year 2019-20. "We are keen on increasing the number of female students in the Institute, and we welcome Booking.com's support in helping us realize this goal," IISc Director Prof. Anurag Kumar said.
We are pleased to partner with https://t.co/vIvYnw3zIF to announce a scholarship program for women students seeking to pursue their master's degree in engineering fields at IISc, starting in the academic year 2019-20. https://t.co/ea3uXzoXBg

— IISc Bangalore (@iiscbangalore) May 15, 2019
Solo performance to create mental health awareness in city today
'Burn My Diaries', a solo performance by artist Shweta Desai will be staged at Ranga Shankara from 7.30 pm this evening. The play features the story of a woman attempting to defy her condition and her limitations to experience the world as one person, and how she discovers ways to coexist with her many selves. Directed by Akshay Gandhi, the performance is produced by Still Space Theatre.


'Startup Karnataka' members feature at overseas networking event
A team representing Startup Karnataka has taken part in the EU India Incubators/ Accelerators Networking Event held at Estonia. The team discussed synergies between both the countries exploring opportunities for startups
Can the media bring back my honour, asks Rajasthan man branded 'terror suspect' in Majestic metro incident
When Sajid Khan arrived in the city 11 days ago, all he had on his mind was his debt — Rs 3.5 lakh and growing. But the 38-year-old from Niradhanu village in Rajasthan's Jhunjhunu district believed that Ramzan here would bring some blessings. "I had never been to a Metro station before. I saw a security check going on. I was clutching my lungi and the coins. The guard asked me to raise my hands, and I let go. The metal detector made a loud beep. The guard said something to me in Kannada. I didn't understand. By then, I realised this was not a market. So I walked away." - This is how it felt to be a 'terror suspect' for Sajid Khan who became infamous for being the 'CCTV guy who ran away when the metal detector beeped.'
CM inaugurates Patalamma Temple festival in Jayanagar
Chef Minister HD Kumaraswamy inaugurates Patalamma Temple festival in Jayanagar, South Bengaluru.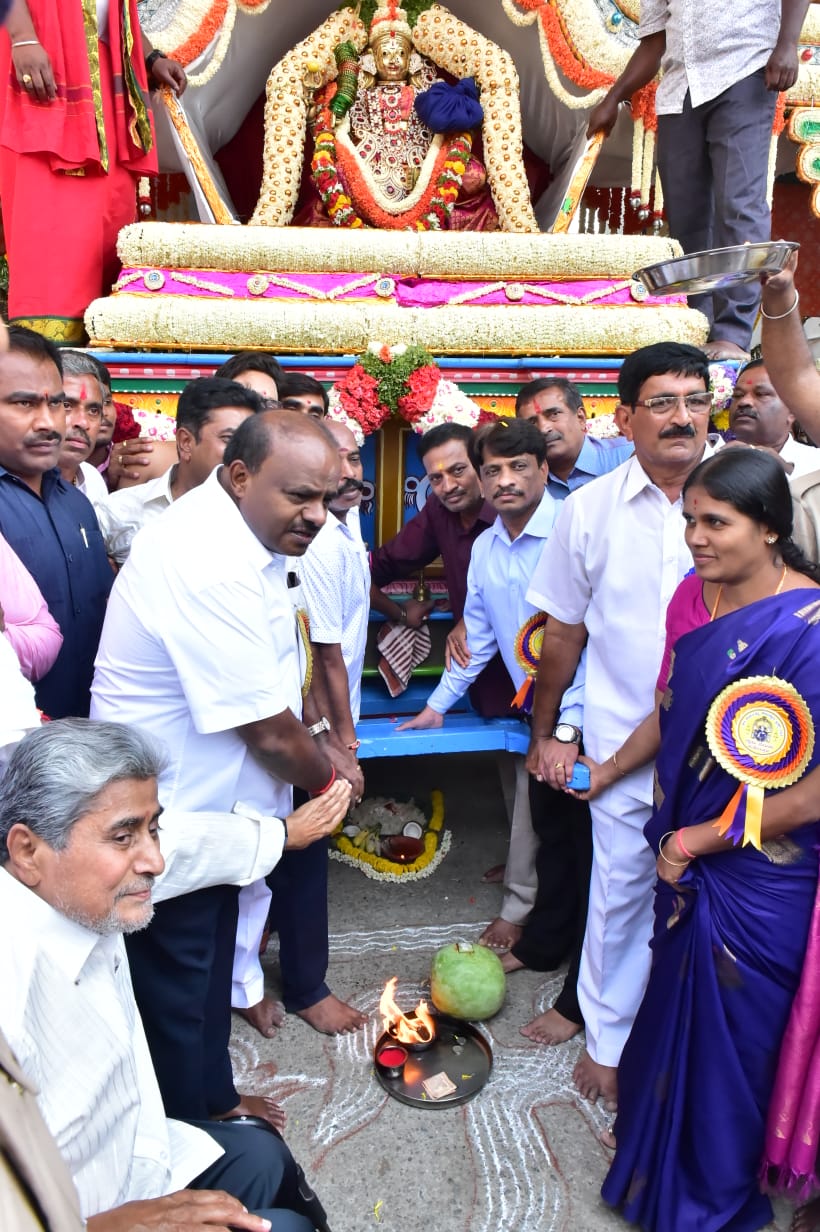 Karnataka govt colleges turn to social media to increase enrolments
Government PU college principals in Karnataka has been directed to be creative in organising special admission drives. Information pushed through various mediums including social media and local TV channels should mention various facilities provided at the college, the scope of learning for each subject/combination, and various achievements that students and lecturers, according to the Karnataka PU board.
Read: Karnataka govt colleges turn to social media to increase enrolments
Peak hour traffic is getting heavier on several roads
Peak hour traffic is getting heavier on several roads. Traffic snarls are reported from various parts of Central Business District, Indiranagar, Banashankari, Bannerghatta Road, Mahadevapura, Koramangala, Malleshwaram, Hebbal, Goraguntepalya and Yeswanthpur.
Bangalore Weather Update
Bangalore Weather update.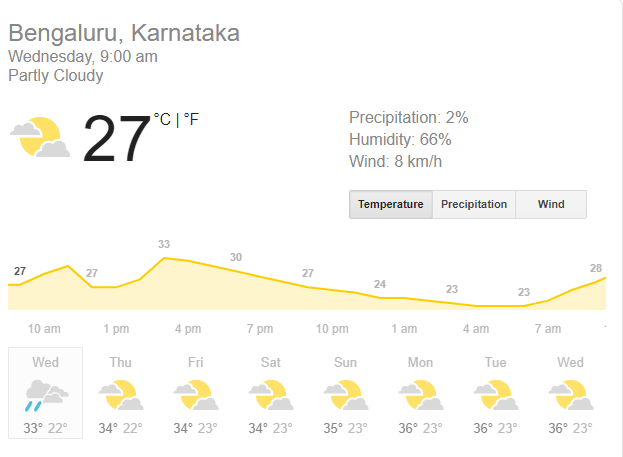 Bangalore LIVE air quality check
Average air quality in Bengaluru is 'moderate'. At 9 am, PM 2.5 (Fine Particulate matter) is at an 'unhealthy' level if you are near BTM Layout or Silk Board. The same is at 'moderate' levels near Peenya and Bapuji Nagar
Youngster jumps off toilet window at Dasarahalli metro station
A youngster jumped off the toilet window located at the first floor of the Dasarahalli metro station after he was questioned by the security guards for creating issues at the men's washroom. The 27-year-old identified as Sandeep Pillai hails from Kollam, Kerala and had been in the city for just over a week. The youngster, however, has received medical intervention and is out of danger now. Pillai was travelling from Majestic to Dasarahalli around 3.30 pm on Tuesday.
Cubbon Park set for facelift, 50 new plant varieties to feature soon
Bangalore's iconic lung space Cubbon Park will soon be home to 50 more varieties of plants. The new species shortlisted by the authorities include Peepal, Nagalinga Pushpa, Naga Sampige (Indian Rose Chestnut), and Bakula tree among others. A proposal has also been made to install three new fountains at three ponds in the park