Moderate rain hits Bengaluru on Monday evening where several trees were uprooted in Indiranagar, Koramangala and Kengari according to the Bruhat Bengaluru Mahangara Palike (BBMP) control room.
BTM Layout 2nd stage, Bilekahalli Main Road and most of South Bengaluru's low lying areas were flooded. According to the BBMP officials, groceries of an Anganwadi centre was submerged in water in Kodichikkanahalli of Bommanahalli zone. Joint Commissioner of Bommanahalli Zone and senior BBMP officials visited the spot and inspected.
A three-storey building tilted due to rain in Horamavu, northeast Bengaluru on Monday. six families staying in the building were evacuated from their homes as a precautionary measure.
BBMP officers rushed to the spot and inspected and also evacuated families from nearby buildings as well. The civic body issued demolition orders for the building.
The weatherman has predicted a partly cloudy sky for Bangalore today. Rain/thundershowers are likely to make an appearance, mostly by evening. The mercury levels are expected to range between 24 and 35-degree Celsius respectively.
Live Blog
OnePlus launch event draws huge crowd in Bangalore
The launch event of OnePlus 7 and OnePlus 7 Pro in Bangalore has drawn huge crowds. The global launch event is scheduled to be held at 8.15 pm today at the Bangalore International Exhibition Centre. OnePlus 7 Pro, the latest model of the smartphone brand OnePlus is expected to be the company's most premium offering to date.
The 2019 line-up of OnePlus devices would be unveiled globally on 14 May at 8:15 pm at the, Bengaluru.
Look at that crowd outside the Bangalore international exhibition center for the launch of the #OnePlus7Pro pic.twitter.com/ONrUBizxbE

— Sahil Mohan Gupta (@DigitallyBones) May 14, 2019
Social media aid to hike government PU admissions
Government PU college principals in Karnataka has been directed to be creative on social media as well to organise special admission drives to increase student enrolments. In a notification sent to all government PU colleges, DPUE Director C. Shikha has directed college principals to be creative in organising special admission drives. "The information that is being pushed through various mediums including social media and local TV channels should mention various facilities provided at the college, the scope of learning for each subject/combination, and various achievements that students and lecturers of the college have got in the previous years," the directive reads.
Bangalore airport to introduce facial recognition tech for passengers
Bangalore International Airport will be the first airport in the country to introduce check-in through face recognition technology. This is part of an end-to-end solution for paperless air travel in the country. The facial biometric program will be implemented under the Ministry of Civil Aviation's Digi Yatra platform. In 2018, the private airport operator had inked a pact with the Lisbon-based digital and biometric solutions services provider Vision-Box to implement the technology in the airport.
Bangalore Mayor Gangambike inspects rain damage
Bangalore Mayor Gangambike Malikarjuna inspected rain damage in various parts of South Bangalore today.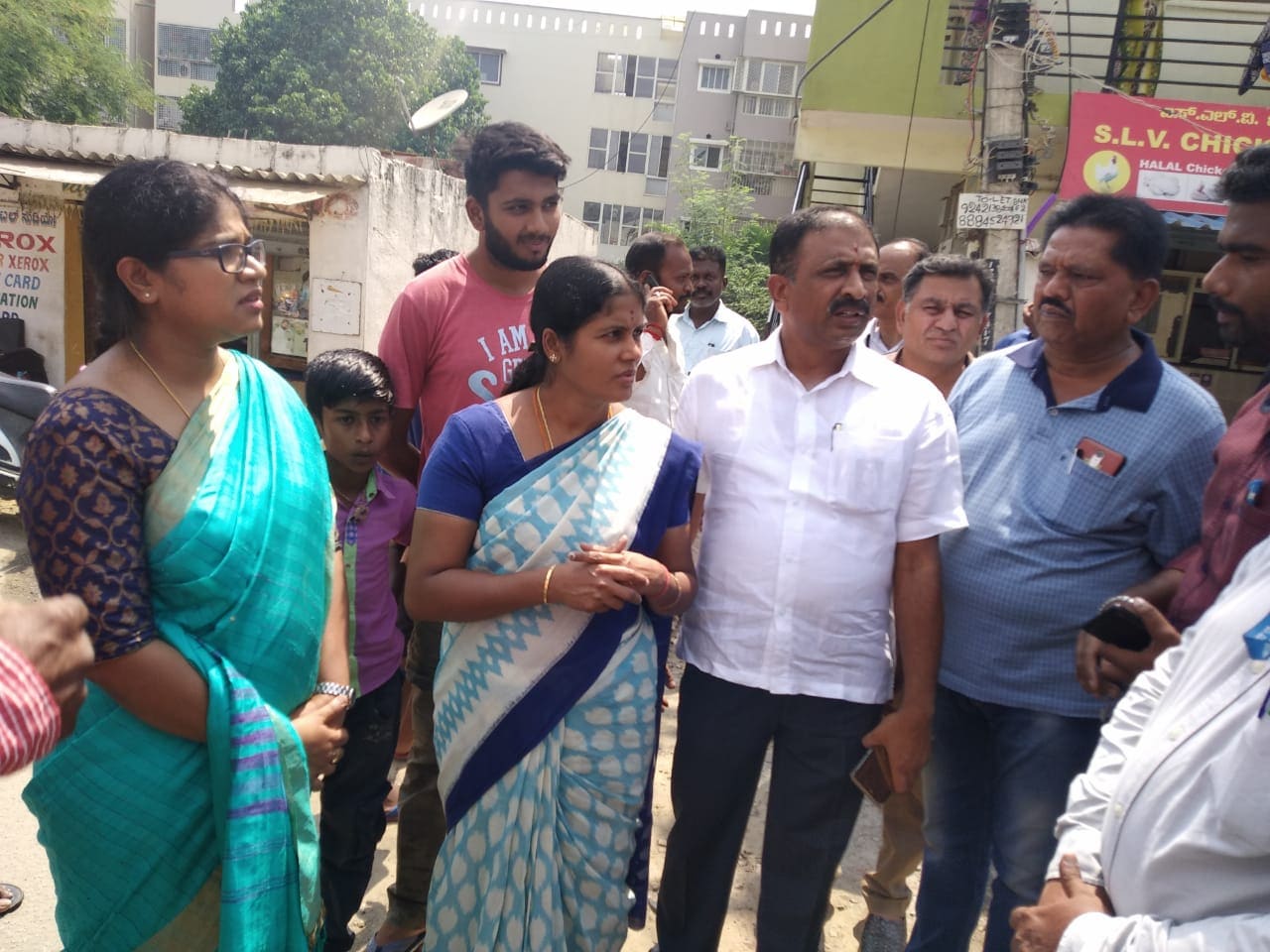 KSNMDC releases rain data, Anekkal received most rain
According to the data released by Karnataka Stata National Disaster Monitoring Committee, Anekkal in Bangalore Urban received most rainfall on Monday. In their observation between 8.30 am on Monday to the same time today, it has been mentioned that Bangalore got moderate rainfall (7.5 to 33.5 mm).
24hrs☔️Map of #BBMP from 8.30am of 13th May 2019 to 8.30am of 14th May 2019, Highest 19.5mm ☔️@Bangalore Urban_Anekal. pic.twitter.com/7heH3QQ3LJ

— KSNDMC (@KarnatakaSNDMC) May 14, 2019
Bangalore Power disruption: List of areas keep growing
While several areas in and around Bangalore continue to face constant interruptions in power supply, more areas are added to the list every 30 minutes, on an average. BESCOM officials cite tree trimming, maintenance work and failure of feeders at different areas as citizens raise complaints about the same.
The areas that face power failure at present include JP Nagar 6th Phase, Sarjapur Road, Ambalipura, Bellandur, Mahadevapura and surrounding areas.

Read more: Bangalore faces power outage as major incoming power lines trip
BTP holds road safety awareness programme for military personnel
Bengaluru Traffic Police held a special traffic and road safety awareness for the military personnel in the city today.
Traffic & Road safety awareness to Military Police Officers CMP centre & School Bengaluru at Traffic Management Centre, Bengaluru. Explained by Athaulla khan Police Sub Inspector #TMC. pic.twitter.com/fpFUFqWPaa

— BTP (@blrcitytraffic) May 14, 2019
BESCOM maintenance work: Several areas in city face power disruption
Several areas in the city continue to face power cuts due to various maintenance works including tree trimming taken up by BESCOM. According to the city's electricity supply company, power will be restored at Rajanna Colony, Basavanagar, Annasandrapalya, Mayanna Layout, Nelamangala by 1 pm.
May 14, 2019
Auto drivers demand hike in minimum fare; request RTO to revise rate to Rs 30
In days to come, it is most likely that riding in an autorickshaw might get costlier in Bangalore. Drivers unions from the city have requested the government to hike the minimum fare to Rs 30. The same, which was last revised in 2013, is Rs 25 now.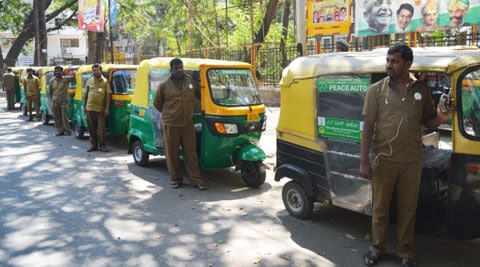 Bangalore is home to over 1.5 lakh registered autorickshaws.
Rains create havoc at BTM Layout
As Bangalore received as much as 39mm rain on Monday evening, BTM Layout witnessed heavy flooding. The 30-minute-long rain that lashed the area made situations dreadful for residents and commuters as rainwater mixed with sewage. Several houses situated in low areas in the locality was also flooded with filth after the rains.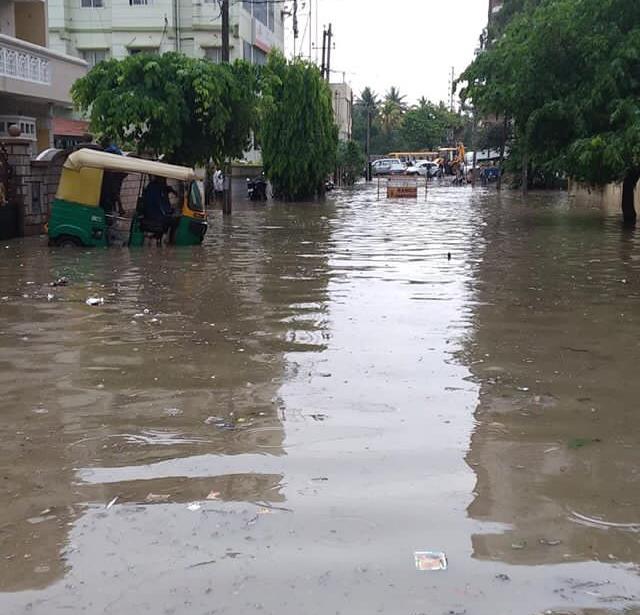 Bengaluru Traffic Police used barricades to avoid vehicles and pedestrians from entering 29th Main Road of the BTM Layout, to avoid further untoward situations
Bangalore LIVE air quality check
Average air quality in Bengaluru is 'moderate'. At 10 am, PM 2.5 (Fine Particulate matter) is at an 'unhealthy' level if you are near Bapuji Nagar or BTM Layout. The same is at 'moderate' levels near Peenya and Saneguruvanahalli
Power disruption across the city
BESCOM receives more than 10,000 complaints on Monday due to rain. Power cuts occurred at several areas across the city with restoration taking place only late in the night.
May 14, 2019
Humid day to follow after rains lash Bangalore
The day is expected to be humid in Bangalore after moderate rains lashed the city on Monday evening. According to the IMD, the temperature in Bangalore today is expected to shoot up again to a maximum of 35 degree Celsius while a nominal decrease has been recorded in the minimum temperature expected (21.8 degree Celsius). Relative humidity of 82% has also been recorded while traces of rain are predicted in isolated areas in and around the city.
CCB Police raided a house involved in the Betting racket in Bangalore 
Central Crime Branch police raided a house in Koramangala 3rd Block and arrested a 25-year-old man for allegedly running an online cricket betting racket for the IPL final match held on Sunday. Bookies from Mumbai, Rajasthan, Punjab, Haryana and Kolkata are said to be involved.