Bruhat Bengaluru Mahanagara Palike (BBMP), the local civic body, is all set to launch online monitoring of lifts and escalators on all skywalks in the city. The measure is being taken to keep track of pedestrians whether they use skywalks. The new project, however, will take place only after final approval by the BBMP council.
Meanwhile, BBMP has issued work orders for the construction of 29 new skywalks in the city. The projects which were planned to be based on a public-private partnership (PPP) model initially, however, will see the civic body investing in it due to non-takers for partnership and the growing demand among pedestrians and citizen groups for new skywalks. The project is estimated to cost BBMP Rs 50 crore
On Mothers' Day, activist Irom Sharmila, known across the world as the Iron Lady of Manipur for her 16-year hunger strike against the Armed Forces Special Powers Act (AFSPA)in the state, gave birth to twin girls in Bangalore. The 46-year-old gave birth to two daughters at Cloudnine hospital, who are named Nix Sakhi and Autumn Tara.
The weatherman has predicted a partly cloudy sky for Bangalore today. Rain/thundershowers are likely to make an appearance, mostly by evening. The mercury levels are expected to range between 24 and 35-degree Celsius respectively.
Live Blog
Bangalore faces power outage as major incoming power lines trip
Several areas in the city which fall under various power stations faced power cuts for the majority of Monday as well. While The Bangalore Electricity Supply Company (BESCOM)has cited "400KV Hoody Station Line-1 and Line-2 Trips" as the reason for power failure, power supply interruption is affected to various power stations situated across the city.
The areas that face power cuts include Jayanagar, Shantinagar, SR Nagar, Wilson Garden, Madiwala, SG Palya, Bilekahalli, JP Nagar, BTM Layout, Domlur HAL 2nd Stage, Marathahalli, Munekolala, Austin Town, Indiranagar, Bharatinagar, Koramangala, Ulsoor, Murugeshpalya, KR Puram, Hosakote, Rammurthy Nagar, LR Bande, Banaswadi and surroundings.
Read more: Major power failure lashes city, incoming power lines trip
Bangalore internet outage issue: cable operators get 3-day notice on 'illegal' cables
In a bid to solve the standoff between Bangalore's local civic body Bruhat Bengaluru Mahanagara Palike (BBMP) and Cellular Operators' Association of India (COAI), Bengaluru mayor Gangambike Mallikarjun has directed BBMP officials to ensure that cable operators are present during the drive to remove illegal cables in the city.
"Don't park under trees, " advises Bengaluru Traffic police
As several areas in the city receive rains accompanied by gusty winds, the Bengaluru Traffic Police has advised citizens to refrain from parking vehicles under trees.
ನಗರದ ಕೆಲವು ಸ್ಥಳಗಳಲ್ಲಿ ಮಳೆ ಬರುತಿದ್ದು, ನಿಧಾನವಾಗಿ ಎಚ್ಚರಿಕೆಯಿಂದ ವಾಹನ ಚಾಲನೆ ಮಾಡಿ ಮತ್ತು ನಿಮ್ಮ ವಾಹನಗಳನ್ನು ಮರಗಳ ಕೆಳಗೆ ನಿಲ್ಲಿಸಬೇಡಿ.
Its raining in some part of the Bengaluru city. Drive /Ride slowly on wet roads. Don't park under trees. pic.twitter.com/mhW4PSQD8T

— BTP (@blrcitytraffic) May 13, 2019
Rains make a comeback in Bangalore
According to Karnataka State Natural Disaster Monitoring Centre (KSNDMC) parts of South Interior Karnataka, including Bengaluru, is likely to experience thunderstorms and light to moderate, scattered rains today.
For everyone that said #Bangalore (or should I say Bengaluru) has aweaome weather, you're totally on the money. I landed just a while back and have already been greeted by rains. pic.twitter.com/8dkp41oSu9

— Sahil Bhalla (@IMSahilBhalla) May 13, 2019
Evening peak hour traffic kicks in early today
Bangalore's evening peak-hour traffic has kicked in early today as several key areas in the city face traffic blocks. Traffic issues have been reported from roads leading to Chickpete metro station, Bannerghatta main road, Hosur Road (Johnson Market - Forum Mall - Silk Board stretch) and a part of A Narayanapura Main road from the outer ring road.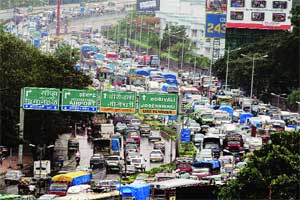 BESCOM maintenance work: Several areas in city face power disruption
Several areas in the city continue to face power cuts due to various maintenance works including tree trimming taken up by BESCOM. According to the city's electricity supply company, power will be restored at RK Layout Padmanabhagar, Kothur DS Road, Vijinapura, MEG Layout and surrounding areas by 2.30 pm.
May 13, 2019
Bangalore Weather Update
Bengaluru Weather Update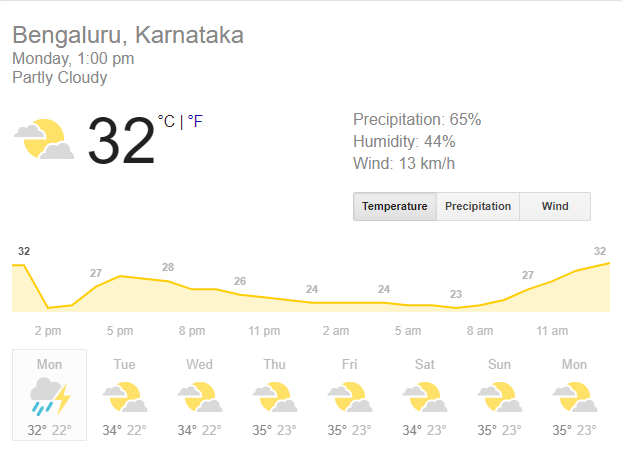 Theatre artists protest
Theatre artists in Bengaluru protesting in front of Kalagrama, Mallathahalli demanding that Karnataka Government rebuild the auditorium which was damaged recently in a fire incident.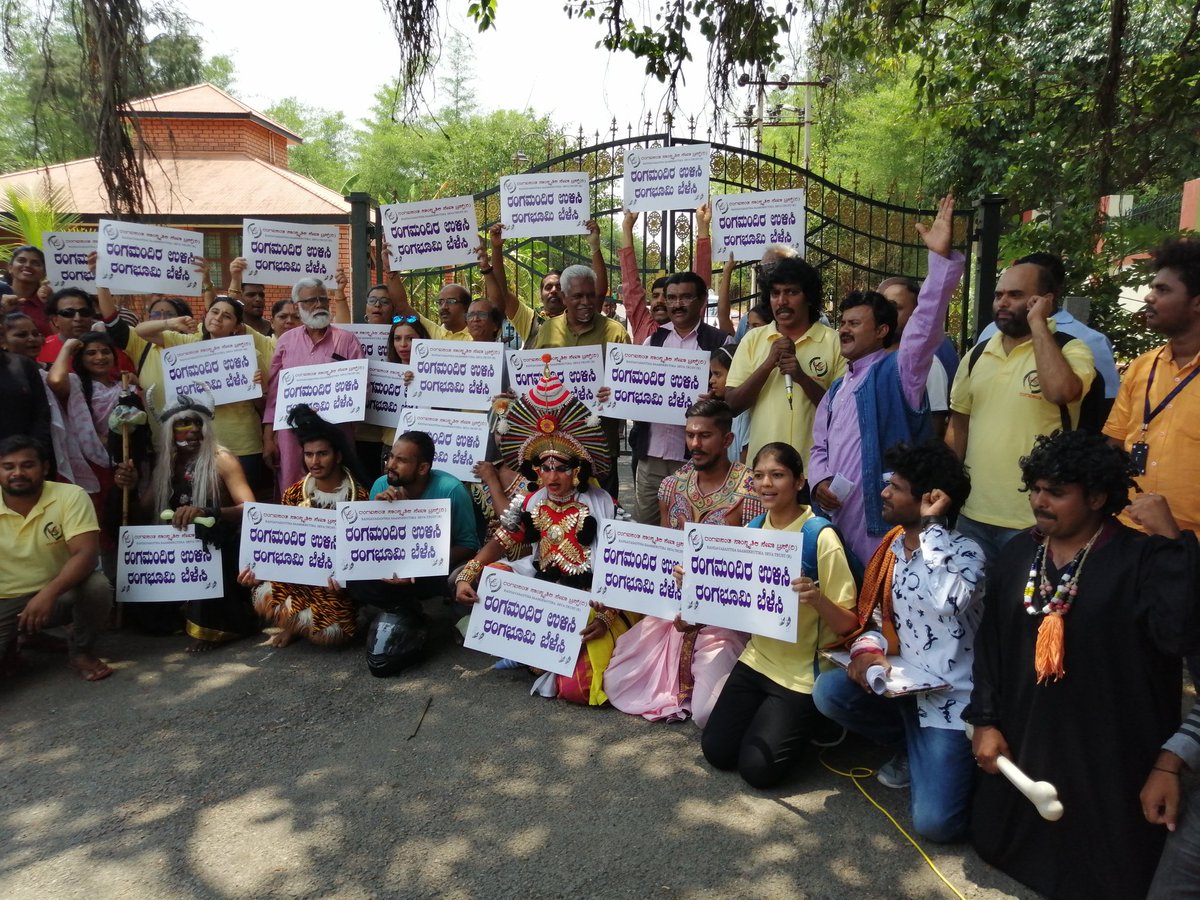 Photo Courtesy Twitter/Sandesh Mysore
Farners Protest on Tumakuru road
Farmers to protest against the needless widening of the NH206 between Tumkur and Shivamogga.
Farmers affected by NH206 widening between Tumkur and Shivamogga protesting on Monday , 13 May outside @NHAISocialmedia office , next to Nagasandra station, Tumkur Road. Contact 9986609031, 9035077614 pic.twitter.com/duQrGnIT7u

— vinaysreenivasa ವಿನಯ (@vinaysreeni) May 12, 2019
Bangalore observes 'No Honking Monday' today
The Bengaluru Traffic Police has urged drivers on Bangalore city roads to observe a 'No Honking Monday' today.
Good Morning, friends. It's NO #Honking Monday. Majority of quarrels on the road are a result of unnecessary honking. #RoadSafety
ಶುಭೋದಯ ಸ್ನೇಹಿತರೆ, ಅನಗತ್ಯ #ಹಾರ್ನ್ ಬಳಸಬೇಡಿ, ಒತ್ತಡದ #ಚಾಲನೆಯನು ಮಾಡಬೇಡಿ ಇಂದು ಹಾರ್ನ್ ಬಳಸದಿರುವ ಸೋಮವಾರ ಆದಷ್ಟು #ಹಾರ್ನ್ ಬಳಸದಿರಿ. pic.twitter.com/SudovC0K6k

— BTP (@blrcitytraffic) May 13, 2019
'Talk to Your Babies a lot: From Science to Policy' - Special public lecture at NIAS today
The National Institute of Advanced Studies, a premier science institution in Bangalore will host a special lecture titled 'Talk to Your Babies a lot: From Science to Policy' today. The lecture presented by Dr V. Bhujanga Rao is motivated by the work of psychologists Betty Hart and Todd Risley (1980) who discovered what they called the "30 million-word gap."
The research had estimated that children under 4 from lower-income families heard a staggering 30 million fewer words than children from higher-income families. In consequence, higher-income children start school with double the vocabulary and do better in life. Between conception and age three, a child's brain develops twice as many synapses as it will have in adulthood which goes through pruning later.
Over 11,000 complaints reach BESCOM on Sunday
As several areas of Bangalore faced power disruption multiple times during Sunday, BESCOM offices were flooded with as many as 11,180 complaints. While most of these were registered via helpline numbers, the electricity supply company claims to have resolved 10, 804 complaints on the same day itself.
May 13, 2019
BESCOM makes road space, clears transformers and poles
The Bangalore Electric Supply Company Ltd (BESCOM) has kickstarted work to shift transformers and electric poles situated on roadsides after the Bengaluru Traffic Police and several citizen groups demanded the same. Several transformers and electric poles were observed to be placed obstructing vehicular and pedestrian movement in the city. The number of cases of vehicles ramming into them was also on the rise.
Bangalore LIVE air quality check
Average air quality in Bengaluru is 'moderate'. At 9 am, PM 2.5 (Fine Particulate matter) is at an 'unhealthy' level if you are near Hebbal or BTM Layout. The same is at 'moderate' levels near City Railway Station and Jayanagar.
Temperature soars high again, humid day for Bangalore
The temperature in Bangalore today is expected to shoot up again to a maximum of 35 degree Celsius. The weather will be relatively hotter than what was experienced last week. The IMD has also recorded 57% humidity for the day predicting traces of rainfall in isolated areas in and around the city, most likely by evening