Bangalore news May 17 highlights: In a bid to ensure that Bengaluru is able to tackle water-logging during the monsoon, mayor Gangambike Mallikarjun has asked Bruhat Bengaluru Mahanagara Palike (BBMP) officers and engineers to speed up all work related to flood-mitigation as part of the local civic body's rain preparedness measures. The mayor will visit 182 vulnerable spots in the city to review steps taken towards preventing floods in the city.
Earlier during the week, the mayor had sought an explanation from officials related to various works related to monsoon preparedness in the city on why there is a delay in the process.
Meanwhile, a Bangalore resident was arrested by the Directorate of Revenue Intelligence officers at Kempegowda International Airport on Thursday for trying to smuggle gold from overseas. As much as 2.25 kg of gold was recovered from Adugodi resident Arif Hussain who landed in Bangalore from Tokyo in an Air Asia flight.
While the weatherman has predicted thunderstorms over the next two evenings as well, rain/thundershowers are likely to make an appearance in most parts of the city. Temperature is expected to range between 22 and 33-degree Celsius respectively.
Live Blog
NIAS to discuss post-election-result portends
The National Institute of Advanced Studies Bangalore will host a special panel discussion on 'After the Count: What do the Election Results Portend?' on May 24. Former Bangalore North MP C. Narayanswamy, columnist and NIAS professor Narendar Pani, former Additional Chief Secretary to the Karnataka government K. Jairaj and Prof. Anshuman Behera (NIAS) will take part. Venue: NIAS Lecture Hall. Time: 3.30 pm
Special trains to/from Bhubaneswar after Cyclone Fani
The South Western Railway has decided to run two special trains from/to Bangalore/Bhubaneswar to clear extra rush of passengers stranded due to cancellation of trains during.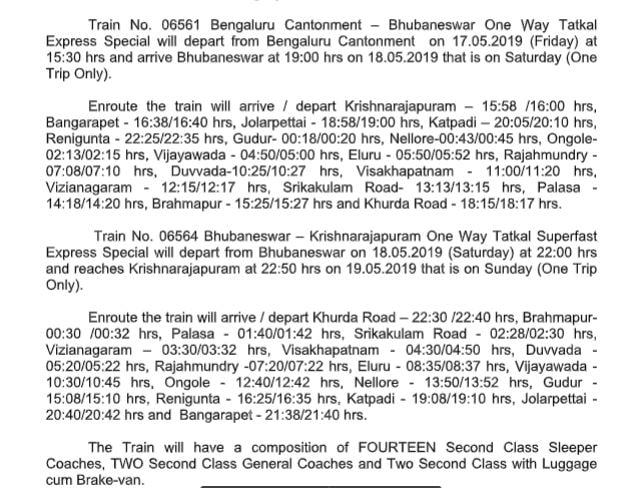 Paying property tax in Bangalore just got easier
Drastic dip in temperature as rain cools down Bangalore
Mercury levels have dipped drastically as temperature recorded saw a 10-degree-Celsius fall. While the temperature recorded by the weatherman in Bangalore was 30-degree Celsius at 2 pm, the same went down to 20 degree-Celsius at 3 pm. At 3.30 pm, the temperature is 23 degree-Celsius
Parachute Regiment gets 137 new paratroopers
As many as 137 recruits passed out from the Parachute Regiment Training Centre after successful completion of 34 weeks training and joined the folds of the Parachute Regiment as Paratroopers in Bengaluru today. This parade was reviewed by Brigadier KP Singh, Commandant, The Parachute Regiment Training Centre.
137 recruits completed their 34-week-training to pass out from the Parachute Regiment Training Centre today. The newly joined paratroopers' parade was reviewed by (Brig) KP Singh, Commandant of The Parachute Regiment Training Centre in Bangalore. (Photo by DPRO/BLR) @IEBengaluru pic.twitter.com/R9FspWRdeH

— Ralph Alex Arakal (@ralpharakal) May 17, 2019
The parade was commanded by Recruit Tema Dorjee Bhutia. Among the award winners were Recruit Rahul who won the Gill Medal for overall Best Recruit . The Ghadge Medal for best in firer was won by Recruit Harphool Ram. Cheema Medal for best Recruit in Physical Training was awarded to Recruit Dinesh Kumar, Chhetri Medal for Best Recruit in drill was awarded to Recruit Tema Dorjee Bhutia and the Endurance Medal went to Recruit Mithlesh Kumar
Rains and hail fall in Bangalore
Several areas in the city received heavy rains while some parts experienced hail fall. Many have posted their experience on Twitter as well.
Bangalore 18th on 'Top 30 Global Startup Ecosystems' list
Popular as India's startup hub, Bangalore has moved two spots up in the latest list of the top 30 Global Startup Ecosystems in the world. While Bangalore is at the 18th spot, Chicago is 17th and Washington D.C is 19th on the same list. Silicon Valley and New York City continue to be in the top two spots while London and Beijing share the third spot in the list constituted by Startup Genome
India's startup capital #Bangalore moves up two spots to 18th on @startupgenome's Global Startup Ecosystem Report 2019.#startups pic.twitter.com/4zfChKOtnf

— ITBT Karnataka (@ITBTGoK) May 17, 2019
Citizen video shows massive traffic jam on EGL-Ejipura stretch
Yelahanka Traffic police meets BBMP deputy Commissioner
Bengaluru Traffic Police (BTP) officials from Yelahanka met BBMP deputy commissioner Rajashekhar to discuss ideas and suggestions to be put in place by the local civic body for effective traffic regulation in the area.
Sir,Today Met Shri Rajashekhar Deputy.Commissioner BBMP .. discussed about work to be done from bbmp for regulation of traffic..@yelahankatrfps @blrcitytraffic @DcptrNorth @AddlCPTraffic pic.twitter.com/mhGL8gG8d6

— YELAHANKA TRAFFIC BTP (@yelahankatrfps) May 17, 2019
Waterlogging and deep potholes worry Bettadasanapura residents
Several areas in and around Bettadasanapura, located adjacent to Electronic City Phase 1 face waterlogging issues. While the road is also filled with deep potholes, even walking becomes an uphill task, residents and commuters say. One among them also took it to Twitter to bring the issue to the notice of the concerned officials.
One of the worst roads I've ever gone.. 🤦🏼‍♂️ it's been the same for the past 6 months. I'm challenging the government officials to walk in this road 👍🏼 @blrcitytraffic @BlrCityPolice @BMTC_BENGALURU @CPBlr pic.twitter.com/UH68ntssUX

— urfrensiva (@urfrensiva) May 17, 2019
Power disruption update: Several areas to face power cuts
Several areas in Bangalore will face power cuts during the day as BESCOM officials are trimming tree branches that fall on to overhead electric wires in the city. According to BESCOM, power will be restored at K Narayanapura, Thanisandra Main Road, Lakshmi Layout, Rajashree Layout, Munekolala and surrounding areas at 1.30 pm.
Several areas in Bengaluru face power cuts during the day as @NammaBESCOM trimm tree branches falling on to overhead electric wires. Power will be restored at K Narayanapura, Thanisandra Main Road, Lakshmi Layout, Rajashree Layout, Munekolala and surrounding areas by 1.30 pm pic.twitter.com/gY0CRMiBJV

— Ralph Alex Arakal (@ralpharakal) May 17, 2019
Bangalore LIVE temperature update
At 11 am, mercury levels are at 30-degree Celsius in Bangalore. While 50% humidity is recorded, wind speed in the city is 8 km/h, according to the weatherman.
No swimming pool in Cubbon park, Karnataka HC stays construction
The Karnataka High Court (HC) has stayed the construction of a swimming pool in Cubbon Park premises, Bangalore's prime lung space. The interim order was passed by the HC on Thursday while hearing a case based on a PIL petition filed by Niyazuddin MK, a city-based advocate. The Karnataka Government Secretariat (KGS) Club constructing a swimming pool in the area had attracted widespread criticism by environmentalists and citizen groups.
Dumping waste in your vacant site? You might be fined soon
The local civic body Bruhat Bengaluru Mahanagara Palike (BBMP) has decided to crack down on owners of vacant sites where dumping of garbage and waste material is being carried out. A recent circular issued by the BBMP directs officials to issue notices to such violators making them liable for any waste that is dumped at their plots. After issuing notices, officers can charge a penalty of Rs 25,000 for lack of civic sense. Repeat offenders may end up paying up to Rs 1 lakh, according to BBMP officials.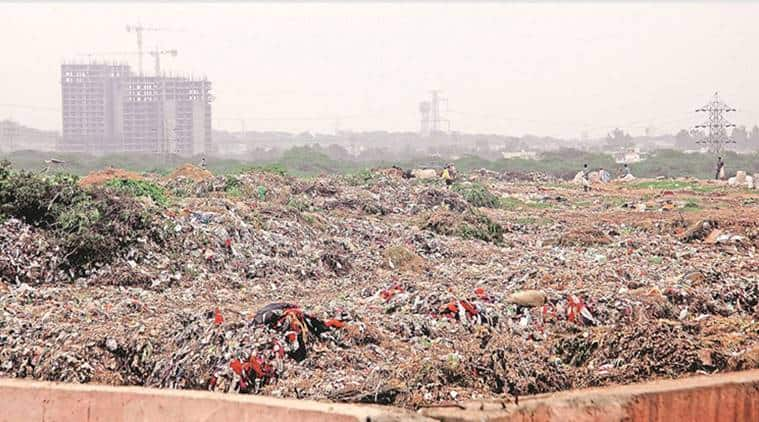 Bangalore LIVE air quality check
Average air quality in Bengaluru is 'moderate'. At 9 am, PM 2.5 (Fine Particulate matter) is at an 'unhealthy' level if you are near Bapuji Nagar or Peenya. The same is at 'moderate' levels near Jayanagar and Hombegowda Nagar.
BDA property tax collection goes online
Bangalore Development Authority's online collection of property tax finally became operational on Wednesday evening. While both offline and online payments of property tax were accepted during the previous financial year, only online payment will be accepted by BDA for 2019-2020. To pay the tax online, visit https://propertytax.bdabangalore.org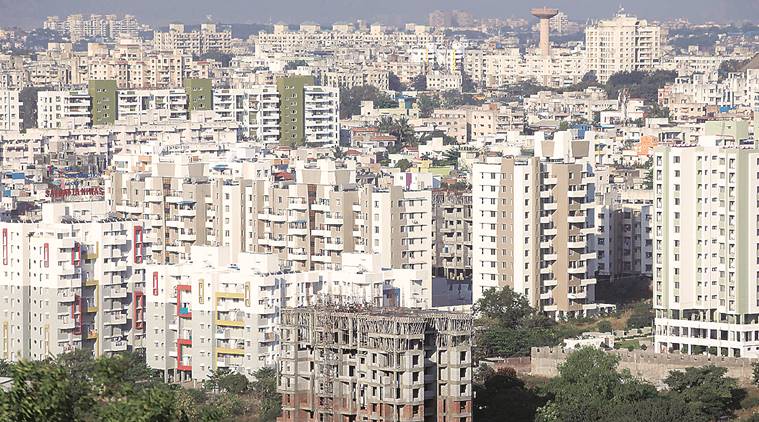 Mayor seeks explanation on delay in flood-mitigation works
Bangalore mayor Gangambike Mallikarjun has sought an explanation from engineers and other BBMP officials in charge for flood mitigation works in the city for the delay in completion of works. While the mayor insisted that shoulder drains should be desilted as soon as possible apart from ensuring a strong and seamless stormwater drain network in waterlogging-prone areas, the engineers have requested for 20 more days time to complete the same.
Side mirrors must for vehicles, Bengaluru Traffic Police reminds
The Bengaluru Traffic Police (BTP) has reminded drivers of the importance of using rear-view mirrors while driving. "Use mirrors and give way," reads the tweet made as part of the team's ongoing road safety campaign
Good Morning Friends, Side mirrors are must for every vehicle! #RoadSafety, Watch out for vehicle coming up on, Use your mirrors and give way.
ಶುಭೋದಯ ಸ್ನೇಹಿತರೆ, ಪ್ರತಿ ವಾಹನಕ್ಕೆ ಸೈಡ್ / ಹಿನ್ನೋಟದ ಕನ್ನಡಿ ಅತ್ಯಗತ್ಯವಾಗಿರುತ್ತದೆ ಸುಗಮ ಸಂಚಾರಕ್ಕಾಗಿ ಸಂಚಾರ ನಿಯಮ ಪಾಲಿಸಿ. pic.twitter.com/ghD2QvTYBg

— BTP (@blrcitytraffic) May 17, 2019