Bangalore News May 16 Highlights: Gifting respite to Bangaloreans from the summer heat, torrential pre-monsoon rainfall that most areas of the city received on Wednesday evening have brought down mercury levels by a few degrees.
While the weatherman has predicted thunderstorms over the next two evenings as well, rain/thundershowers are likely to make an appearance in most parts of the city. Temperature is expected to range between 21 and 33-degree Celsius respectively.
Meanwhile, the four-hour rains that lashed the city on Wednesday uprooted more than seven trees, and electric poles fell at four different locations in the city, according to BBMP and BESCOM officials respectively. Yehalanka received most rain during the same time (74 mm).
At the same time, following reports of rainfall deficit this year, the Karnataka state government has decided to introduce cloud seeding spending an estimated Rs 88 crore for the years 2019-20 and 2020-21. Confirming this, Rural Development and Panchayat Raj (RDPR) minister Krishna Byre Gowda says that the same will be put in place to supplement efforts to tackle drought. To stimulate the process of precipitation and thereby form rains, aerosol is sprayed onto clouds during the process.
Live Blog
Bangalore-based Brishti is first Indian female player in Spanish football league
Bangalore-based footballer Brishti Bagchi is most likely to become the first Indian woman to play in the Spanish League. The 25-year-old is one step closer towards making her dreams come true after being picked to play for the reserve team for Madrid Club de Futbol Femenino (CFF), a team that competes in the Spanish La Liga Division-1 league.
Mayor visits Netaji Layout electrocution site
Bengaluru mayor Gangambike along with deputy mayor and ruling party leaders visited the area ay Netaji Layout, Mathikere here a boy was electrocuted from dangling wires. The mayor and her team will also visit the victim at Victoria Hospital
BMTC takes action against driver for reckless driving
The Bangalore Metropolitan Transport Corporation (BMTC) has initiated action against their driver after a video posted by a citizen activist which indicated reckless driving went viral overnight on Wednesday. Confirming the same, BMTC tweeted, "Based on this complaint, we have stopped the duty of said driver and charge sheet has been issued against him for his lapses."
Pothole mania in Bangalore: Automated pothole filling truck might be a solution
Rizwan Arshad calls for better awareness on National Dengue Day
As India observes National Dengue Day today, Congress MLC and Bangalore Central Lok Sabha candidate Rizwan Arshad has called for better awareness of the illness. "Over the years, Bengaluru has seen a rise in Dengue infection rate. This #NationalDengueDay, let's familiarise with the symptoms and the manner in which Dengue spreads," he tweeted.
Over the years, Bengaluru has seen a rise in Dengue infection rate. This #NationalDengueDay, let's familiarise with the symptoms and the manner in which Dengue spreads.

With little precautions, we can help bring down the infection rate substantially. https://t.co/xMPcLUJrhU

— Rizwan Arshad (@ArshadRizwan) May 16, 2019
ACB raid at Banashankari Co-operative Bank
ACB sleuths conduct raid at Banashankari Co-operative Bank in Bengaluru in connection to a multi-crore TDR scam in Bangalore Development Authority.
TCS World 10k marathon in Bengaluru this weekend
Bengaluru is just three days away from the TCS World 10K marathon, claimed to be the world's richest 10 Km run which has seen participation from top elite athletes in the world. The event which was first held in 2008 has witnessed Mike Powell, Marie Jose Perec, Carl Lewis, Maria Mutola, and Linford Christie among other big names in sports as its ambassadors. South Indian filmstar Puneeth Rajkumar is the face of the event this year.
In 3 days, it's time for the World's Premier 10K Run. Are you ready, Bengaluru? #TCSW10K pic.twitter.com/qlkOvb8psv

— TCS World 10K (@TCSWorld10K) May 16, 2019
Lok Sabha Elections 2019: Training underway for election counting officials
As India awaits the results of the 2019 Lok Sabha elections on May 23, election counting officials in Karnataka are undergoing training sessions in Bangalore. The training takes place at Maharani's Science College for Women
Low voter turnout in Bangalore: AAP conducts survey
Workers of the Aam Aadmi Party in Bangalore are conducting a survey in Bangalore speaking to voters to understand why over half of the population in the city chose not to turn up for the 2019 Lok Sabha elections.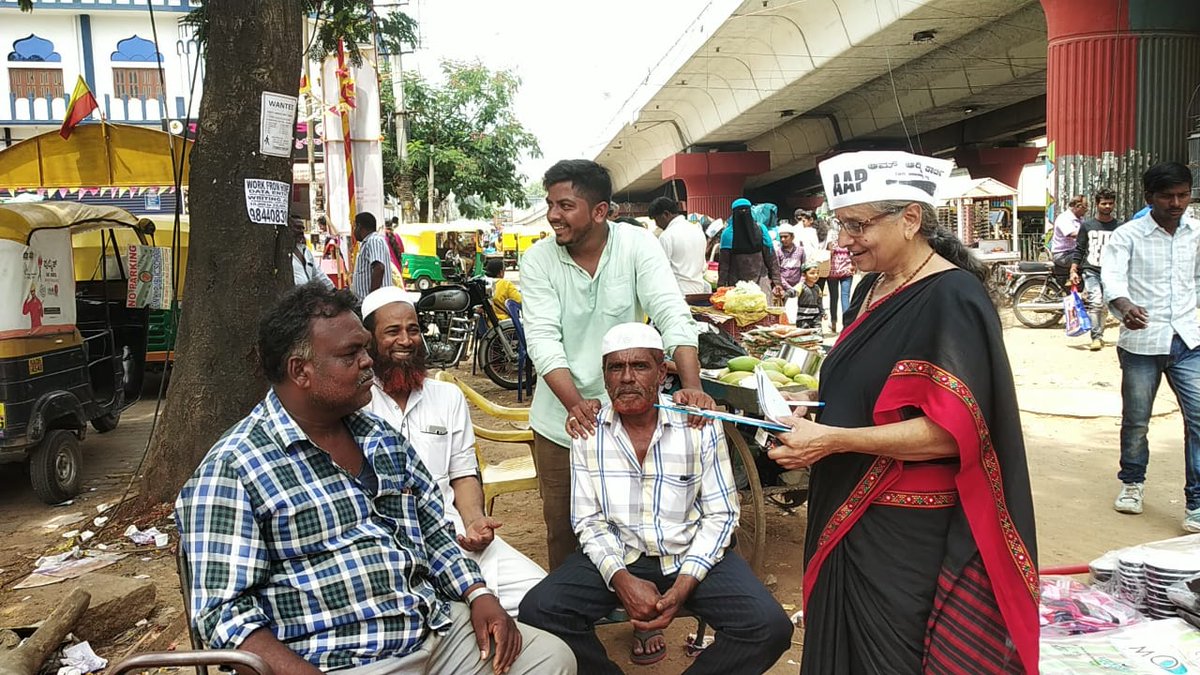 While the voter turnout at Bangalore North was 50.51 per cent, the same at Bangalore Central, South and Rural constituencies were 49.75%, 54.12% and 64.09% respectively.

Read more: Lok Sabha Polls 2019: Poor voter turnout in Bengaluru
Power disruption update: HMT Layout, Mohankumar Nagar, Horamavu, Mathikere face power cuts
Several areas around the city continue to face power disruptions as the day progresses. Power supply has been disrupted at Horamavu, Hoysala Nagar, Brindavan Layout, Jayanthi Nagar, Manjunath Nagar, NRI Layout and surrounding areas after a lorry hit an electric pole.
May 16, 2019
Areas including HMT Layout, Mohankumar Nagar, Mathikere and surroundings face power cuts due to cable faults, BESCOM cites. Power will be restored at all places mentioned by 12.30 pm, according to the electricity supply company.
May 16, 2019
Citizen activist posts video of bus driver's reckless driving online, BMTC promises action
A video posted by a citizen activist shows a BMTC bus plying on the wrong side of the road in a dangerous manner at TVS cross in Peenya. The dashboard video which was tweeted from a Twitter handle named 'concernedcitizen' went viral on Wednesday night as more citizens joined the bandwagon to point out similar issues.
The bullying by @BMTC_BENGALURU continues at the same TVS cross. Look how he just goes on the wrong side and also cuts traffic just because he has a big vehicle & no cop will dare to touch him. He's the DON of blore roads. @AddlCPTraffic @CPBlr @IEBengaluru @blrcitytraffic pic.twitter.com/5S9zm7mgBl

— concernedcitizen (@concern13161846) May 15, 2019
Following this, the Bengaluru Traffic Police intimated officials of BMTC to look into the matter
May 15, 2019
Responding to the same, BMTC replied that "deemed fit actions against the erring crew" will be taken.
Ofcource we I'll take deemed fit action against the erring crew and initimate you the action taken

— BMTC (@BMTC_BENGALURU) May 15, 2019
Bangalore gets rains but water crisis intensifies
It might be raining on alternate days in Bangalore but drinking water menace has not cooled down yet and rather, has intensified over the days. Residents of Bellandur, Sarjapur Road, Whitefield, Kasavanahalli and other areas allege private water tanker operators have forced them to subscribe to the same tanker for a refill at least twice per day.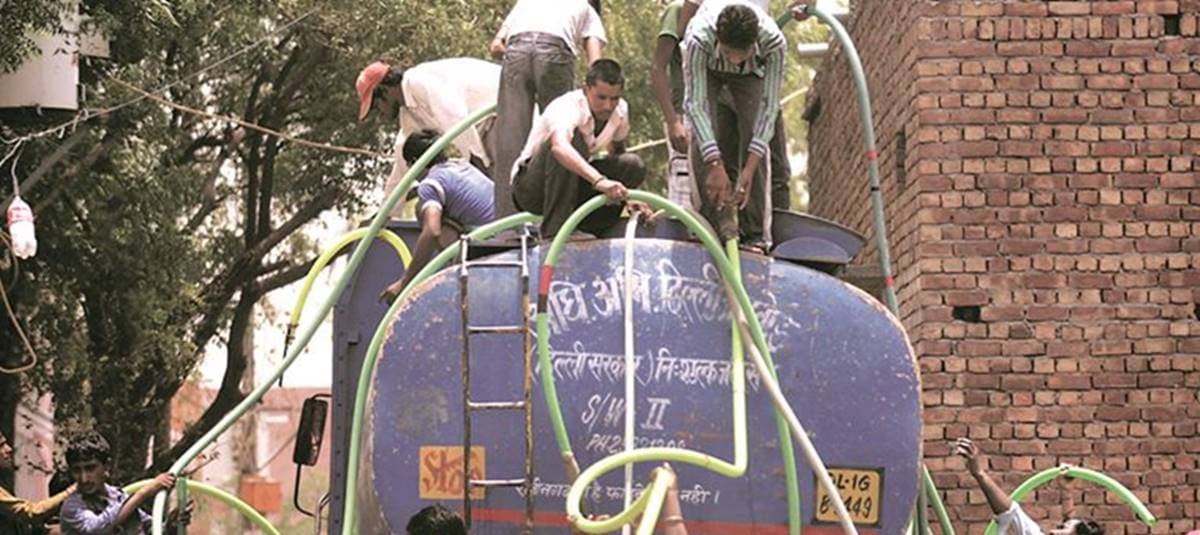 Incidentally, as demand for water has shot up due to intense summer this season, rates have hiked from Rs 350 to Rs 1200 for 6,000 litres of waters according to the residents.
Volunteers beautify Doddanekundi railway bridge
Pipes on road at Koramangala trouble commuters
Several citizens have pointed out how many concrete pipes left abandoned on a road at Koramangala are troubling their smooth commute over the past few days. With the authorities failing to take suitable action, irked citizens have taken it to Twitter to express their displeasure.
Bangalore LIVE air quality check
Average air quality in Bengaluru is 'moderate'. At 9 am, PM 2.5 (Fine Particulate matter) is at an 'unhealthy' level if you are near Silk Board or Bapuji Nagar. The same is at 'moderate' levels near City Railway Station and Hombegowda Nagar.
Bengaluru Traffic police hats inspire Uttar Pradesh police
The 'cowboy hats' used by the Karnataka traffic police has been an inspiration to the Lucknow traffic police and soon they will be ordering around 50 hats on a pilot basis from Bengaluru.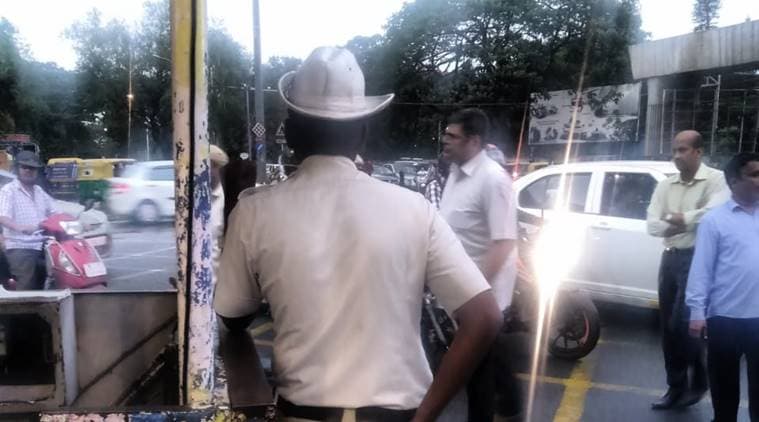 The decision was taken as part of the Uttar Pradesh police's search for options for better gear online which incidentally found Bengaluru police using white colour cotton hats. As it was found to be more comfortable than the woollen caps UP police uses during summer, the authorities decided to do the same.
Yelahanka witnesses hail fall, receives 74mm rain on Wednesday
As pre-monsoon rains accompanied by gusty winds made an appearance in Bangalore on Wednesday, Yelahanka received most rainfall (74 mm) followed by Radhakrishna Temple Ward (66 mm) and Gatiganahalli (50 mm). While more than seven trees were uprooted and several electric poles fell at different locations in the city, BBMP and BESCOM officials had a tough time streamlining activities in the city.