In what is seen to be the culmination of developments related to the political crisis in Karnataka, the state legislative assembly is in session on Thursday. It can be recalled that the Supreme Court left it to the discretion of Speaker K R Ramesh Kumar to decide on the resignations of 15 rebel coalition MLAs in Karnataka. The SC also ordered that the legislators cannot be compelled to attend the session, in an interim order, on Wednesday.
However, the Congress and JD(S) Wednesday had decided to issue a whip to all its legislators, including 16 MLAs who have resigned, to attend the trust vote scheduled Thursday as well as a separate whip to vote for the coalition.
READ| Karnataka Trust Vote today: Supreme Court verdict not in our way, says Congress, will issue whip
Meanwhile, Karnataka BJP chief B S Yeddyurappa Wednesday welcomed the Supreme Court order on the political crisis, asserting that it was a "moral victory" for the rebel MLAs, whose resignations have pushed the ruling Congress-JDS coalition to the brink of collapse.
READ| Karnataka crisis: SC verdict a moral victory for rebel MLAs, says Yeddyurappa
Live Blog
Follow us for LIVE updates on Bangalore traffic, weather, power disruption updates, pollution checks, events, developments and much more from Bengaluru today| Click here to get LIVE news updates from Chennai
IN PICS | Congress alleges 'abduction' of MLA Shrimant Patil; writes to Bengaluru Police Commissioner seeking 'protection'
Assembly session adjourned till Friday 11 AM; BJP for all-night dharna
Session adjourned till 11 am tomorrow (Friday). BJP leaders say that they are ready to stay the whole night in the house, till they get justice. Yeddyurappa says party MLAs will sleep in Vidhan Soudha.
Cong- JD (S) members carry placards and shout down BJP
Cong and JD (S) members of the house are carrying placards of pictures of Shrimanth Patil, the Congress MLA who was missing from the resort and who had now been hospitalised in Mumbai. Coalition members are shouting that Patil has been kidnapped and want justice for the same.
Speaker leaves House to meet Advocate General
The speaker has left the house to meet up with the advocate general and the BJP members are making a hue and cry on the issue. They want a vote immediately while the Congress and JDS benches are objecting to the same. They want a decision from the speaker on the directive received from the governor.
Guv's message can be a 'wrongly sent' one: H K Patil
"Governor might not have sent a directive. It can be a wrongly sent message. Whatever contribution that makes to the House is different, but this amounts to interference to proceedings in this House which the Governor shall not do. We advise, as Karnataka assembly, that the Governor shall not interfere to the proceedings of this House," senior Congress MLA H K Patil said, reacting to the message sent by Governor Vajubhai Vala to Speaker K R Ramesh Kumar.
Congress MLAs object to Guv's interference in House proceedings
Congress members of the house object to the interference of the Governor in the proceedings of the house. They found fault with the BJP for trying to seek the intervention of the Governor in the working of the house. The speaker, however, intervened to say that the opposition had the right to meet the Governor and ask him to act on some issue. However, it is up to him to finally decide on the matter. He would be influenced by anyone on the matter.
Karnataka Guv directs Speaker to hold floor test today
Karnataka Governor Vajubhai Vala asks Speaker K R Ramesh Kumar to conduct trust vote today. "The motion of confidence moved by the CM of Karnataka is in consideration before the house today. The CM is expected to maintain the confidence of his house during all times of his tenure. I, therefore, send this message to the House to consider completing the process by the end of the day. This according to me, will uphold the highest traditions of democracy and parliamentary practice," the message says, as read out in Vidhana Soudha by speaker Ramesh Kumar.
Karnataka floor test: Speaker to seek legal advice on whip issue
Karnataka Speaker K R Ramesh Kumar sought time to obtain legal advice after Congress leader Siddaramaiah moved a point of order saying powers of political parties to control their legislators would be affected. In the light of the Supreme Court order issued on July 17 which barred the dissenting MLAs from being compelled to attend the trust vote, the Speaker seeks to consult the state advocate general if the whip issued to the MLAs will be valid or not.
Revised Bengaluru Metro route to airport likely to make ride longer for many
The revised route for Bengaluru's Namma Metro to reach Kempegowda International Airport (KIA) is expected to make access tedious for commuters from certain areas of the city even though the cost for the project has seen a 44.25 per cent increase to accommodate the changes. Namma Metro's airport corridor was earlier designed to be from Gottigere to Kempegowda International Airport via Nagawara. However, the route has been revised to include KR Puram-Nagawara-Airport for an entire 38-kilometres stretch now.
Debate on trust vote should conclude today: Shettar
"There should be a debate on the trust vote which ideally should conclude today. The Speaker has paid no attention to us demanding this at all. Instead, he gave nod for an extended debate only on the Point of Order (during the beginning half of the proceedings on Thursday)," BJP MLA Jagdish Shettar says. Shettar who is a former Chief Minister of Karnataka has also served as the Speaker of Vidhana Soudha in the past.
"There should be a debate on the trust vote which ideally concludes today. The Speaker has paid no attention to us demanding this at all. Instead, he gave nod for an extended debate only on the Point of Order." BJP MLA Jagdish Shettar says after meeting Governor @IndianExpress pic.twitter.com/vu05b8CQu7

— Ralph Alex Arakal (@ralpharakal) July 18, 2019
<script async
BJP delegation meets Governor; alleges Speaker of 'delaying processes'
Meanwhile, a delegation of BJP leaders led by former chief minister Jagadish Shettar met Karnataka governor Vajubhai Vala in Karnataka Raj Bhavan. The delegation has confirmed that they met the governor to complain on Speaker Ramesh Kumar delaying further processes by not holding a floor test, as promised before.
Ruckus in Vidhana Soudha; House adjourned for half an hour
Following BJPs demand to hold the floor trust session immediately. Ruckus in the assembly and the house is adjourned for half an hour. Replying to BJP legislators demands, speaker Ramesh Kumar said, "I will not do it (floor test) according to your convenience."
BJP directly involved in poaching: Dinesh Gundu Rao
"Our MLAs are being poached by the BJP. BJP is directly involved in poaching our legislators," Karnataka Congres president Dinesh Gundu Rao says as session resumes in Vidhana Soudha after lunch.
Siddaramaiah calls for postponement of no-confidence motion
SC order has discussed about my rights as CLP leader to issue whip but I was not a respondent to present my concerns. As the outcome of anti-defection law has its implications on no-confidence motion, I would like to request to postpone the motion till we get clarification frm SC

— Siddaramaiah (@siddaramaiah) July 18, 2019
Dy CM Parameshawara welcomes speaker's move to allow whip
Session adjourned for lunch; to resume at 3 pm
Speaker reiterates to be 'impartial, fair and judicious'
Karnataka crisis: What's a 'whip', and what does it do?
According to senior advocate Mukul Rohatgi, who was representing the rebel MLAs, the SC order renders inoperative the three-line whip issued against the rebel MLAs to attend the Assembly. Read more
We need time to get clarity on resignations: HK Patil
We must decide if rebels are members of the house before the trust vote. They are saying they have resigned but the resignations are not accepted, so we need time to get clarity on the issue: Congress MLA HK Patil
We came for confidence motion: BJP MLA Madhuswamy
"Why did CLP leader Siddaramaiah fail to give notice on the Point of Order? This would have given time for the BJP to prepare for the same. We came here prepared for the confidence motion called by the CM. Now we have ended up debating only the Point of Order. This will become precedence on other speakers," BJP MLA Madhuswamy says.
Necessary to decide on rebel MLAs before trust vote: Krishna Byre Gowda
"It is necessary to decide on the 15 rebel MLAs before going for the trust vote. Trust vote is a landmark decision for the house," says Congress MLA and minister Krishna Byre Gowda.
I have no role to play in CLP leader's powers: Speaker Ramesh Kumar
Karnataka Speaker Ramesh Kumar has allowed for a whip to be applied on all MLAs in the Karnataka legislative assembly. "This house holds the supreme court in the highest esteem. Simultaneously, let me make it abundantly clear to the CLP leader that this office is not restraining you (him) from doing or exercising any of (his) authorities. I have no role to play in that," the speaker commented.
Congress MLA Shrimant Patil absent in Vidhana Soudha, admitted in Mumbai hospital
Meanwhile, Karnataka Congress MLA Shrimant Patil has been admitted in a hospital in Mumbai after he reportedly suffered from chest pain. Patil was staying at Windflower Prakruthi Resort in Bengaluru and reached Mumbai last night to join the other rebel MLAs.
Stuck between former, incumbent and future CMs: Speaker
Trying to get the house back in order after BJP's Jagadish Shettar and Congress' Siddarmaiah got into a debate, speaker K R Ramesh Kumar commented, "I am stuck between former, incumbent and future chief ministers."
Jagadish Shettar raises objection to coalition's 'delay tactics'
Former CM and BJP leader Jagadish Shettar raised an objection to the "coalition's delay tactics," interrupting CLP leader Siddaramaiah presenting his point of order in the house.
Siddaramaiah's gaffe - "I am the leader of opposition"
"I am the leader of the opposition," CLP leader Siddaramaiah says by mistake. BJP legislators burst out in laughter when Siddarmaiah immediately justified his 'slip-of-tongue' saying he has been "the leader of opposition in the same Vidhana Soudha for 4 years."
Kumaraswamy ahead of floor test: 'Role of Speaker has been put in jeopardy'
"I haven't come just because there is a question on whether I can run a coalition government or not. Events have shown that even the role of the Speaker has been put under jeopardy by some legislators," Karnataka Chief Minister H D Kumaraswamy says in Vidhan Soudha. The CM has initiated a debate on the no-trust motion.
CM Kumaraswamy reads out petition filed by rebel MLAs in Supreme Court
As proceedings begin in Vidhana Soudha, Karnataka chief minister HD Kumaraswamy reads out the petition filed by rebel MLAs in Supreme Court. "The legislators have forgotten to conduct themselves properly by making such false allegations against our stable government in the apex court," he says commenting on the same. We need clarification on these allegations, he adds.


CM Kumaraswamy arrives in Vidhana Soudha
Karnataka Chief Minister H D Kumaraswamy arrives in Vidhana Soudha ahead of the confidence motion scheduled to be held in some time from now.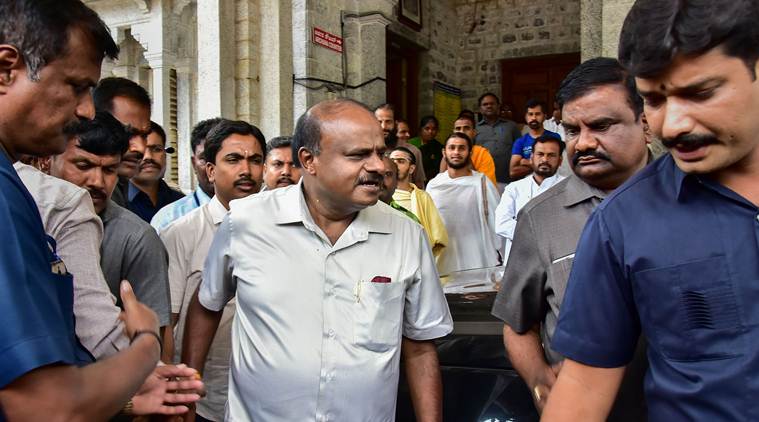 Security heightened at Vidhana Soudha premises ahead of floor test
Section 144 imposed in a radius of 2 km around Vidhana Soudha ahead of the floor test. Rapid action force, water cannons also deployed at the spot.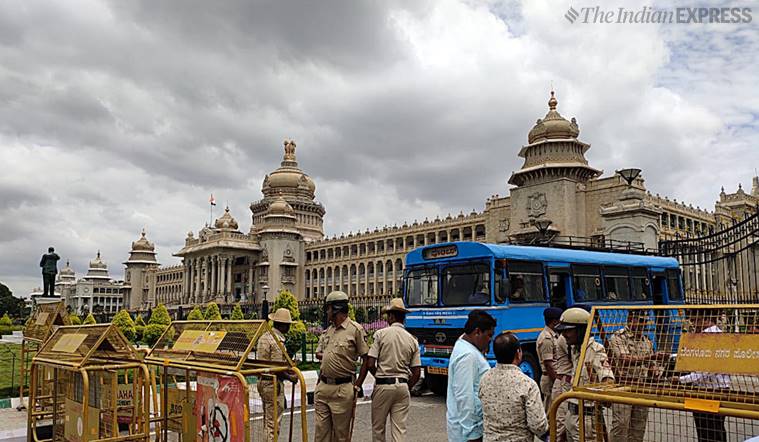 We are 101 per cent confident: B S Yeddyurappa
On arriving in Vidhana Soudha on Thursday, expected to be a crucial day in the history of Karnataka politics, state BJP chief and leader of opposition B S Yeddyurappa expressed his confidence in defeating the Congress-JD(S) coalition in the confidence motion scheduled for the day. '"We are 101 per cent confident. They are less than 100, we are 105. There is no doubt that their motion will be defeated," he said.
IN PICS | BJP legislators arrive in Vidhana Soudha
Karnataka: BJP State President BS Yeddyurappa & BJP MLAs arrive at Vidhana Soudha in Bengaluru. Karnataka government will be facing floor test today. pic.twitter.com/MBvwjqz7L4

— ANI (@ANI) July 18, 2019
Bangalore rains make a comeback; several areas left waterlogged
Heavy rainfall left parts of the city partially waterlogged on Wednesday night. The downpour, coupled with lightning, was centred around southern western, northern and central Bengaluru. Lalbagh, Jayanagar, Basavanagudi, Vidyapeetha and Kathriguppe, RR Nagar, Malleswaram, Mahalakshmi Layout and Koramangala received moderate to heavy rainfall. Power disruption issues affected residents of Koramangala and surrounding areas as well.
No parking on Residency Road: BTP's new solution to avoid traffic
The Bengaluru Traffic Police (BTP) has proposed to charge Rs 1,000 fine for school vehicles parked illegally along Residency Road during the day. Police officials have observed that these vehicles, parked Outside schools in Residency Road, affect smooth movement of vehicles along the stretch throughout the day, especially from 7 am to 4 pm.
Traffic police officials in the areas have directed school vehicles to leave once they drop the children and return at the pick-up time. Violation of this would attract hefty fines from July 20, according to BTP officials.
Bangalore LIVE air quality check


Average air quality in Bengaluru is 'moderate'. At 9.45 am, PM 2.5 (Fine Particulate matter) is at an 'unhealthy' level if you are near Bapuji Nagar, Silk Board, or Kadubeesanahalli. The same is at 'moderate' levels near Mathikere, Koramangala, and Ulsoor.
A shaky coalition goes in for large scale transfers of officials
The large scale transfers of officials in certain departments on the eve of the confidence vote and the coalition government being on shaky grounds has raised many eyebrows. In the first week of July, a large scale transfer of more than 800 employees and officials of the Public Works Department had taken place. Police officials, KAS officers and the recent large scale transfer of IFS officers and other officials in the department is turing out to be curious. Though large scale transfers are routine, the timing is being questioned.
BWSSB plans to double fines for non-installation of rainwater harvesting structures
Bengaluru Water Supply and Sewerage Board (BWSSB) is planning to make it mandatory for houses above a certain dimension to have rainwater harvesting structures and also double the fines for non-installation of rainwater harvesting structures in the premises. The plan proposes that rainwater be stored on rooftops in tanks and supplied to homes or apartments for washing or cleaning purposes.
Ramalinga Reddy to withdraw resignation
Senior Congress leader Ramalinga Reddy is likely to attend the assembly session and withdraw his resignation. Reddy was among the first group of rebels who resigned from the assembly but did not fly to Mumbai where the other rebels are holed up. He was the epicentre of the revolt but had been staying in Bengaluru and had been meeting leaders of all political parties. His withdrawal comes as a moral boost to the coalition, but it appears to be a bit late as the numbers are against it.
WATCH| What is floor test?