Bangalore news July 15 highlights: A day before the second day of the monsoon session in Vidhana Soudha, leaders of the ruling Congress-JD(S) coalition in Karnataka tasted success in progressing a little towards sustaining their government in the state trying to survive the political crisis they face at the moment.
READ| Another Congress MLA joins Karnataka rebels in Mumbai
However, M T B Nagaraj, a minister in the coalition government who had stated, on Saturday, that he remained a member of the Congress despite quitting the coalition. Even though he was captured by TV cameras in the company of senior BJP Karnataka leader R Ashok before travelling to Mumbai, he later held a press conference with the other rebels there insisting he neither travelled with Ashok nor was in touch with anyone.
READ| Karnataka: BJP split on staking claim, coalition hopes to win trust vote
Live Blog
Follow us for LIVE updates on Bangalore traffic, weather, power disruption updates, pollution checks, events, developments and much more from Bengaluru today| Click here to get LIVE news updates from Chennai
IMA founder Mansoor Khan wants to come back to India
Mansoor Khan, the main accused in IMA Ponzi scam case released a video on Monday expressing his willingness to return back to India to be part of the undergoing investigation. "God willing, I will return to India in the next 24 hours, I have full faith in Indian judiciary. First of all, leaving India was a big mistake, but circumstances were such that I had to leave. I don't even know where my family is," he is seen saying in the video shot and uploaded online from an undisclosed location.
Ramalinga Reddy to meet Speaker Ramesh Kumar tomorrow
Senior Congress leader and BTM Layout MLA Ramalinga Reddy who resigned from his membership of the Karnataka legislative assembly will meet Speaker K R Ramesh Kumar on Tuesday. The former Home minister had earlier taken an appointment for 4.30 pm today but has postponed his meeting, his close aides told Indianexpress.com.
MLAs in Mumbai will support us: BJP Karnataka chief BS Yeddyurappa
No one will like to go for an election, confident of winning Floor Test: D K Shivakumar
Speaker adjourns State Assembly session till Thursday
CM HD Kumaraswamy had asked the Speaker to hold floor test on Friday (19 July), to which main opposition BJP objected and requested to move the motion of confidence at the earliest. After hearing arguments from ruling party and the opposition Speaker KR Ramesh Kumar has adjourned the State Assembly session till July 18 and added that the floor test will take place on the same day at 11:00 am
Floor test on Thursday at 11 am
Karnataka Speaker K R Ramesh Kumar has announced that Chief Minister H D Kumaraswamy's floor test will take place on Thursday (18 July) at 11 am. Meanwhile, BJP has announced that they won't allow the proceedings in the house until the motion of confidence is held at the earliest.
WATCH| RDPR minister Krishna Byre Gowda shares video of filling up 13 lakes in Byatarayanapura
Extremely happy to share with you - started filling up of 13 lakes in Jala Hobli of BTPura constituency with treated waste water from BLR. This will recharge depleted ground water, help increase green cover, boost agriculture,nurture plants, birds, animals.#VisionByatarayanapura pic.twitter.com/qqPijuh6vp

— Krishna Byre Gowda (@krishnabgowda) July 15, 2019
MLAs camping in Mumbai seek police protection
As many as 14 Karnataka legislators camping in Hotel Renaissance, Mumbai have sought police protection mentioning they have "no intentions in meeting senior Congress leaders Mallikarjun Kharge, Ghulam Nabi Azad or any other political leader" anticipating "serious threat from them."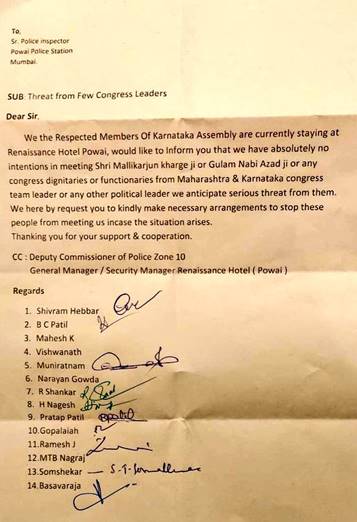 Crucial meeting begins in Speaker's chamber
The Business Advisory Council meeting is now underway in Speaker Ramesh Kumar's cabin in the first floor of Vidhana Soudha, Karnataka's legislative assembly. MLAs from both sides, the ruling Congress-JD(S) side and the opposition BJP, are currently attending the meeting. The next course of action including when to schedule a no-confidence motion is expected to be taken during the meeting. Both CM Kumaraswamy and leader of opposition BS Yeddyurappa are at the meeting.


CM Kumaraswamy arrives at Vidhana Soudha
Karnataka chief minister H D Kumaraswamy has arrived at Vidhana Soudha for the second day of the monsoon session in the state legislative assembly. Kumaraswamy, on Friday, had approached Speaker Ramesh Kumar seeking for trust vote as he didn't want to give an impression of continuing in power without proving majority.


IN PICS| Congress Legislative Party meet before leaving for Vidhana Soudha
Rebel MLAs seek complaint copy from speaker
Rebel MLAs Ramesh Jarkiholi and Mahesh Kumathalli's lawyer writes to Speaker Ramesh Kumar seeking a complaint copy filed by Congress leaders. A show cause notice was issued to the 2 MLAs by the Speaker's office.
IN PICS| BJP MLAs leave for Vidhana Soudha
At the centre of Karnataka crisis, a Speaker known to stick to rules
Amid uncertainty over the future of the Congress-JDS government in Karnataka following resignations by rebel MLAs, one of the concerns of Congress leaders is that Assembly Speaker K R Ramesh Kumar will show no favouritism despite being a Congress leader for many years. Ramesh Kumar rose from student politics in Bengaluru in the 1970s and associated with the Congress early in his political career. He later shifted to Janata Party and Janata Dal before returning to the Congress around two decades ago. Read more
Youth Congress protest outside Maski MLA's residence
Workers of the Karnataka Youth Congress assembled in big numbers outside Maski MLA Pratapgowda Patil's residence on Monday protesting the legislator's decision to resign. The protest was held in Raichur under the leadership of Karnataka Pradesh Youth Congress President Basanagouda Badarli.


Huge protest by Youth Congress infront of Maski MLA Pratapgowda Patil's house for his resignation of MLA post.

The protest was held under the leadership of Karnataka Pradesh Youth Congress president Shri Basanagouda Badarli ji and other party workers. pic.twitter.com/SlTiyt3qsz

— IYC Karnataka (@IYCKarnataka) July 15, 2019
Karnataka hand BL Santosh is new BJP organisation general secretary
BJP president Amit Shah on Sunday appointed B L Santosh as the new general secretary (organisation) of the party. Santosh replaced Ram Lal, who has returned to the RSS after serving in the post 13 years. Santosh, who had served as Karnataka BJP's organisation secretary in the past, was national joint secretary (organisation) before his appointment on Sunday.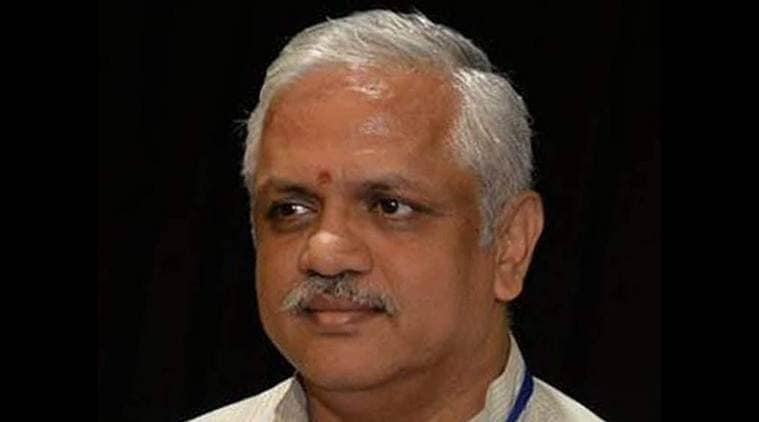 Santosh's appointment to the crucial post comes at a time when the BJP wants to focus on the south as it has so far not been able to make deep inroads into the region, except in Karnataka. Read more
Dy CM congratulates winners, organisers of Corporator No. 1 awards
Congratulations to 51 Ward Corporators who were honoured with 'Namma Samithi Puraskara' today for their excellent work in their wards.
I applaud @citizensforblr for this thoughtful initiative that brings together elected representatives & citizens. #CorporatorNo1 https://t.co/bKtnWQPAia

— Dr. G Parameshwara (@DrParameshwara) July 14, 2019
Betrayal in BJP's DNA: Karnataka Congress
The Karnataka Pradesh Congress Committee warned its rebel legislators in a tweet made on Monday which read, "Betrayal in BJP Dna. Goa fiasco should be a Eyeopener for those joining BJP bandwagon across India. 2 parties who supported BJP at the hour of need have been thrown out proving that they cannot be trusted. Rebel MLAs should take a lesson from this episode." The tweet also calls out #OperationKamala, as a continuation in alleging conspiracy by the BJP in "poaching" legislators.
Betrayal in BJP Dna.

Goa fiasco should be a Eyeopener for those joining BJP bandwagon across India.

2 parties who supported BJP at the hour of need have been thrown out proving that they cannot be trusted.

Rebel MLAs should take a lesson from this episode.#OperationKamala

— Karnataka Congress (@INCKarnataka) July 15, 2019
Ramalinga Reddy to meet Speaker today; likely to attend monsoon session today
Senior Congress leader and MLA from BTM layout, Ramalinga Reddy is expected to meet Karnataka speaker Ramesh Kumar today at 4:30 pm. He is expected to explain to the speaker the reasons for his resignation. A series of senior leaders have met up with Ramalinga Reddy over the past few days and his stand on his resignation is expected to show which way the wind is blowing. Ramalinga Reddy had earlier said that his resignation stands, but he is expected to attend the assembly session today.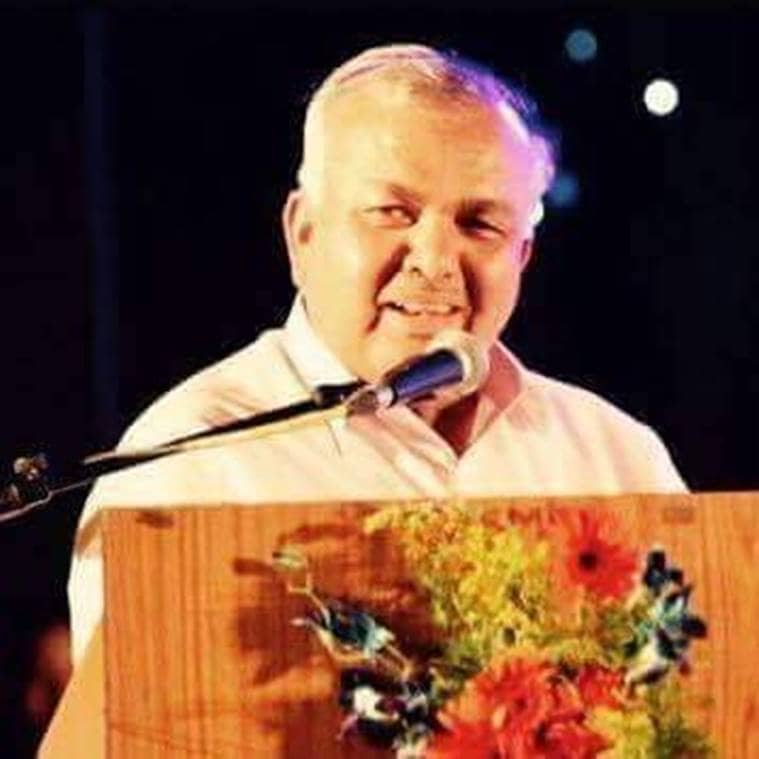 51 BBMP corporators win Corporator #1 awards
As many as 51 local representatives from Bangalore's local civic body the Bruhat Bengaluru Mahanagara Palike (BBMP) were honoured with Corporator #1 Namma Samiti Puraskaara in an event held on Sunday. The corporates were awarded the same for holding at least four meetings in the last six months. Some of the corporators held the monthly meetings for all the six months.
Former Lokayukta Justice Santhosh Hegde, the chief guest at the function said he was warned against attending a function to award politicians. "But I know there are good people in politics too and it's our collective responsibility to recognize their good work," he said. He further reminded the elected representatives that they were public servants and have to uphold the values of the Constitution while performing their duties.
The event was organised by Citizens For Bengaluru (CfB), a civic activist group from the city.
And our award winning Corporators (#CorporatorNo1)!#NammaSamitiPuraskaara #CitizensForBengaluru pic.twitter.com/eIr1L9Zf9a

— Citizens for Bengaluru (@citizensforblr) July 14, 2019
Rebel MLAs in Mumbai put up united front
In Mumbai, the rebels — 15 of whom have approached the Supreme Court to direct Speaker K R Ramesh Kumar to accept their resignations — put up a united front and claimed there was no question of any of them withdrawing their resignations. "We have not divided into groups. We are all united. M T B Nagaraj has joined us and 12 of us are together now. Another MLA, Sudhakar, who has resigned, is in Delhi and he will join us. There are 13 of us in all and a total of 15, with two Independents," S T Somashekhar said.