Bangalore news August 22 highlights: Overlooking Bangalore's local civic body the Bruhat Bengaluru Mahanagara Palike (BBMP), road safety works have been handed over to the Bengaluru City Traffic Police (BTP).
The cops will now start working on improving safety mechanisms on city roads in the light of former traffic police chief requesting BBMP to begin the same.
Meanwhile, vegetable prices have shot up in the city after floods in districts of north Karnataka. For instance, the price of onion per kilogram has been hiked to an average of Rs 40 from the earlier Rs 25 price.
Live Blog
CM writes to legislators to submit action plan immediately under Local Area Development Plan
Karnataka Chief Minister BS Yediyurappa has written a letter to all legislators to submit an action plan under Karnataka Legislators Local area Development Plan for the pending amount for the Financial Year (FY) 2018-19 and for Rs. 2.00 Crore for the FY 2019-20 immediately to respective Deputy Commissioners.

Under Karnataka Legislators Local area Development Plan, Rs. 2 crore is being given to every MLA or MLC, every year. The action plan must be submitted at the beginning of the Financial year and implemented after finalising and obtaining approval by the month of June. The CM, in this regard, has asked all the MLAs and MLCs to submit the action plan immediately to the Deputy Commissioners.
Yediyurappa also advised legislators to integrate the action plan with MGNREGA, in order to fulfil the requirements in their constituencies such as Anganvadi, school, hospital buildings and water conservation activities, which will ensure the overall development of the constituency.
Landslides on Ghat Section of Mysuru Division: Trains cancelled
The South Western Railway, in a statement released on Thursday evening has announced cancellation of the following trains due to landslides at various places between Sakaleshpur – Subrahmanya Road Ghat Section of the Mysuru Division:
1. Train No.16516 Karwar – Yesvantpur Express starting on 24.08.2019
2. Train No.16518 / 16524 Kannur / Karwar – KSR Bengaluru Express starting on 23.08.2019 & 24.08.2019
3. Train No.16511 / 16513 KSR Bengaluru – Kannur / Karwar Express starting on 23.08.2019 & 24.08.2019
4. Train No.16575 Yesvantpur – Mangalore Express starting on 25.08.2019
5. Train No.16585 Yesvantpur – Mangalore Express starting on 25.08.2019
Fixing potholes is the job of BBMP, not the police
BBMP Commissioner Manjunath Prasad has said that if traffic police come across potholes they should inform Palike and not take up civic work themselves. When it was brought to his notice that traffic police had repaired a road, Prasad said, "It's been done in one place. From that you can't say that traffic people are doing BBMP's job. They have to inform us. We will do it," he said.
South Western Railway hikes parking fee
The Southern Western Railways has hiked the parking fee by a whopping 1400% at KSR (City Railway Station). Earlier, parking a four-wheeler attracted a fee of only Rs 20 a day, which now has been hiked to Rs 300. The Bangalore Railway Division has ordered all contractors to display boards of the hike at three prominent spots within the premises.
Want robots to serve you food and sing to you? Bengaluru's Robot Restaurant has five of them
Even though some Bengalureans think that this innovation arrived a bit late to the Silicon Valley, the atmosphere at the first Robot Restaurant in the city is nothing short of festive.

Since its official launch on August 18 in the 100-feet road in Indiranagar, thousands from Bengaluru, some even from the outskirts of the city, have already visited the place and table bookings are made every minute during the day, according to the founders of the restaurant.

"An average of 500 to 600 people visit the restaurant per day in a matter of seven hours and we are delighted to see how excited everyone is. We have had no free minute at work since the launch," says Karthikeyan Ramesh, general manager of the restaurant. He added that the success of the brand in Chennai and Coimbatore led to them expanding the business to Bengaluru as well. Read more
IN PICS| Union Finance Minister interacts with entrepreneurs in Mysuru
WATCH| Heavy rains lash Bangalore as predicted; slow moving traffic in key areas
Karnataka floods: 88 deaths reported so far
Bangalore power disruption update
Several areas in Bengaluru including Lakshmipura, Jayaraj Nagar, Muniswamappa Layout, and surroundings are facing interruptions in power supply. According to BESCOM, the same is due to various repair works taking place in the power lines thereby affecting two transformers that direct electricity to these areas. BESCOM officials informed that power supply will be restored in these areas by 5 pm.
Army Commanding Officer meets CM
General Commanding Officer for Karnataka Kerala Sub Area Maj. Gen. KJ Babu met Karnataka CM BS Yediyurappa in his office today. "The meeting was just a courtesy call," the CMO clarified to Indianexpress.com
IN PICS| CM Yediyurappa interacts with public in Bangalore
Flood victims will get Rs 10,000 by evening: CM Yediyurappa
In what is seen as a relief to the general public affected by the recent floods in Karnataka, CM Yediyurappa has directed officials to hand over Rs 10,000 to the victims by Thursday evening. "I've directed all DCs to make arrangements to give Rs 10,000 in cash to flood victims by this evening. All ministers have been to flood-hit areas to visit victims and review relief work across states affected by floods and landslides. There had been some official delay in reaching out to the victims financially but relief and rehabilitation work is in full swing," he said in Bengaluru.
Karnataka flood relief: Actor Upendra contributes Rs 5 lakh
Kannada actor Upendra met CM Yediyurappa to hand over his contribution to the CM's Distress Relief Fund (CMRDF) in Bengaluru, He handed over a cheque of Rs 5 lakh to the CM on Thursday.
Bangalore power disruption update
Several areas in Bengaluru including BTM Residency, Akshaya Nagar, Yelenahalli, Begur, Royal Meridien, and surroundings are facing interruptions in power supply. According to BESCOM, the same is due to various repair works taking place in the power lines in the wake of model subdivision work in these areas. BESCOM officials informed that power supply will be restored in these areas by 6 pm.
Traffic congestion on Outer Ring Road: Netizens suggest solutions
Better option is give priority for buses and impose congestion charges on all SINGLE-DRIVER Cars. We shoud focus on increasing the speed of buses and not throw them off to the service road

— Doddanekundi Rising (@Dnekundi_rising) August 22, 2019
TVS Motors donate Rs 1 crore for Karnataka floods relief
TVS Motors Vice President Karunakaran Reddy Thursday called on Chief Minister BS Yediyurappa in Bangalore. He met Yeddyurappa and handed over a cheque for Rs 1 crore to the Chief Minister's Distress Relief Fund.
Mayor to lay foundation stone for two skywalks today
Bengaluru Mayor Gangambike Mallikarjun will lay the foundation stone for two more skywalks in the city on Wednesday. While one is planned near St Teresa's Girls' High School in Chamarajpet, the other is near Mahalakshmi Layout metro station.
Transformer bursts in Chandra Layout; firefighters douse fire
A transformer burst into flames in front of the BBMP Office in Chandra Layout this morning. Fire tenders rushed to the spot to douse the blaze. No casualties are reported and the situation is totally under control, an official from the Karnataka Fire and Emergency Services Department told Indianexpress.com.
Disqualified MLAs to meet legal counsel today
The disqualified Congress, JD(S) MLAs are in New Delhi to meet legal counsel Mukul Rohatgi and Harish Salve. The politicians will discuss further legal proceedings over their Supreme Court plea with respect to their disqualification.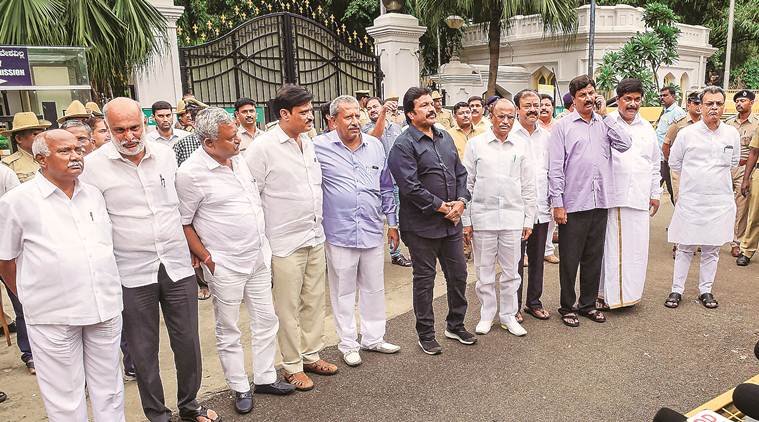 MLA Umesh Katti emerges rallying point for disgruntled BJP MLAs
As many as six MLAs who failed to find a place in the ministry expressed disappointment in public over the first two days since Yediyurappa announced his cabinet. Overlooked in favour of Laxman Savadi, who lost the 2018 Assembly polls, eight-time MLA Umesh Katti from Belagavi region has emerged as a rallying point for party legislators MLAs who are disappointed over their exclusion.
"I don't know how this (exclusion) happened,'' said Katti. The MLA and his brother, former MP Ramesh Katti, are considered to be dominant figures but are seen as having been sidelined by the party in recent times. But Katti claimed to be a loyal member of the BJP despite his disappointment. Read more
Rains predicted in Bengaluru today
The India Meteorological Department (IMD) has predicted rains/thundershowers in Bengaluru today. According to their daily forecast, the city will witness a generally cloudy sky throughout the day. "Maximum & Minimum temperatures very likely to be around 27 and 20 degree Celsius respectively," reads the report.