Bangalore news August 7 highlights: The Bruhat Bengaluru Mahanagara Palike (BBMP), has been downsized the list of awardees of the Kempegowda Award to 70, the annual awards given to the city-based achievers.
Last year, the BBMP drew flak for giving the award to 540 persons, after the criticism, for the first the civic body has formed an external 10 members select committee under the chairmanship of Justice A.J. Sadashiva (retd.), to select the deserving from different categories.
Mayor Gangambike Mallikarjuna said, "the final list will be ready by August 14 and the award will be given by the Chief Minister between August 20 and 25. "
BMTC Vayu Vajra AC Volvo buses: Full route map, timings of Bengaluru International Airport shuttle bus services
Live Blog
#KarnatakaRains: 4 trains cancelled due to landslides
IN PICS| CM Yediyurappa arrives from New Delhi, leaves for Belgaum
Chief Minister BS Yediyurappa, soon after returning to Bangalore after his New Delhi visit, left for Belgaum from HAL Airport.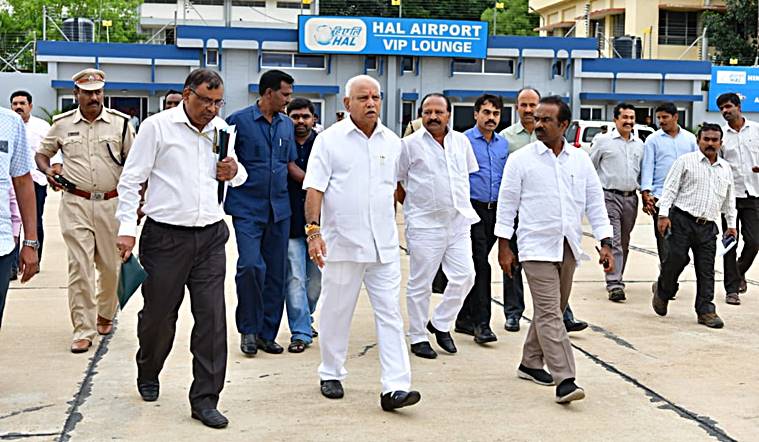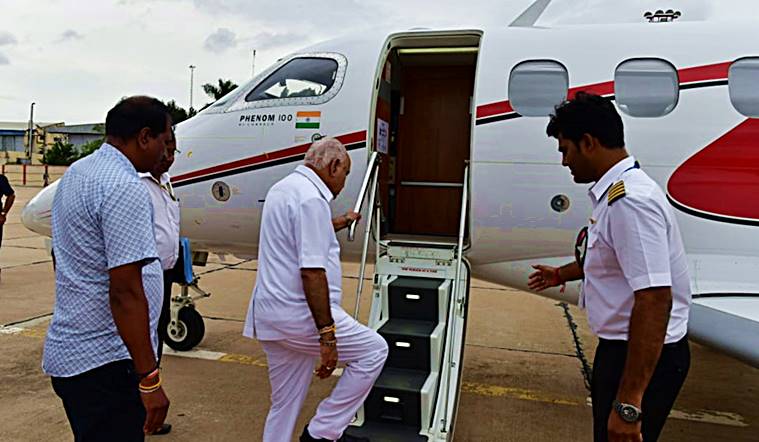 Karnataka Congress takes a dig at Yediyurappa's advertisements on BMTC buses
This is heights of absurdity

There is no Government in place
People are suffering due to floods
Administrative machinery is dead
Officials are clueless about what needs to be done ?@BSYBJP has already started what his master @narendramodi is good at !!
See to believe pic.twitter.com/qoTGvWnzEf

— Karnataka Congress (@INCKarnataka) August 7, 2019
IIM Bangalore to host workshop to make cost-cutting for EV batteries
Indian Institute of Management Bangalore (IIMB), in association with the Indian Council for Research International Economic Relations (ICRIER), will host a workshop on 'Exploring cost-reduction strategies for Electric Vehicle (EV) batteries' on September 3, 2019, at the IIMB campus. The workshop is being organized by the Supply Chain Management Centre (SCMC) at IIMB.
Prof. Haritha Saranga, faculty from the Production & Operations Management area at IIMB, who will lead the workshop, said, "The workshop intends to take a holistic view of the entire EV value chain and present plausible options to reduce the cost of the batteries and improve the affordability of EVs in India. It will involve consultation with Original Equipment Manufacturers (OEM), service providers, and battery manufacturers to carry out a ranking exercise on strategies identified."
Article 370: Congress MLA Anjali Nimbalkar's tweet goes viral
A tweet made in favour of the BJP-led central government decision to revoke Article 370 from Jammu & Kashmir by Karnataka Congress legislator Anjali Nimbalkar has gone viral. In her tweet, Nimbalkar, MLA from Khanapur in Belagavi termed Article 370 "a desperate measure and said the special provision had kept the country desperate for 70 years."
Desperate Times, Desperate Measures! #Article370 had kept us Desperate for last 70 years!
Congratulations @narendramodi & @AmitShah 🙏

We The New India are with you whenever it is 'Nation First'..

— Dr. Anjali Nimbalkar (@anjalitai) August 6, 2019
Rock band assaulted in Bengaluru for not singing Kannada songs, lodge police complaint
A rock band has lodged a police complaint in Bengaluru after their members were allegedly attacked for not performing Kannada songs at an event. Mahadevapura police said a case had been filed and an investigation is underway. The incident took place in Phoenix Marketcity Mall in Whitefield last Friday when members of a Bengaluru-based rock band named Musication were performing. The keyboardist of the band sustained eye injuries after a group of almost 20 people from the audience assaulted him. The matter came to light after a Facebook post put up by a co-musician condemning the incident went viral. Read more
Bellary remembers Sushma Swaraj as thayi and daughter of Karnataka
The high-voltage election contest between BJP's Sushma Swaraj and Congress leader Sonia Gandhi in the 1999 Lok Sabha elections brought the Bellary constituency to national limelight. Though Swaraj lost the election, she weaved an emotional connect with Bellary and helped BJP lay its base in Karnataka. As she passed away on Tuesday, her followers in the constituency remember her as Sushma 'Thayi' (mother in Kannada).
Karnataka to release water to Hemavathi Canal System
The government of Karnataka has decided to release 14.53 TMC water for 25 days to Hemavathi canal system starting today.
"In flow to the Hemavathi reservoir on 6-8-2019 is 17,623 cusecs and out flow is 5000 cusecs. Hemavathi catchment area is receiving good rainfall. Hence good outflow to the river is expected. Since sufficient storage is not available in the reservoir, it is intended to provide water only for drinking purpose by filling water in tanks and anicuts and not to provide water for irrigation," the CMO said in a statement.
As good rainfall is expected in the catchment area, the state government has agreed to release 14.53 TMC of water to the tanks and anicuts in Hassan, Tumakuru and Mandya districts through Hemavathi project canal system along with releasing water to Tamilnadu, the statement adds
Karnataka Rains: Train rescheduled
Prasanthi Express (18464) scheduled to leave KSR Bengaluru City railway station at 1.40 pm has been rescheduled to leave at 3.30 pm today.
https://t.co/vmcaCqWjuE 18464 SBC-BBS Exp. JCO 07/08/2019. scheduled to dep, at 13.40. is Rescheduled at 15.30 hrs .of 07/08/2019. for updates call 139.

— DRM Bengaluru (@drmsbc) August 7, 2019
Do not top up smart cards online: Namma Metro
The BMRCL has requested commuters, not to use the online top-up gateway to recharge the smartcards, saying a technical glitch has led to more than 3,000 incomplete transactions.
In a press release, the Namma Metro, said it had not been able to transfer the credit to the smart cards following a technical snag on July 29. "BMRLC was unable to provide (the) recharging of 3,092 such cases automatically as on August 3. On August 5, BMRCL has resolved the issue with respect to 3,092 cases manually and all these commuters can get their cards topped up at entry gate of any station," the release stated, adding that officials were working to resolve the issue in the automation process of online recharge.
"Till rectification, commuters are requested not to use the online top-up modes... Commuters may use other option(s) to top up their cards through cash/credit/debit card at all Namma Metro station ticket counters," it added.
B S Yediyurappa to visit flood hit Belagavi on Thursday
Karnataka Chief Minister B S Yediyurappa said he would visit Belagavi on Thursday and review the relief works in flood-hit areas. Belagavi and neighbouring districts are witnessing heavy rain and flood for the past three days.
BBMP truck injures cop
A 45-year-old sub-inspector attached to Peenya traffic police station sustained a fracture after a BBMP truck rammed his bike near Pipeline Road, Dasarahalli, on Tuesday. G Basavaraju was shifted to Hosmat Hospital.
BS Yediyurappa pays last respects to Sushma Swaraj
No buses via Charmadi ghat due to landslides
The Karnataka State Road Transport Corporation (KSRTC) cancelled many buses from Belagavi to Pune today after heavy rain hits North Karnataka. In a statement, KSRTC said ": Buses not operating via Charmadi ghat till today evening as advisory issued from police authorities. Due to landslide near Charmadi ghat all services towards Mangalore & Dharmasthala are deviated via Jannapura, Sakaleshpura, Shiradi ghat."
Flood situation in North Karnataka 
The Krishna river, the Markandeya, Ghataprabha, Malaprabha and Bheema rivers are in spate, wreaking havoc in many parts of Karnataka. According to reports, water from the Markandeya river gushed into Gokak and Hukkeri in Belagavi.
The districts hit due to the torrential rains and subsequent flooding are Belagavi, Vijayapura, Yadgiri, Raichur, Bagalkot, Hubballi-Dharwad, Shivamogga, Kodagu and Uttara Kannada.
Rain claim three lives in Karnataka
Three people have died in rain-related incidents in Karnataka on Tuesday. one each in Shivamogga, Belagavi and Haveri districts. According to reports, the situation is worst-affected in Belagavi district, surging waters have washed away crops on 80,590 hecatres of land, affected 8,000 people in 96 villages.
HD Deve Gowda condoles death of Sushma Swaraj
I am deeply saddened by the sad demise of Former Union Minister, ex-CM of Delhi @SushmaSwaraj ji. A loss to our Nation.
May God give her family the courage to bear this pain.#SushmaSwaraj

— H D Devegowda (@H_D_Devegowda) August 6, 2019
Army moves in for flood rescue and relief in Karnataka
ISKCON Temple Bangalore timings today
The Sri Radha Krishna ISKCON Temple located at Rajajinagar, in North Bangalore has deities of Radha and Krishna. It is one of the largest ISKCON temples in the world.
Today's timings: 7.15 am–1 pm; 4–8.20 pm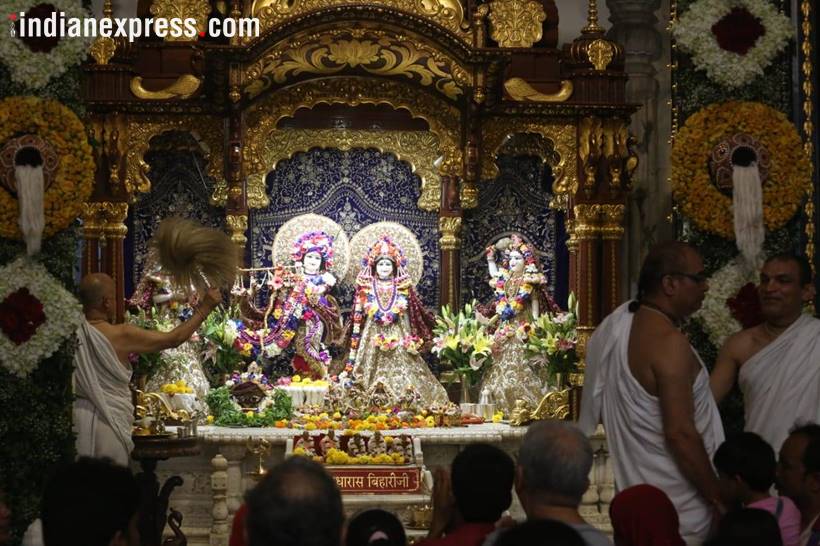 Bengaluru-Pune highway traffic disrupted due to heavy rains
Traffic movement on the Pune-Bengaluru national highway near Kognoli on the state's borders with Maharashtra have been disrupted with river Vedganga flooding in several areas.



Heavy rains in Karnataka: Schools in many districts declare holiday
Authorities have declared holiday for schools and colleges in Dakshina Kannada, Udupi, Kodagu, Shivamogga, Belagavi, Dharwad and a few taluks of Bagalkot, Chikkamagaluru, Uttara Kannada and Hassan districts.



Train services between Bengaluru and Mangaluru disrupted due to rains
Train services between Bengaluru and Mangaluru have been partially cancelled following landslides on the track between Siribagilu and Subramanya Road Railway station in Sakleshpur- Subramanya Road ghat section of Mysuru Division, on Tuesday.



World Breastfeeding Week
On the occasion of World Breastfeeding Week, Fortis Hospital, Bannerghatta Road, undertook week-long activities on the theme of 'Empower parents, enable breastfeeding' to raise awareness about the need for breastfeeding.
The activities involved a session for members associated with different hospitals and nursing homes on 'Infant and young child feeding', along with a training session for rural health workers. Fortis Hospital also partnered with the Food and Nutrition Board of India and conducted a state-level symposium for government officials. Around 150 nurses were trained on breastfeeding by Joyce Jayaseelan, Lactation Consultant at Fortis Hospital, Bannerghatta Road.
A motorcyclist died after a speeding tractor rammed two-wheeler
A motorcyclist died while the pillion rider was wounded after a speeding tractor rammed their two-wheeler on CMH Road in eastern Bengaluru.
Raghavendra, 33, a resident of Ramamurthy Nagar, and his friend Subramani were riding the two-wheeler when the tractor rear-ended it.