As Bangalore continues to be on high alert post the Sri Lankan terror attacks, Bengaluru City Police is on their toes clearing speculations and rumours spread online creating panic among citizens. The issue of a possible suspect was cleared by the police after a special team to investigate the incident that happened in Majestic station found that the allegations were not true.
Click here to get LIVE updates from Bangalore today
Meanwhile, Kannada actress and Congress social media chief Divya Spandana (Ramya) awarded damages of Rs 50 lakh after a defamation suit filed against a Kannada news channel was found to be true by the Bangalore City Civil Courts. Ramya had sought damages of Rs 10 crore from the media outlet for making suggestive remarks through voice-overs and captions flashed on-screen at nine instances that she was part of the IPL betting scandal in 2013 while her photos were flashed in the background.
Read more: Bangalore court grants Rs 50 lakh to Divya Spandana for defamatory damages
Karnataka Chief Minister H.D. Kumaraswamy held a meeting with BBMP, BDA, BESCOM and BWSSB officials on Wednesday evening to review monsoon preparedness in Bangalore. Nearly 75 trees were uprooted in Jayanagar, Basavangudi, Peenya, Dasarahalli, JP Nagar and surrounding areas as torrential rains lashed the city late night on Tuesday. Bangalore Electricity Supply Company (BESCOM)also had a tough time clearing complaints as nearly 300 electric polls fell in and around the city; while 80 of them were reported from within Bangalore city limits.
Live Blog
Fly now from Bangalore to Belgaum six days per week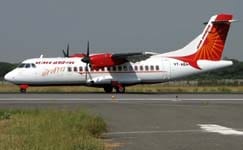 Alliance Air, the regional arm of national carrier Air India, says it will start flight operations from Belgaum to Bengaluru with flights six-days per week, effective May 15.
Dinesh Gundu Rao inspects TenderSURE works
Gandhinagar MLA and KPCC president Dinesh Gundu Rao inspected development works at Cottonpete main road in his constituency. "Majestic area is soon to regain its old glory," he wrote on Twitter after the inspection.
Inspection of #TenderSURE works at Cottonpete main road and Gandhinagara.

Comprehensive development of the old commercial entertainment hub of #Bengaluru is taking place at a cost of ₹150Cr.

Majestic area is soon to regain its old glory. pic.twitter.com/UaATjKuQI7

— Dinesh Gundu Rao / ದಿನೇಶ್ ಗುಂಡೂರಾವ್ (@dineshgrao) May 9, 2019
CM Kumaraswamy condoles death of Neelakanta Rao Jagdale
Karnataka Chief Minister H.D. Kumaraswamy condoled the death of industrialist Neelakanta Rao Jagdale. Mr Jagdale who passed away in Bangalore this morning was a former president of the Karnataka Swimming Association and the president of Basavanagudi Aquatic Centre (BAC).
Deeply saddened to hear the demise of industrialist Sri Neelkanta R Jagdale, who spent most of his lifetime promoting swimming in Karnataka. He leaves behind a sea of friends and admirers. My heart goes out to his family in this time of loss.

— CM of Karnataka (@CMofKarnataka) May 9, 2019
Looking out for a productive weekend plan? Here's a suggestion
Central Silk Technological Research Institute (CSTRI) will keep their doors open for the general public on May 11 as part of observing National Technology Day. Visitors from 10 am to 5 pm on Saturday will get a chance to learn how silk processing is done, how technology has aided this sector and how to maintain silk wardrobe effectively among several other takeaways. The event will be held from 10 am to 5 pm.
Ever wondered how silk processing is done and how technology has aided this sector? Bangaloreans, here's your chance to visit Central Silk Technological Research Institute (Silk Board) to learn something new on May 11 from 10 am to 5 pm. @IndianExpress | @IEBengaluru pic.twitter.com/Do8wMlhLkF

— Ralph Alex Arakal (@ralpharakal) May 9, 2019
Power disruption update: Commercial Street, Vijaya Bank Layout, Periyar Nagar and surrounding areas face power cuts
Several areas around the city continue to face power disruptions as the day progresses. While cable faults cited by BESCOM for the power failure at Commercial Street, Bharat Nagar, Shivaji Nagar, JP Nagar Phase 5 and surrounding areas, tree trimming work results in the same at Periyar Nagar, Kaval Byrasandra, KG Halli and surroundings.
Power will be restored between 4.30 and 5.30 pm in these areas, BESCOM officials inform
35 passengers have miraculous escape after bus catches fire
More than 35 passengers had a narrow escape when a private bus travelling from Bangalore caught fire during the early hours of Thursday. Identified as a sleeper bus owned by Sharma Travels, the fire broke out from the engine, which was pointed out by drivers of other vehicles plying on the same route. The mishap was avoided after the driver stopped the bus immediately and evacuated all passengers.
Read more: Alert driver avoids mishap after Bangalore-Chennai bus catches fire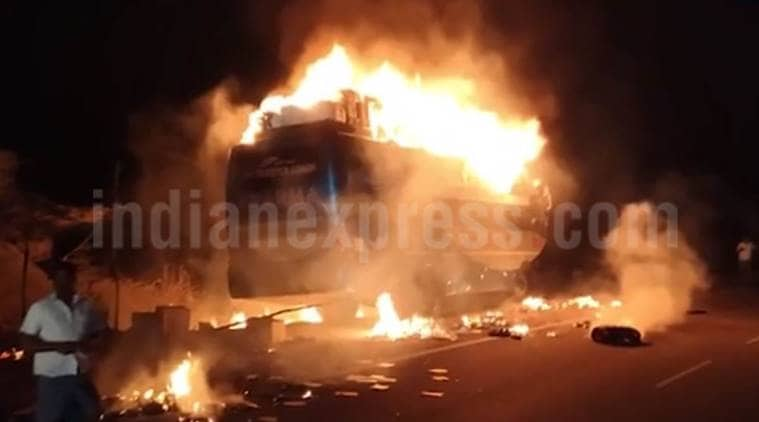 Exhibition and workshop on 'sustainable living' at NLSIU
The National Law School of India University (NLISU) Bangalore is hosting a special exhibition and workshop themed sustainable living at their Nagarbhavi campus now. The event organised by the Law and Society Committee of the institution features sustainable menstrual products, bamboo products, handloom clothes, stationery and jewellery and much more.
Bangalore LIVE temperature update
Mercury levels are at 31-degree Celsius after 1 pm in Bangalore. While a 43% humidity is recorded, precipitation is at 3%.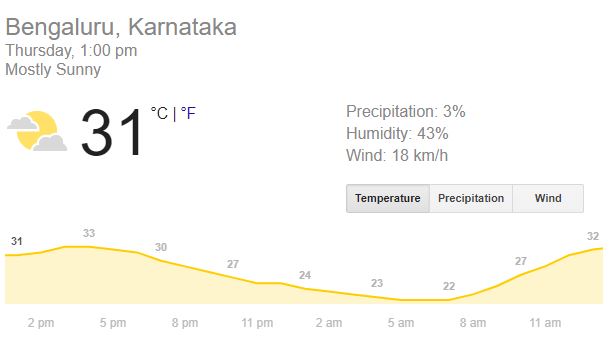 BBMP issues public notice to stop garbage dumping in storm water drains
Local civic body Bruhat Bengaluru Mahanagara Palike (BBMP) has issued a public notice warning citizens of dumping waste in stormwater drains. According to the notice, violators are punishable under various sections of the IPC up to five years of imprisonment/fine or both.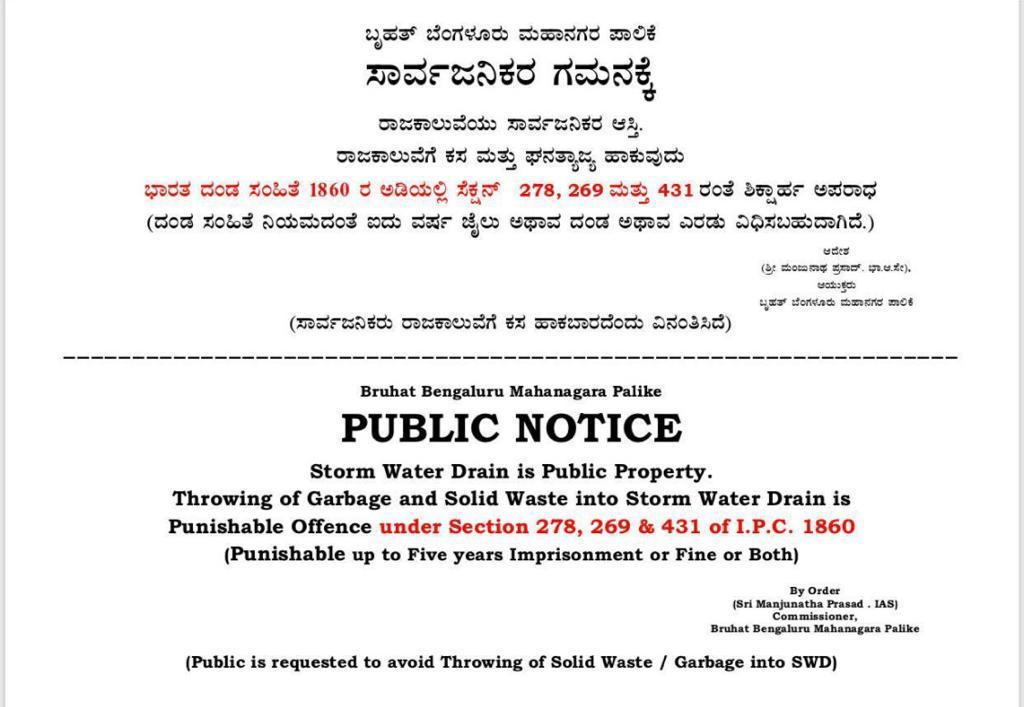 Nilekani in SC-constituted high power committee
Infosys co-founder and former Unique Identification Authority of India (UIDAI) chairman Nandan Nilekani will be part of the 7-member committee constituted by the Supreme Court (SC) to suggest measures to make the conduct of entrance exams for jobs and admission in educational institutions foolproof. The Committee will be headed by retired SC judge GS Singhvi. Scientist Vijay Bhatkar is another member of the same committee.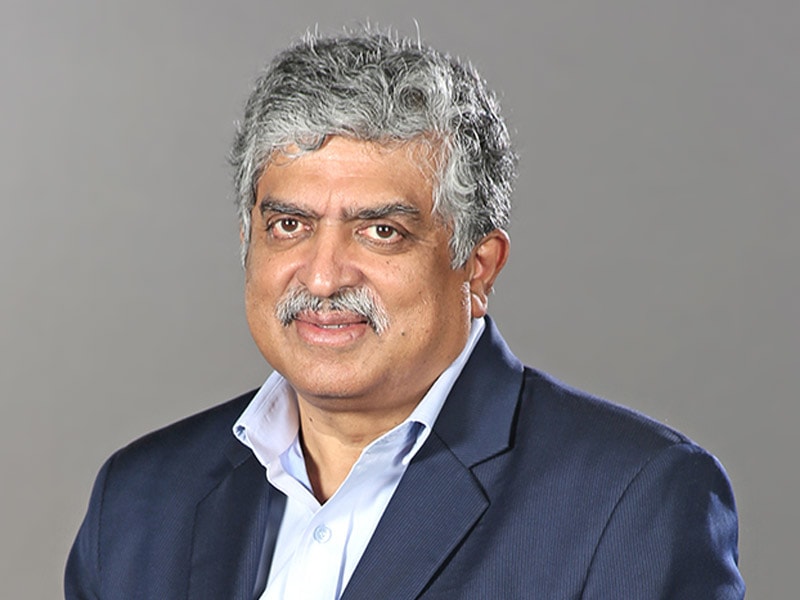 Bangalore University decides to retain Saraswathi and Buddha idols
A syndicate meeting chaired by Bangalore University Vice-Chancellor K.R. Venugopal decided to retain both Saraswathi and Buddha idols at the varsity headquarters. The varsity was in a fix over the issue after a Buddha idol was installed by a few research scholars in place of the Saraswathi idol, which incidentally was about to be replaced with a new one.
Power supply off at Mathikere and surroundings; BESCOM cites electric pole replacement
Several areas around Mathikere, namely SBM Colony, MRJ Colony, MK Nagar, AK Colony, Brindavan Nagar and surrounding areas face power cuts. Explaining the situation, BESCOM has informed that this is due to the replacement works progressing for broken electric poles in the area. Power is expected to be restored at 3 pm
May 9, 2019
Peak hour traffic kicks in; Silk Board, HSR Fly over, Intermediate Ring Road face traffic blocks
Traffic is at a snail's pace in several major roads of the city as peak-hour congestion kicks in. Traffic blocks have been reported from Silk Board, HSR Flyover, Intermediate Ring Road (Sony Signal - Ejipura), Marathahalli Bridge Service Road and Hosur Road (Forum Mall - Johnson Market).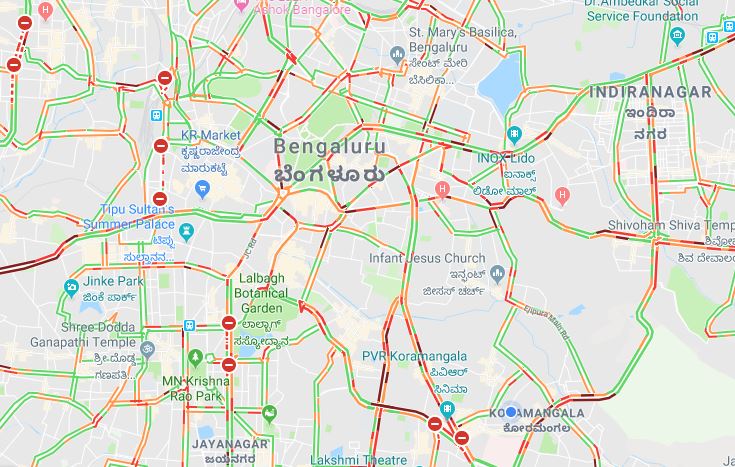 World Bank economist Vijayendra Rao in city today
Vijayendra Rao, Lead Economist in the Development Research Group of the World Bank, will discuss his book 'Oral Democracy: Deliberation in Indian Villages' in the city today. The discussion will also feature Karnataka RDPR minister Krishna Byre Gowda and Karnataka Panchayati Raj principal secretary Uma Mahadevan. Venue: Bangalore International Centre. Time: 6.30 pm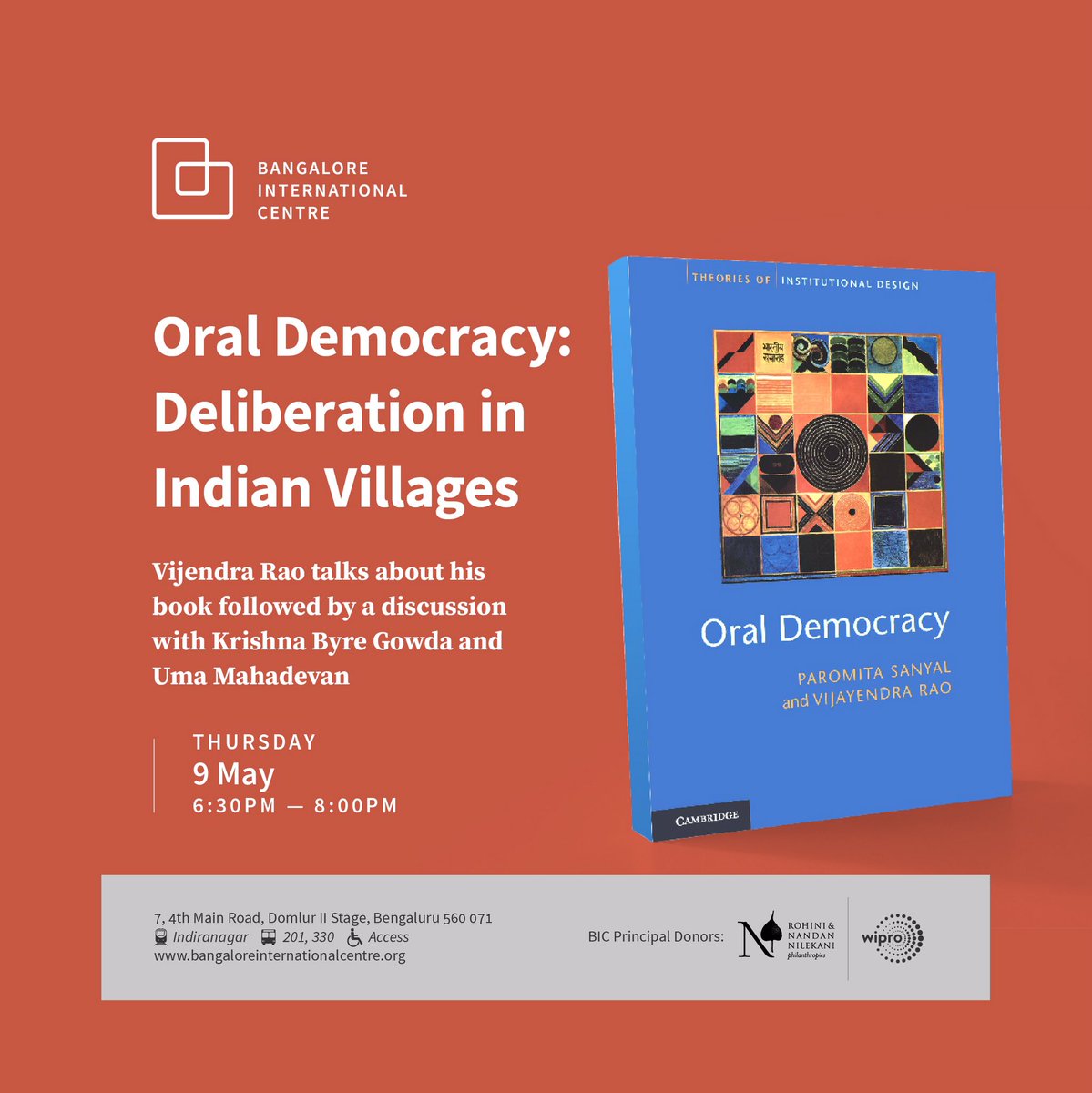 Power cut in several parts of city
BESCOM has informed that several areas in the city will face power disruption today. MM Palya, Rajiv Gandhi Nagar, Hosapalya, Yellukuntae, Ambedkar Nagar, Hosur Main Road, Bommanahalli and surrounding areas will have power cuts from 11 am due to maintenance works on the 220/66/11 kV HSR MUSS F2 Feeder.
May 9, 2019
Bangalore LIVE air quality check
Average air quality in Bengaluru is 'moderate'. At 9 am, PM 2.5 (Fine Particulate matter) is at an 'unhealthy' level if you are near BTM Layout or Silk Board. The same is at 'moderate' levels near City Railway Station.
Bengaluru City Police clears air; man in CCTV video watch repairer
Bengaluru City Police has confirmed that the man, who appeared in the CCTV footage from Majestic Metro station walking away as the metal detector beeped while a security check, was a regular commuter. Police identified the person as a Gangondanahalli resident who works as a watch repairer and a seller in the city. The Bengaluru Police and the Karnataka State Industrial Security Force(KSISF) had gone into a tizzy on Monday evening after the incident.
Read more: Bengaluru Metro on high alert after suspicious man refuses security check
Temperature drops in city; maximum temp 32.1-degree Celsius
Bangaloreans can have a sigh of relief from burning summer days as maximum temperature in the city has seen a drop today. According to IMD, Bangalore will see a maximum temperature of only 32.1-degree Celsius today as the same used to range over 34 degrees since April. The minimum temperature forecasted in the city for the day is 20.6-degree Celsius