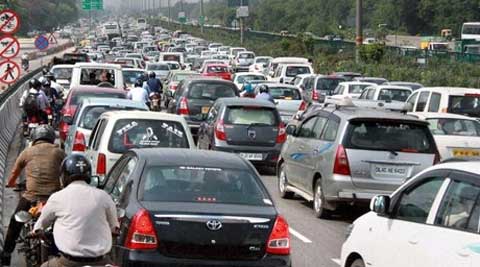 A city traffic police study, conducted in association with a private agency, has revealed that 10 corridors witness the highest number of accidents and deaths.
The Karnataka DG & IGP Lalrokhuma Pachuau released the study, the first such micro and macro-analysis of traffic in the country, at the Bangalore traffic management centre (TMC) on Friday.
Additional Commissioner (Traffic) B Dayanand said these 10 "black spots", identified based on the number of accidents and deaths, include KR Puram (Old Madras Road-Whitefield Main Road), Madivala (Hosur Road-GSR Layout), Electronic City (Hosur Road-Nice Road-Konappana Agrahara stretch), Kamakshipalya (Nagarbhavi Ring Road-Magadi Road-Sumanahalli Ring Road), Peenya (Outer Ring Road-Kempegowda Layout, Tumkur flyover on NH-4 and T Dasarahalli), Kumaraswamy Layout (Subramanyapura Main Road-Kanakapura Main Road), Old Airport Outer Ring Road near Marathahalli, Airport Main road and Devarabeesanahalli), Banaswadi Outer Ring Road, Byatarayanapura (Mysore Road-BDA Ring Road) and Chikkajala on International Airport road.
According to statistics cited in the study, 288 people were killed on these 10 corridors in 2013. The report has highlighted the urgent need for developing a road safety action plan which will include time-bound measures to prevent accidents. Strong road safety laws pertaining to key risk factors – speed, drink-driving, helmets, seat belts – must be enforced, and a quick and efficient post-accident care system should be in place, the study suggests.
Dayanand said it was alarming to note that many people in the age group of 12 to 19 years, who were mostly on two-wheelers, were involved in fatal crashes over the last two years. Accidents increasingly happen over the weekends, he noted, with the maximum incidents on Sundays. According to data from the past three years that was analysed by the traffic police team, there were more accidents in the evenings and late at night, with two-wheeler riders in the age group of 19-35 continuing to be the most affected, followed by car drivers.
DGP Pachuau, appreciating the efforts of the traffic police, said the data will help organise programmes to ease congestion, install road signage and take other measures to prevent accidents. He said the data may also help pinpoint the reasons for the accidents.
Additional Director General of Police (in charge of road safety and traffic) NS Megharik said the study can be replicated in the entire state. There are plans to improve the highways in the state and also set up an exclusive highway patrol at the cost of Rs 4 crore in association with various other departments like health and public works for better road engineering and management.
📣 The Indian Express is now on Telegram. Click here to join our channel (@indianexpress) and stay updated with the latest headlines
For all the latest Bangalore News, download Indian Express App.
The Indian Express website has been rated GREEN for its credibility and trustworthiness by Newsguard, a global service that rates news sources for their journalistic standards.