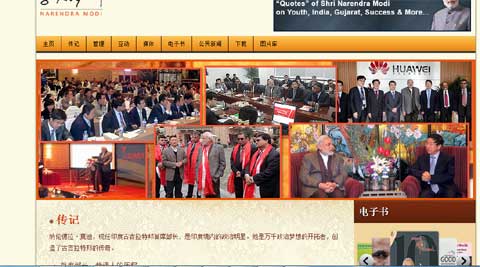 Giving an international touch to his election campaign, Narendra Modi has launched his official website in four foreign languages. It is already available in several Indian regional languages.
This is being seen as a move by the Gujarat chief minister — denied a visa by the US in 2005 citing violation of religious rights in the post-Godhra riots — to reach out to the world in a language they understand.
The foreign language editions — added to his website that originally started with English, Gujarati and Hindi — include Russian, Chinese, Japanese and Spanish. According to the website, the move will take Modi's ideas to his fans and critics across the globe. "This will ensure that all information appearing on the site will be available in languages, spoken and comprehended across the world''. Besides English, Gujarati and Hindi, the site is available in Tamil, Telugu, Malayalam, Kannada, Punjabi and Bangla.
The website narendramodi.in describes the development as unique and distinct. It calls Modi a "statesman who has redefined communication with common men and women, a first-of-its-kind initiative, (which) is yet another feather to his cap of laurels''.