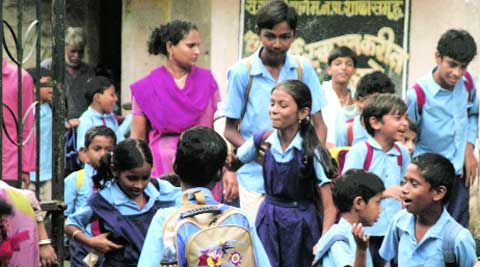 After assigning top civic officers an anganwadi each to improve services and upgrade facilities, the Rajkot Municipal Corporation (RMC) has invited private school managements to adopt the remaining centres in the city.
Municipal Commissioner Ajay Bhadu held a meeting with office-bearers of Self-financed School Managements Association (SSMA), Rajkot, early this week and sought support to run around 200 anganwadis in the city. Besides SSMA office-bearers, representatives of 20 top private schools of the city were invited to the meeting.
The SSMA agreed to take up voluntary responsibility of the anganwadis. From next month, each of the 20 schools will adopt five to six anganwadi centres in their area. Smaller schools, who come forward voluntarily, will also be given a couple of anganwadis, according to SSMA president Vasant Pathak.
"We have already assigned 101 schools to our top officers. Now, we have sought support of the private schools to cover the rest of the anganwadis. Staff or students of these schools could visit anganwadis once a week, teach the children and play with them. They can also add to the nutritional value of food by distributing fruits etc among children and help add small facilities like a water cooler," said Bhadu.
The Integrated Child Development Scheme (ICDS) department of RMC runs 330 anganwadi centres in the city. But the department is facing staff shortage with 10 out of 14 posts of inspectors lying vacant. Therefore, the schools will be a bridge between the anganwadis and the RMC, the commissioner added.
The SSMA president said they were more than happy to adopt these centres. "Helping these children will be part of social responsibility of our schools. In an indirect benefit, it will help schools prepare anganwadi children to get admission in schools under the mandatory RTE quota," Pathak said.
Under the RTE 2010, private schools have to reserve 25 per cent of admissions for students from poor background.
SSMA vice-president Krishankant Dholakia said, "Even if all anganwadi children cannot be absorbed in schools, they will get an opportunity to come into contact with other children and teachers. This will help boost their confidence."