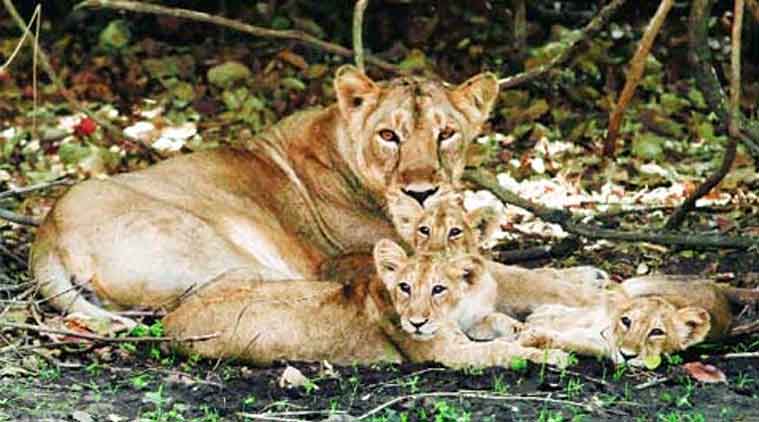 After deaths of 11 lions between September 12 and 19, 10 more lions died between September 20 and September 30 (representational image)
Sending alarm bells ringing, the state forest department Monday confirmed that seven Asiatic lions had died in the last five days of September, taking the number of deaths to 21 in a single month.
Officers also said that laboratories were conducting tests to ascertain the nature of viral infection detected among four dead lions, and that 31 lions from Semardi area in Gir (east) forest division had been rescued and kept under observation as a precautionary measure. Postmortems conducted on the lions who died last month have shown respiratory and hepatic failure to be one of the causes of their death apart from infighting and injuries caused due to it, a release from the forest department said Monday.
In an official release, chief conservator of forests (CCF) of Junagadh wildlife circle, Dushyant Vasavada, said that after deaths of 11 lions between September 12 and 19, 10 more lions died between September 20 and September 30. All this 21 deaths within 19 days were reported from Sarasiya Vidi area of Dalkhaniya range in Gir (east) forest division in Amreli district. "These 10 lions were among the group which had been rescued from Sarasiya Vidi after the initial deaths came to light from that area. They died while being given medical treatment at Jasadhar Rescue Centre," Vasavada told The Indian Express.
The CCF added that six more lions rescued from Sarasiya Vidi were under observation at the Jasadhar Rescue Centre in Gir (east) division. "Blood samples of injured and rescued lions and samples of tissues of dead lions have been sent to National Institute of Virology (NIV), Pune. Reports received from the NIV have confirmed viral infection among four lions. But there are doubts about the identity of the virus and laboratories are further working on it. On the other hand, veterinary college, Junagadh, has detected presence of protozoa caused by ticks in samples of six other lions. These infections have come to light from Sarasiya area only," the CCF further said.
Gir forest and other protected areas spread across Junagadh, Gir Somnath, Amreli and Bhavnagar districts in Saurasthra region is the only natural home of Asiatic lions (Panthera Leo Persica). The International Union for Conservation of Nature (IUCN) has classified Asiatic lions as an endangered species. A census in 2015 had pegged the population of Asiatic lions at 523.
Meanwhile, forest officers said that 31 lions from Semardi forest area adjoining the Sarasiya Vidi had been rescued and shifted to Jamwala Rescue Centre and kept under observation. "This is just a precautionary measure.They have been isolated and put under observation and to insulate them from disease. We concede that 21 deaths have been recorded. But all of them have come from the small area of Sarasiya Vidi. Just to ensure that the infection, if there is any, is contained in that area, we have rescued lions from surrounding areas and put them under observation. As of now, they are all healthy," Vasavada added.
Principal chief conservator of forests (PCCF) and head of forest force of Gujarat, Gyanendra Sinha told The Indian Express that they were trying to ascertain the viral infection and to contain its adverse impact, help of experts from outside Gujarat is being solicited. "We have sent samples to NIV, IVRI (Indian Veterinary Research Institute), Bareilly, Forensic Science Laboratory, Junagadh etc and are trying to ascertain the exact cause. Earlier, dead bodies of seven lions were found and four had been rescued. The primary postmortem reports of them had said that it was due to injuries and infection caused due to injuries in five or seven cases. But we were also worried that why so many deaths in one area only. So we sent samples to different place for more verification. So, we have called experts from outside. We have called experts from IVRI, Bareilly, Delhi Zoo and also from Itawah Lion safari park in Uttar Pradesh," said Sinha.
The Junagadh CCF said that the experts had already reached Gir forest and were on the field to study the phenomenon. "They are checking lions and reviewing reports and records of blood samples, kidney and lever infections etc and will give their opinion. As a precautionary measure, the state government is also importing some vaccines from America," Vasavada said.
He added that primary reports had suggested that the 11 lions, which died between September 12 to September 19, had died because of injuries sustained during infighting as well as hipetic and respiratory failures etc.
After the initial 11 deaths, forest department had formed 140 teams comprising 550 foresters, guards and lion trackers to screen each lion residing in around 3,000 square kilometre of area, including Gir forest. The scanning exercise, which had begun on September 23, was over, the CCF said. "The teams spotted around 600 lions. Out of them, only nine were found to be sick. Four of them had been given treatment on the spot while five were shifted to rescue centres," added Vasavada.
On September 26, the laboratory of veterinary college of Junagadh Agricultural University had reported that tissue samples of two dead lion cubs had returned negative for the dreaded canine distemper virus.