Wearing black aprons with slogans pinned on them, SAD-BJP members trooped to the well of the House shouting slogans on Wednesday and forced the house to be adjourned for 30 minutes on the issue of farm loan waivers.
Led by SAD president Sukhbir Singh Badal, the MLAs protested that the government had failed to honour its commitment on farm loan waivers and shouted slogans against the government in the well of the house during Zero Hour.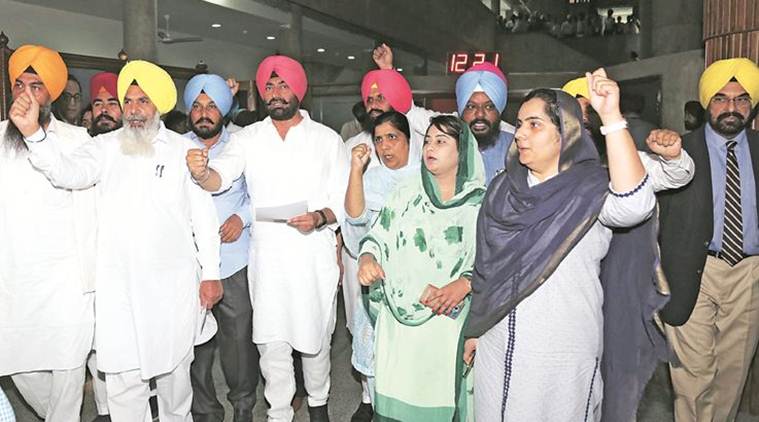 AAP and LIP MLAs also staged a walkout from the House protesting against the rejection of an adjournment motion proposed by AAP over the issue of suicides by farmers and farm labourers.
Lok Insaaf Party (LIP) MLA Simarjit Singh Bains also registered his protest for not being allowed to speak on the issue of the SYL canal. He was supported by Khaira, who said that it was an important issue concerning the state. Local Bodies Minister Navjot Singh Sidhu intervened in the matter and said that since the SYL case was sub-judice in the Supreme Court it could not be raised. Bains later tore pieces of paper and threw them into the well of the House as a mark of his protest.
📣 The Indian Express is now on Telegram. Click here to join our channel (@indianexpress) and stay updated with the latest headlines
For all the latest Chandigarh News, download Indian Express App.