A special court on Saturday sent three PNB officials to CBI custody till March 3 in Rs 11,000 crore PNB Fraud case. Earlier, the CBI arrested Gokulnath Shetty, then Deputy Manager (now Retd) Punjab National Bank; Manoj Kharat, SWO (single window operator) PNB and Hemant Bhat, Authorised Signatory of the Nirav Modi Group of Firms.
The CBI, which raided the residences of the PNB officials today, is probing their role in issuing the LoUs to the companies. Shetty and Kharat, according to the bank, have "fraudulently " issued letter of undertakings ( LoUs) and "transmitted SWIFT instructions to the overseas branches of Indian Banks" to raise buyers credit for three firms of Modi without "making entries in the bank system".
According to news agency ANI, CBI sleuths said the logs in SWIFT were used by several officials, including Gokulnath Shetty, by using passwords in capacity of authorisers to send messages. The involvement of more staff members and outsiders cannot be ruled out.
Meanwhile, the Enforcement Directorate is conducting raids at several branches of Gitanjali Gems across the country. The CBI had filed a fresh FIR in the case on Friday, naming 16 people, including Gitanjali Group promoter Mehul Choksi, also the maternal uncle of billionaire diamond jeweller Nirav Modi, and two officials from PNB. The agency alleged in the FIR that Choksi and his three companies — Gitanjali Gems, Gili India and Nakshatra Brand — swindled PNB to the tune of Rs 4,886.72 crore in 2017-18. This was done by getting 143 Letters of Understanding (LoU) issued through the bank.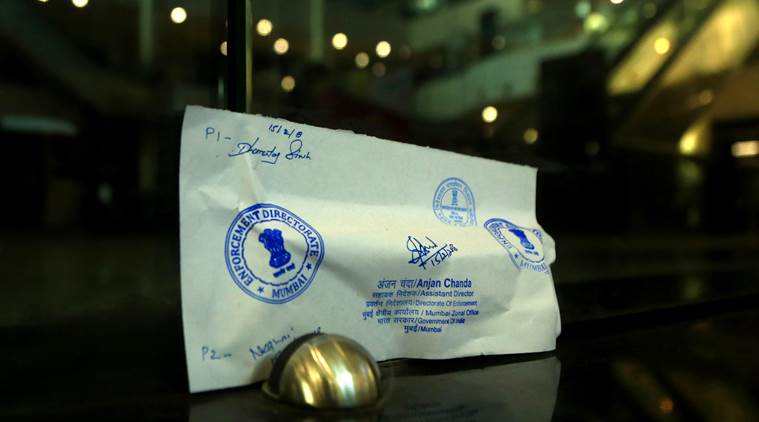 A sign outside the showroom of Gili India at Viviana Mall in Mumbai on Friday, following the ED raids in connection with the PNB fraud case. (Express Photo/Janak Rathod)Read | CBI says most of Nirav Modi's fraud LoUs issued or renewed in 2017-18
CBI arrests PNB officials Gokulnath Shetty and Manoj kharat apart from Hemant Bhat, Authorised Signatory of the #NiravModi Group of Firms in #PNBScam case. They will be produced today before CBI special court (CR 51) Mumbai. @IndianExpress

— Deeptiman Tiwary (@DeeptimanTY) February 17, 2018
Explained | Inside the PNB fraud: What is an LoU? How is it issued? 
According to the FIR, "Accused Bank officials Gokulnath Shetty and Manoj Kharat in connivance with accused companies and directors during 2017-18 defrauded PNB to the tune of Rs 4886.72 crore in issuance of fraudulent and unauthorised LoUs in favour of foreign branches of different India-based banks and purported LCs (Letters of Credit) in favour of foreign suppliers of the accused companies."
"Funds raised were meant to be used for payment of import bills of accused companies whereas it was dishonestly and fraudulently utilised for discharging the earlier liabilities on account of buyer's credit facility by overseas branches of Indian banks," the FIR adds.
The Congress on Saturday held a press conference during which it claimed the reliability of the entire banking system was at a "crisis", and questioned the continued silence of the prime minister and finance minister. "The biggest banking scams of the country are being exposed layer by layer," party spokesperson Randeep S Surjewala said.
Congress leader Kapil Sibal, also at the briefing, said, "In 2015 there was a complaint filed against this issue but Prime Minister said it has been 'dealt with'. How was it dealt it? This proves that they were aware of all this."
"Why is PM Modi refusing to disclose who travels with him on his official trips? Is this the kind of 'Ease of Doing Business' PM Modi talks about?" he added. "I challenge the BJP to talk about UPA's governance as against their governance. Due to their ill-intentions, they have brought India's economy to its knees."
Hitting back at the Congress, the BJP held a press briefing as well, claiming the fraud was committed in 2011, before the Modi government was elected. Union Minister Nirmala Sitharaman said, "The entire might of the government has been invoked to pin the culprit Nirav Modi in the fraud case immediately after it came to light."
Sitharaman added, "Gitanjali Gems was suspended for six months from doing business on NSE in 2013. On 13 September 2013, Rahul Gandhi attends a promotion event of this jewellery group. On 15 September 2013, a proposal of restructuring and giving additional loans to the tune of Rs. 15,00 crore to the same jewellery group is mooted in Allahabad Bank board meeting. Join the dots…"
The minister went on to say, "We are not conspiring to help scamsters flee the country, the BJP government is catching them instead."
(With inputs from ENS)
The Indian Express website has been rated GREEN for its credibility and trustworthiness by Newsguard, a global service that rates news sources for their journalistic standards.