Torrent Pharmaceuticals Ltd (TRP) has acquired Elder Pharma's India business (sales of R4 bn and 35% Ebitda margin) for Rs 20 bn. The deal valued at 4.8 times EV/sales and 14x EV/Ebitda (enterprise value/earnings before interest,taxes,depreciation,and amortisation),gives TRP a ready brand portfolio to aggressively entrench in new focus specialties of women care,pain management and nutraceuticals.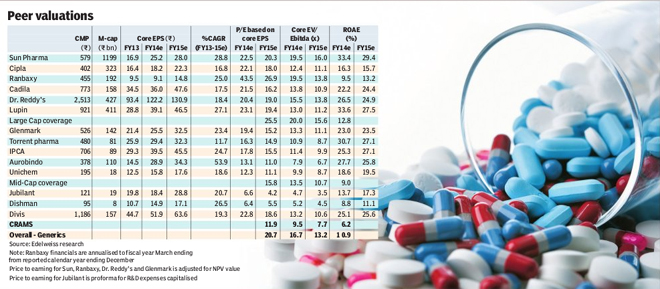 While the acquired portfolio is complementary and synergistic,it is likely to result in earnings cut of 11% and 14% for FY14e (estimates) and FY15e,respectively,add leverage of 1.2 times from zero net debt and hit RoCEs (returns on capital employed) of TRP. Ergo,we downgrade to 'Hold' and believe TRP will have to harness strong execution capability to scale up the acquired portfolio to currently generated returns level.
Acquisition offers deep synergies and established brands: Elder's specialty portfolio offers multiple synergies to TRP such as addition of leading brands—Shelcal,Chymoral,Carnisure—strengthening its presence in gynecology,pain and vitamin segments. It also renders deeper access to tier II-IV markets with 1,100 market representatives and adds distribution network of 2,900 stockists to its existing base of 1,700,thereby enabling better penetration in North and West India. However,we believe it comes at a dearer value (five times sales) with projected payback of over ten years and additional strain on balance sheet,limiting future expansion capacity.
Strong scale up potential,but earnings accretion could be delayed: Elder sales have declined sharply due to lack of product supplies in market. Thus,we perceive strong scale up potential with leveraging of key brands such as Shelcal to Torrent's existing portfolio. However,TRP will have to scale up Ebitda of the acquired business over two times (R3 bn from R1.5 bn) to make it earnings accretive by FY15e.
Outlook and valuations: execution critical: Though we are positive on the acquired product portfolio,we expect it to be dilutive to business RoCE. Currently,TRP's overall business generates more than 40% RoCE; however,the acquisition yields less than 10% RoCE. Ergo,the company will have to increase profitability four-five times to achieve the level of returns generated historically. Moreover,we believe execution risk is higher as it is TRP's first large buyout with no historical precedence,suggesting integration and turnout capability of management. Hence,we do not expect significant upside to current valuations and downgrade to 'Hold /Sector Performer' rating. At,CMP (current market price) the stock is trading at 16.6 times revised FY15e and 13.4 times FY16e EPS (earnings per share).
Funding to increase leverage on Torrent's books: TRP is planning to fund the acquisition with cash and internal accruals and borrowings. The company has zero net debt on its balance sheet (as on end September 2013,it has R9.4 bn cash and current investments and R9.1 bn debt) and generates around R5-6 bn cash from operations each year (FCF—free cash flow—of R2-3 bn). We expect the company to primarily fund the acquisition via debt. Post-acquisition,we expect TRP's debt to equity to increase 1.2 times. Moreover,this would also constraint its ability to pursue aggressive capital expansion.
Investment theme: TRP is at a critical juncture as most of the consolidation phase is over and margins are improving traction to historical level of 21-22% over FY14-15e. Further,capex plan of R11 bn supports next phase of expansion,primarily for exports. We believe that improved growth visibility from India and Brazil are the key for long-term growth. The recent acquisition of Elder brands suggests the aggressive expansion intent of the management in the domestic market,which has remained docile for a decade. However,we believe that a trading growth for RoCE would likely result in an overhang and limit multiple re-rating from current levels.
Key risks: Risk to scalability of the Elder business could delay the earnings accretion from anticipated time lines. Delay in product launches in Brazil and US could restrict growth in these key geographies.