Jitters over the weakening rupee and rising crude oil prices spooked investors on Thursday sending the benchmark Sensex crashing by 806 points to close at a three-month low. Even as oil companies fell by up to 12 per cent, investors became poorer by Rs 5 lakh crore in two days of stock market crash where the BSE benchmark index plummeted by 1,357 points.
Read | Rupee drops 44 paise to hit new low of 73.77 against US dollar
The rupee also crashed to a historic intra-day low of 73.81 against the dollar due to the twin-impact of capital outflows triggered by surging US Treasury yields and crude oil prices racing to a four-year high of $ 86 per barrel. The currency closed at a record low of 73.58, down by 24 paise or 0.33 per cent, marking its third straight session of losses. The weakness in other Asian markets and a lower opening of the European shares also added to the negative sentiment on the domestic bourses.
The market was cautious ahead of the outcome of the ongoing three-day RBI policy meet that began on Wednesday, analysts said. The Sensex fell by 806.47 points, or 2.24 per cent, to 35,169.16 points, extending losses for the second straight day. Intra-day, it hit a low of 35,022.12. This is the lowest closing since July 2 when the index had settled at 35,264.41. The gauge had lost 550.51 points Wednesday on rupee woes coupled with surging crude oil prices and unabated foreign fund outflows.
The 50-share NSE Nifty also cracked the 10,600-level by falling 259 points, or 2.39 per cent, to close at 10,599.25 after hitting a low of 10,547.25. Weak cues from other most Asian markets and high US yield and upbeat economic data led to fears that investors would move to the US, accelerating selling pace on the domestic bourses.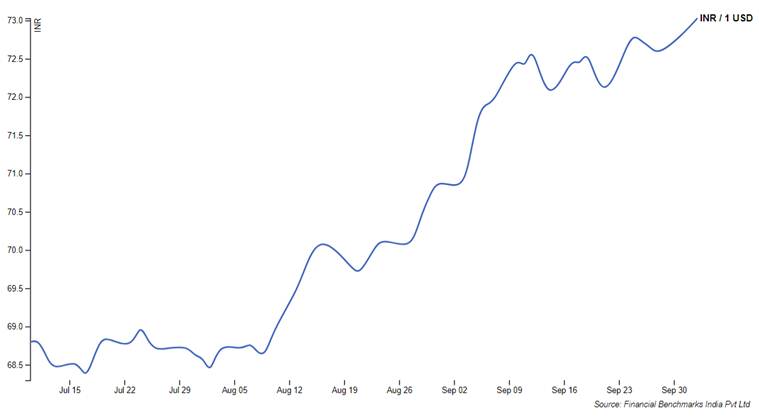 Rupee vs dollar graph.Benchmark indices have fallen nearly 10 per cent from peak levels attained in August, led by weak domestic sentiments, global uncertainties, depreciating rupee and boiling crude oil prices. With rupee and crude oil showing no signs of stability, weakness is likely to continue in the coming sessions. Hemang Jani, Head – Advisory, Sharekhan, "we continue to maintain a cautious stance on the market mainly due to factors such as rising oil prices, a depreciating rupee, and a volatile global political climate. We advise investors to get into quality companies where valuations are not stretched. We believe consumption as a theme will do well in the coming months as demand from rural and urban areas start to pick up based on the various programs undertaken by the government."