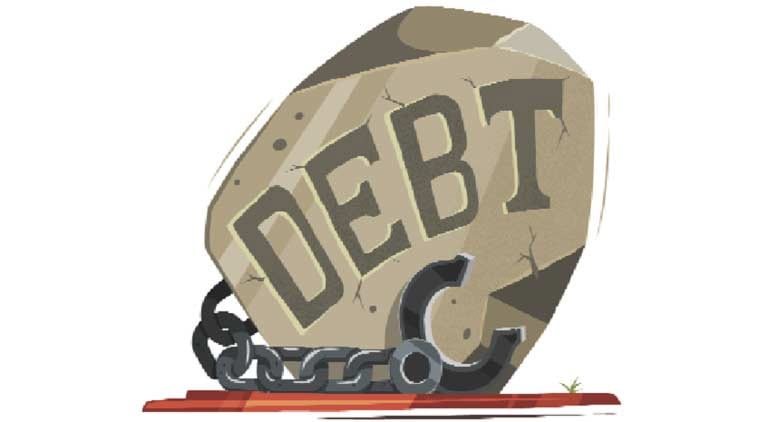 The Government has cleared Life Insurance Corporation of India's controversial move to take over 51% of troubled IDBI Bank — whose top management was arrested for alleged corruption. The state-owned insurer is now facing a fresh challenge as IL&FS, where it is the single largest stakeholder with 25.34 per cent stake, has defaulted on debt payments and is now desperate to secure a bailout from key stakeholders including LIC.
However, beyond these two issues, LIC may have some more explaining to do.
It is the country's biggest equity investor with cumulative investments that equal the entire equity corpus of India's mutual fund industry. Yet, of its equity portfolio of 329 companies where LIC holds over 1 per cent as of March 2018, at least 45 companies — or one of eight — have either not reported any revenue or have posted losses in the last three consecutive years, an analysis by The Indian Express has revealed.
Despite this, LIC has remained invested in these companies. The analysis is based on data sourced from Prime Database and Bombay Stock Exchange.
That's not all.
Most of these companies have a market capitalisation of less than Rs 100 crore. Significantly, while LIC continues to hold over 1 per cent in these companies, top mutual funds have, over the last eight years, exited almost fully from 40 of these 45 entities.
An analysis of these 45 companies shows that LIC's investment value in 25 of them (where its shareholding is constant) has fallen sharply over the last seven years from Rs 3,873 crore in March 2011 to Rs 780 crore as of Tuesday.
Certainly, this is a mere fraction of LIC's corpus of about Rs 5 lakh crore in these 329 companies but it assumes significance given that its resources are entirely policyholders' money.
Some key findings related to these companies:
* As many as 35 companies in the list reported losses over the last two years and 28 of the 35 companies reported losses for at least last three years, records analysed by The Indian Express show. There are 14 companies in the list which did not report any operational revenue for last one year or more. Of the 14 companies, five did not report any revenue in the last three consecutive years.
And yet LIC has stayed invested in all these companies — in eight of these 45 companies, its shareholding has, in fact, gone up over the last four years.
* 15 of these 45 investee companies of LIC are undergoing resolution under the Insolvency and Bankruptcy Code.
In sharp contrast, the domestic mutual fund industry's investment into these 45 companies shows that the funds increased their holding only in three between 2010 and 2018. Mutual funds investing include top fund houses such as ICICI Prudential, SBI, HDFC, Reliance, DSP Blackrock among others.
While they reduced their holding to nil in 17 companies, in seven other companies, the holding was reduced to under 0.1 per cent. In seven more companies, mutual funds did not have any exposure over the eight-year period.
Some illustrative examples:
* Hexa Tradex, an OP Jindal Group company into investment and trading, reported zero revenues in 2017-18 and a revenue of just Rs 8 crore in 2016-17. The company also reported losses in both these years.
But in Hexa, LIC increased its holding from 1.17 per cent to 2.49 per cent between March 2017 and March 2018. LIC has held 1.17 per cent in the company since April 2012. The increase in holding came even as the company reported zero revenues in FY'18 and a revenue of just Rs 8 crore in FY'17 (a 64 per cent decline over the previous year). Contrary to LIC's view on the company, top mutual fund companies brought down their holding in the company from 8.6 per cent in April 2012 to 0.27 per cent in March 2014 and then down to 0.05 per cent in March 2018.
* Samtel Color, manufacturer of picture tubes, has not reported any revenue for the last five years. A visit to the company's head office in Jasola, New Delhi and discussions with some employees reveals they have not received their salary for months. An email sent to the chairman went unanswered. On its website, the company admits that the quick transition from color picture tubes to flat panel displays resulted in a huge global glut. "All manufacturing units of the Company are on shutdown mode and the secured lenders have taken over possession of the mortgaged assets of the Company," the company said on its website.
* Similar is the case with Adhunik Metaliks. It has announced losses for the last four years. Despite this, LIC's holding in it rose from 3.08 per cent in March 2014 to 3.33 per cent in March 2018 while mutual funds have fully exited.
* In Jyoti Structures, while aggregate holding of mutual funds came down from 34.2 per cent in March 2010 to 1.3 per cent in March 2018, that of LIC went up from 1.43 per cent in March 2014 to 1.9 per cent in March 2018. While the company did not report any revenue or profit in FY'18, it reported a sharp rise in losses over the previous three consecutive years with the loss in FY'17 amounting to Rs 1,482 crore.
* JITF Infralogistics: Mutual funds reduced their holding from 7.6 per cent in March 2017 to 1.96 per cent by September before reducing it to 0.01 per cent in March 2018. However, LIC followed a contrarian view. While it held 1.01 per cent in March 2017, it increased its holding to 2.15 per cent by March 2018 and continues to hold that stake.
LIC is sitting on a big loss as share price fell from 73.15 in March 2017 to Rs 37.65 in September 2017. The share price of the company closed at Rs 21.1 on September 18. The company announced zero revenue in the year ended March 2018 and a profit of Rs 19 lakh.
A detailed questionnaire sent to LIC went unanswered. When contacted, LIC officials in Mumbai headquarters said: "The query has been forwarded to the investment department for response." However, there was no response despite repeated attempts.
While the investment forms a small percentage of the total corpus of LIC, experts say, all this money is policyholders' money and so
LIC should be more responsible. "Every fund manager incurs some losses on some of his investments, as some investments may turn bad (on account of external factors) but his job is to contain those losses and invest in better companies," said a fund manager with a mutual fund.
Any investment proposal in a listed company is first examined by officials in the investment department of the LIC, which performs preliminary checks. It is then sent to Director (Investments) for approval. If deemed fit, the Director sends the proposal to the Investment Committee of the Board. After the final approval of the Committee, the investment is made.
As per LIC's Annual Report for 2016-17, the latest available, its Investment Committee had 10 officials including top LIC executives, government nominee directors and independent members.
The Indian Express website has been rated GREEN for its credibility and trustworthiness by Newsguard, a global service that rates news sources for their journalistic standards.