The government has told the Registrar of Companies (RoC) to prepare a report on the firms controlled by Deepak Kochhar, husband of ICICI Bank Managing Director and CEO Chanda Kochhar, and Venugopal Dhoot, promoter of Videocon Group, following allegations of a possible quid pro quo in the Rs 3,250-crore loan granted by ICICI Bank to Videocon Group in 2012. The RoC's technical report will look into the books of account and analyse the transactions carried out by the companies. Sources said the RoC is expected to file its report in six weeks, and will decide if the case should be referred to the multi-disciplinary Serious Fraud Investigation Office (SFIO) for further investigation.
Under Section 206 of the Companies Act, 2013, the RoC can call for information and inspect documents of a company. According to the norms, after the inspection of books of account, the registrar needs to submit a written report to the central government. The report may recommend further investigation, along with the reasons.
READ | Banks board bureau new member was with Rajiv Kochhar firm till days ago
On February 27, the Mumbai-wing of SFIO had written to its headquarters in New Delhi seeking permission to investigate the case, saying "the quantum involved is several thousand crores" and concerns "public money". The SFIO said the "case has got issues pertaining to laundering of money, evasion of taxes and banking transactions. Considering the present environment, the allegations made in the complaint require to be investigated".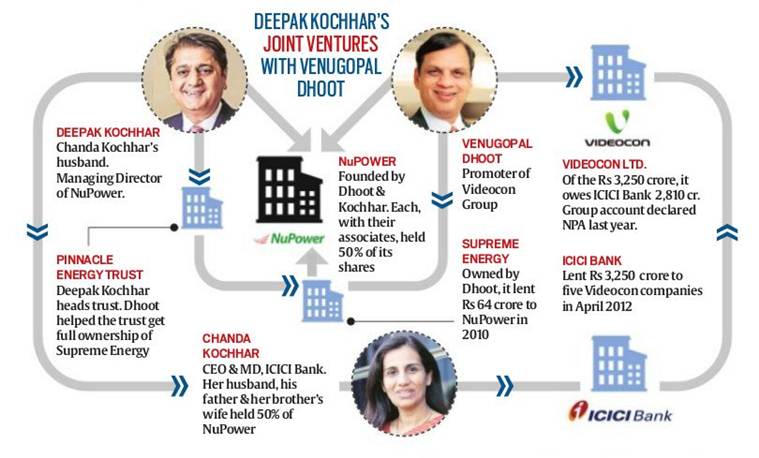 The CBI has already begun a preliminary enquiry (PE) into the alleged nexus between Deepak Kochhar and Dhoot. On March 29, The Indian Express reported that in December 2008, Dhoot set up a company called NuPower Renewables Pvt Ltd (NRPL) with Deepak Kochhar and two relatives; then gave a Rs 64-crore loan to this company through a fully owned entity before he transferred the latter's ownership to a trust headed by Deepak Kochhar for just Rs 9 lakh.
READ | Chanda Kochhar: After initial show of support, growing questions within ICICI Bank
The transfer of the company to Deepak Kochhar happened six months after the Videocon Group got a loan of Rs 3,250 crore from ICICI Bank, raising questions of propriety and conflict of interest. Almost 86 per cent of that loan (Rs 2,810 crore) remained unpaid and the Videocon account was declared an NPA in 2017.
Earlier, ICICI Bank had issued a press release saying "there is no question of any quid pro quo/ nepotism/ conflict of interest as is being alleged in various rumours." It said the Board "reposes full faith" in Chanda Kochchar and added that "malicious and unfounded rumours" were being spread to "malign the Bank." The statement, however, did not address the specific query from The Indian Express on Deepak Kochchar-Venugopal Dhoot transactions or the conflict of interest.
For all the latest Business News, download Indian Express App