The third meeting of the GST Council remained inconclusive as the states and the Centre decided Wednesday to take more time to finalise the proposed four-tier rate structure for goods and services tax and have a relook at the issue of dual control over tax assessees of both goods and services. The Centre and states also differed over the funding mechanism for compensation to states in case of any revenue loss after implementation of the indirect tax regime.
The Council will meet next on November 3-4 to iron out pending issues.
Watch Video: What's making news
While there was broad consensus on levy of cess over and above the proposed higher rate of 26 per cent for luxury and demerit goods, states such as Kerala opposed imposition of cess on luxury goods to fund compensation to states.
Kerala Finance Minister T M Thomas Isaac said "because of the insistence of certain states, it was decided that only cess on tobacco, which is constitutionally decided, and clean environment cess would be there for compensation. That comes to around Rs 44,000 crore. So you still require some Rs 7,000 crore for making the compensation. It was decided that the Centre would look into
Delhi Finance Minister Manish Sisodia said there was no consensus on the rates and the Council will meet again to decide on the issue of dual control over service tax assessees.
A four-tier rate structure for GST has been proposed with a lower rate of 6 per cent, two standard rates of 12 per cent and 18 per cent, and a higher rate of 26 per cent. An additional cess over and above 26 per cent for luxury and demerit goods has been proposed for the purpose of funding compensation to states in case of revenue loss after the GST rollout.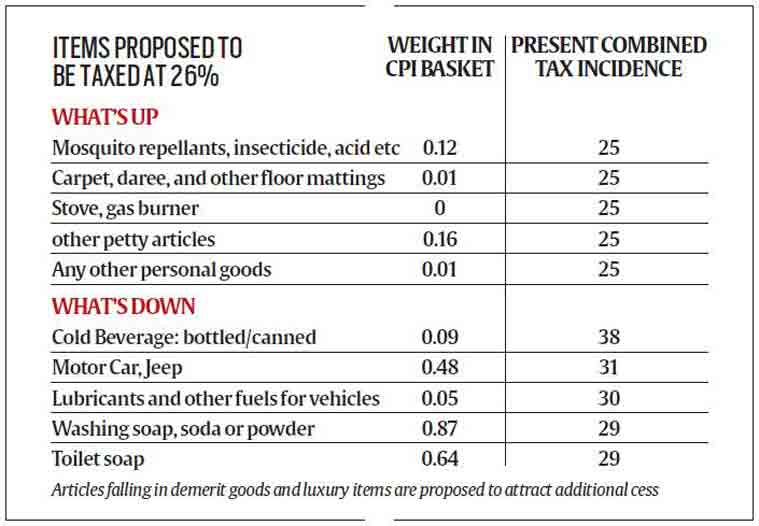 The Council will also revisit the decision of states having exclusive control over all assessees with annual turnover of less than Rs 1.5 crore and control of either states or the Centre above the Rs 1.5 crore annual turnover limit, an issue which was settled in the first meeting of the Council last month.
"It (Rs 1.5 crore threshold) is being completely relooked. The issue is being rediscussed. Whether that threshold should remain or not, that will be decided," Revenue Secretary Hasmukh Adhia said. The other pending issue of administrative control of 11 lakh service tax assessees will also come up for discussion in the next meeting of the Council, he said.
The Council in its first meeting had decided to grant exclusive control of service tax assessees to the Centre, but in the second meeting, some states disagreed with the decision due to which minutes of the first meeting are still awaiting Council clearance.
Finance Minister Arun Jaitley said the Council "converged towards a consensus" regarding the source of funds for compensation, but technical details are still to be worked out.
"The rates of tax structure depend on the question to be addressed, which is, the source of funds on basis of which the compensation to the losing states will be funded. On this issue, we have virtually converged towards a consensus, but till such time a formal decision is taken, because the officers of states and the Centre have to work out the implications of that consensus, today I only have to say that we converged towards a consensus. The formal announcement after working out the technical details will be made in the next meeting itself," Jaitley told reporters after the meeting.
He said the rate structure can be finalised only after it is decided whether compensation to states is to be funded out of cess or GST rate structure or any other source.
"Once that issue is decided, a decision on the rate structure then will become easier… whether the compensation is to be funded out of the rate structure itself or out of some special cess or out of any other sources, once this question is answered, then the rate structure can be determined independently," Jaitley said.
Adhia said if cess is not imposed and the tax on demerit and luxury goods is raised instead, as suggested by some states, then the number of tax slabs in GST would go up, which may be challenging.
"On each one of these luxury items, there is a separate taxation burden. For example, for aerated drinks, cigarette, bidi, luxury car, it may be different. If you have to put each in the rate structure, one challenge is how many slabs can you then have. Can you have 26, 45, 75 per cent slabs? There are commodities where the effective rate of taxation currently is more than 100 per cent. Now the question is, is it feasible to have so many slabs of taxation in GST," he said.
Both the Finance Minister and Revenue Secretary expressed optimism about meeting the November 22 deadline for finalisation of draft legislations and the GST rate structure.
"We are very optimistic of finishing the discussion by November 22. We are making good progress. The Finance Minister could have taken a shortcut in arriving at a decision by voting out issues, but he is developing a consensus among states and Centre," Adhia said.
Once the GST rates are decided, the Council will meet again on November 9-10 to finalise the draft legislations.
The Indian Express website has been rated GREEN for its credibility and trustworthiness by Newsguard, a global service that rates news sources for their journalistic standards.