With the Centre proposing a goods and services tax (GST) band that has a 6 per cent rate at the lower end and 26 per cent at the upper end, several essential items such as edible oils, gram products, other pulses products, chicken, tea and coffee will see taxation rising from the present combined tax incidence of 3-5 per cent to 6 per cent, if the proposals are accepted.
According to the presentation at the GST Council meeting Tuesday, of the 29 items (part of Consumer Price Index basket) that are proposed to be taxed at 6 per cent, 19 items are set to witness an increase in their tax incidence as currently they attract a lower combined tax rate. Within this group, however, the tax rate on items such as vanaspati, butter, ghee, taxi and auto-rickshaw fare and coffee powder is set to come down from the current combined tax incidence of 7-9 per cent to 6 per cent.
On the other hand, in case of CPI basket products that currently fall in tax rates of 25 per cent and above, most items will witness a drop in tax rates. As per the agenda papers which listed 50 items in this category (total CPI weight of 45.86 per cent), while the combined tax incidence for cold beverages (bottled and canned) currently stands at 38 per cent, it may come down to 26 per cent if the Council agrees to the proposal — these may, however, fall in the demerit goods category and attract additional cess.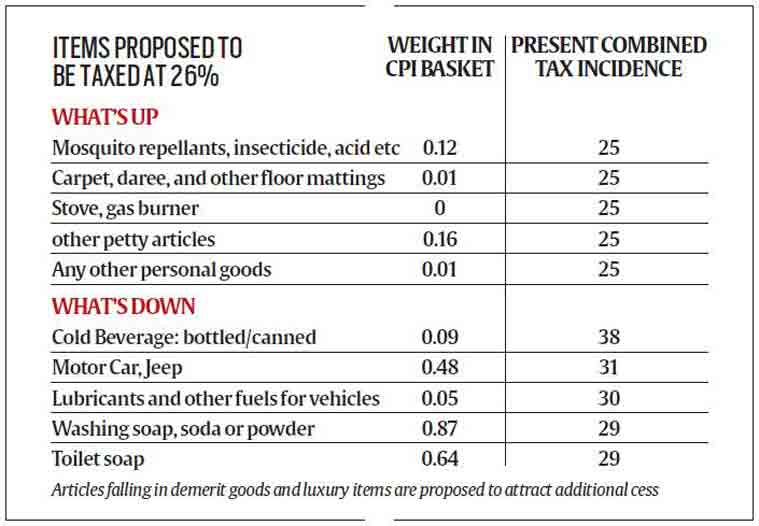 If taxes on cars and jeeps are proposed to come down from 31 per cent to 26 per cent, that on motorcycles and scooters will come down from 28 per cent to 26 per cent. The Centre has, however, proposed to impose additional cess on high-end cars.
Other important items that have higher weightage in CPI and are likely to see a decline in prices are washing soap, soda and powder, toilet soap, hair oil, shampoo and hair cream, powder, lotion, perfume, toothpaste, toothbrush (aggregate weight of 2.71 per cent in CPI). Their tax rate will come down from the present combined tax incidence of 29 per cent to 26 per cent.
In its presentation at the Council meeting, the Centre said the total impact of the proposed rate structure on CPI-based inflation rate will be (-) 0.06 per cent. While the inflation impact on constituents of CPI such as health services, fuel and lighting and clothing is estimated to be 0.56 per cent, 0.05 per cent and 0.23 per cent, respectively, that for transport is estimated at (-) 0.65 per cent, education at (-) 0.08 per cent and housing at (-) 0.09 per cent.
The Council discussed that GST rate should not be regressive in nature and be such that the existing revenues of the states and the Centre are protected and the impact on CPI inflation is minimal. While it said that items being consumed by the upper middle class and rich should not be taxed at a rate lower than their present tax incidence, it said that items of mass consumption should not be taxed at a higher rate.
For all the latest Business News, download Indian Express App