Charting out the country's economic trajectory, the first Economic Survey (FY15) of the Narendra Modi government released in February, 2015, asserted that India had "reached a sweet spot—rare in the history of nations — in which it could finally be launched on a double-digit medium-term growth trajectory," pegging its optimism on the "strong political mandate for economic change" backed by stable macro economy and benign external environment. While a double-digit growth remains elusive at present, the economy has been limping back from the low 5.7 per cent growth rate recorded in the first quarter of FY18, the lowest by the Modi government so far.
For FY18, the Gross Domestic Product (GDP) is estimated to grow at 6.6 per cent, as per the second advance estimate of the Central Statistics Office. Despite a series of economic tailwinds such as low crude oil prices, stable currency and favourable monsoon during much of the four years of the government, the economic expansion trailed, hit by demonetisation in November, 2016, and GST implementation the following year. Even as growth faltered, the government succeeded in containing inflation from a high of 9.4 per cent in 2013-14 to 3.6 per cent in 2017-18, and in pruning the fiscal and current account deficit — helped by low crude oil prices, which not only helped lower inflation but also provided additional tax revenue to the government. This enabled the Reserve Bank of India to cut repo rate by an aggregate 200 basis points. Rising global crude prices, could upset the macro stability going forward.
Also read | Four years of Modi government — Education: Warming up after initial slumber
What's Done
The government pursued a series of reforms across areas including banking, power, taxation, improving the Ease of Doing Business rankings, among others.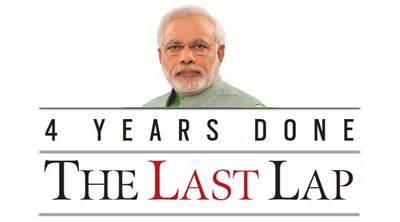 * Implementation of the nation-wide Goods and Service Tax (GST) — single biggest reform carried out by the government on the economic front. Revenue collections through GST have stabilised in recent months after initial hiccups.
* Increasing the number of tax payers. Direct tax collections hit the landmark figure of Rs 10.02 lakh crore in 2017-18, 18 per cent higher than the previous financial year. The number of income tax returns filed rose to 6.84 crore during 2017-18, compared with 5.43 crore filed in 2016-17.
* There has been progress in attracting foreign investors as foreign direct investment (FDI) flows crossed $60 billion in 2016-17. In the first nine months of FY18, India attracted $48.20 billion. The government liberalised FDI limits across several sectors, including in sensitive areas such as defence and aviation.
* To restore the health of state-owned banks burdened by a mountain of bad loans, the government took three concrete initiatives – launch of the Indradhanush plan of bank reforms, Rs 2.11 lakh crore worth of recapitalisation for public sector banks linked to the achievement of targets and implementation of the Insolvency and the Bankruptcy Code.
* Set up a Monetary Policy Committee focused on inflation targeting to improve the process of policy decision-making at the Reserve Bank of India.
* Energy sector saw significant reforms ranging from auction of natural resources to complete deregulation of diesel prices, followed by dynamic pricing of petrol & diesel and Ujjwala scheme.
What's in Progress
* The government is still behind the fiscal deficit target it set for the forthcoming years. In 2014, even as it set a target of 3.6 per cent for 2015-16 and 3 per cent for 2016-17, it could attain 3.5 per cent in 2017-18 and projected a fiscal deficit target of 3.3 per cent for 2018-19.
* Rs 4 lakh crore worth of stressed assets are undergoing resolution under the IBC. The first large case of Bhushan Steel has been successfully resolved but many more cases are still hanging fire, with legal challenges being potential disruptors.
* Announced consolidation of 44 labour laws into four codes – industrial relations, wages, social security, and occupational safety, health and working conditions. Amid opposition from trade unions, the government so far has only been able to introduce the Code on Wages Bill in Lok Sabha in August last year. Thereafter, it was referred to a committee for scrutiny which is expected to submit its report in the Monsoon session.
* In Budget 2018-19, the government announced extension of fixed-term employment for all sectors that was subsequently notified in March. Fixed-term employment for all sectors will make it easier for companies to hire workers based on seasonal trends. The central government had notified fixed-term employment for the apparel manufacturing sector in October 2016. In December 2017, the Union cabinet approved the proposed extension of fixed-term employment to the leather, footwear and accessories industries.
What's Stuck
* Bringing petroleum products and real estate under the GST is a distant target, as both the Centre and states do not seen keen on losing control over these key revenue sources.
* While credit growth has picked up in recent months, driven mainly by retail loans, private sector investment is still elusive. The challenge of reviving private investment, one of the initial priorities of the NDA government, appears unlikely to happen soon.
* While NPAs continue to remain a big issue for banks, their recovery rate looks dismal. On an average, almost 90 per cent of the NPAs written off by PSU banks could not be recovered during these 4 years. According to RBI data, in the last four years — FY15, FY16, FY17 and FY18 till December 31 — all 21 public banks in aggregate recovered only Rs 29,343 crore out of Rs 2.72 lakh crore of bad loans that were written off by the PSBs, a recovery rate of 10.77 per cent.
* Job creation has been slow. The Labour Bureau's seventh Quarterly Employment Survey showed that in July-September 2017, job creation stood at 1,36,000 against 64,000 in April-June 2017 and at 32,000 in July-September last year.
***
Subhash Chandra Garg, DEA Secretary: "The oil has been cyclical. We have seen this in the past also, oil prices had gone to certain level and oil prices had also gone down to very low levels, which is what happened in 2015. In 2015, it was $25 for some time, in 2001 it was $10, the cycle goes on. There is no great relationship between oil price and growth. There has been very high growth when oil prices very high. So there is no necessary linkage between the oil prices and the growth. So we hope and we think even if the prices remain somewhat elevated, we might and we should see a very strong growth in economy"
The opposition view
Anand Sharma, Congress leader: "Govt has made nearly `10 lakh cr via cess and duties on petroleum products and it is profit at the cost of consumers….. It's due to wrong decisions like demonetisation, due to which thousands lost their jobs and then came the GST blunder…"